DAREDEVIL NEWS
HOME
>
DAREDEVIL NEWS
>
2013-06-10-Daredevil-in-June
06/10 - Daredevil in June
In addition to the regular issue of DAREDEVIL this month, we've got something DD-related every week.
Last week we had 2 comics:
DAREDEVIL: END OF DAYS #8
The mini series that had Daredevil fans guessing what the mystery word "Mapone" meant, finally revealed the fate of Matt Murdock, Ben Urich, and other supporting characters. The hardcover collection comes out next month, for those of you who didn't read the comic monthly.
For those of you who did read it, what did you think? Discuss it on the board...
DAREDEVIL: END OF DAYS #8 discussion
---
DAREDEVIL: DARK NIGHTS #1
The latest Daredevil mini debuted with Lee Weeks and Lee Loughridge's "Angels Unaware".
The last page of the comic revealed that David Lapham would be coming onboard with issue #4 and #5, for a story called "What a Day, What a Night". For issues #6-8, Jimmy Palmiotti and Thony Silas work on a team-up with Misty Knight called "The Trip!".
What did you think of the issue?
DAREDEVIL: DARK NIGHTS #1 discussion
---
This week, in an issue that not many DD fans know about, is...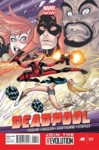 DEADPOOL #11
Daredevil makes a guest appearance in DEADPOOL #11 and you can learn more in this interview with co-writer Gerry Duggan at CBR:
CBR interview with Gerry Duggan
---
The following week sees the first part of the two-part story in...
INDESTRUCTIBLE HULK #9
Daredevil makes his appearance in the Mark Waid written title, where we learn the connection between Bruce Banner and Matt Murdock.
---
And finally...
DAREDEVIL #27
The next issue of DAREDEVIL was pushed back one week, and we will learn the mystery villain's plans for Daredevil... or will we?
More DAREDEVIL News!