DAREDEVIL NEWS
HOME
>
DAREDEVIL NEWS
>
2013-07-24-Lots-of-Daredevil-Links
07/24 - Lots of Daredevil Links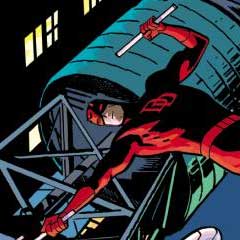 There have been quite a few Daredevil-related items on the web this week, so here's a rundown...
---
Joe Quesada had this to say, when asked about the Daredevil rights, at his Cup O'Joe panel at the San Diego Comic-Con:
"We're trying to air it out," said Quesada, to laughs. "We love Daredevil, and we're really excited. We just got the property back. Will there be something with Daredevil down the road? I would love it. But we just got it back. It's way too soon to guess what's going to happen with the character."
CBR
---
Matthew Derman has written a great piece about Mark Waid's Daredevil at PopMatters.com. It's a in-depth look at what makes this volume of DD tick.
Pop Matters
---
Bill Sienkiewicz was interviewed by Dork Shelf about his recently completed DAREDEVIL: END OF DAYS series. He discusses the response from fans and critics, and the surprise ending.
Dork Shelf
---
Sienkiewicz's collaborator on END OF DAYS, David Mack, has an audio interview up on Sequart about the series as well, so please have a listen to it as well...
Sequart
---
Speaking of END OF DAYS, it is currently #1 on the New York Times Bestseller charts for Hardcover Graphic Books.
New York Times
---
In the latest PREVIEWS, you can order a Daredevil T-Shirt with issue #506's cover by Paolo Rivera!
PREVIEWS
---
Here's the LEGO variant cover to issue #31 by Leonel Castellani which features... Spider-Man.
CBR
---
There are a few new digital comics available on the ComiXology/Marvel App...
DAREDEVIL: THE MAN WITHOUT FEAR
DAREDEVIL: BATTLIN' JACK MURDOCK
---
Sergio Cariello has stepped in to help out Lee Weeks on issue #3 of DARK NIGHTS. Check out Cariello's album on Facebook:
Facebook
---
And last but not least, here's a look at the Chris Samnee panel at Comic-Con, moderated by Mark Waid!
Comics Beat
More DAREDEVIL News!