DAREDEVIL NEWS
HOME
>
DAREDEVIL NEWS
>
2013-08-26-New-DAREDEVIL-Collections-for-2014
08/26 - New DAREDEVIL Collections for 2014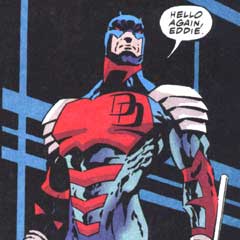 One out-of-print TPB that always seems to be at the top of DAREDEVIL fans' wishlists to be printed is FALL FROM GRACE... and it appears their wishes are coming true (with more!).
Coming in 2014 is DAREDEVIL & ELEKTRA: FALL FROM GRACE, which will collect the original issues from the storyline (#319-325) as well as the TREE OF KNOWLEDGE arc (#326-332) and stories from the DD ANNUAL #10. The TPB will be 464 pages and have a list price of $49.99. It is scheduled to ship in April, by D.G. Chichester, Scott McDaniel, Hector Collazo, Gregory Wright et al.
It's the epic saga that reintroduced Elektra to the Marvel Universe! A super-virus is unleashed on New York by the Hand ninja clan, and only Daredevil can stop them - but not without some unexpected help from a long-lost love and a new, armored costume! Can the Man Without Fear come to terms with his past with Elektra in time to halt the Hand's terror plot - even if it means the end of his secret identi ty? And when Baron Strucker assembles a team of cyber-terrorists to plunge the world's computer systems into global anarchy, will even Captain America's aid be enough to defeat them? Guest-starring Nick Fury, Black Widow and more!
Also coming next year:
* April - DAREDEVIL BY MARK WAID Vol. 7 Premiere HC, collecting #32-36. $21.99
The Serpent Society has been buying off the New York justice system and using it to their own sinister means. The only man that stands in their way? Matt Murdock, the man known as DAREDEVIL! It's Daredevil versus the Sons of the Serpent in an all-out battle for the soul of truth and justice in New York City!
* April - DAREDEVIL BY MARK WAID Vol. 5 TPB, collecting #22-27. $18.99
A mystery takes Daredevil to the edge like never before! When Matt Murdock receives fateful news about someone close to him, will he be forced to abandon his super-hero identity to save one of his dearest friends? As a life-or-death medical drama plays out in Matt 's personal life, the hidden foe behind Daredevil's recent troubles steps out of the shadows to play his trump card. The Man Without Fear comes face-to-face with his opposite number - an unstoppable enemy with a mysterious connecti on to the accident that gave young Matt Murdock his powers.
* April - DAREDEVIL: DARK NIGHTS TPB, collecting #1-8 of the limited series. $21.99
The greatest talents in comics bring you gorgeous new stories featuring the Man Without Fear! First, a blizzard brings New York to a standstill - and a little girl in desperate need of a heart transplant lies on death's door, unless Daredevil can get to her in time! The trouble is, DD is recovering from a severe concussion...but although everything may stand in his way, nothing will stop Daredevil from rescuing a young life! Then, Daredevil's life gets a voltage of violence from the Shocker! Matt Murdock must track a fugitive and reclaim the stolen evidence Matt needs to protect his innocent client - while the Avengers confront some massive monster mayhem in the streets of NYC! It's a race against time, but just another day for Daredevil!
* March - DAREDEVIL: END OF DAYS TPB, collecting #1-8 of the limited series. $32.99
Brian Bendis heads a team of Daredevil legends to tell the last tale of the Man Without Fear. Years after the world last set eyes on him, Daredevil finally returned to Hell's Kitchen, only to be brutally slain by his deadliest foe in a very public battle. But Matt 's enigmatic last word leads Daily Bugle reporter Ben Urich to take on one final story: the truth behind what happened to his old friend. Where did Matt go - and what brought him back, only to die? But while Urich hunts down answers from Daredevil's array of allies, enemies and former lovers, he is being watched from the shadows - by a mysterious figure with a strikingly familiar silhouette. Matt Murdock is dead. But is that the end for Daredevil?
* February - DAREDEVIL BY MARK WAID oversized HC, collecting #11-21, Avenging Spider-Man #6 and Punisher #10. $38.99
Daredevil and Spider-Man form a shaky alliance with not one, but two Punishers to obtain the invaluable Omega Drive - which contains the power to dismantle an internati onal criminal network. But the plan goes pear-shaped when one hero betrays the group! Then, Daredevil undergoes urgent brain surgery when Ant-Man enters his head to destroy sensory-deprivation robots implanted by Dr. Doom. But when the bots battle back, Ant-Man must fight blind!
More DAREDEVIL News!