DAREDEVIL NEWS
HOME
>
DAREDEVIL NEWS
>
2012-12-08-Steve-Wacker-Answers-Questions
12/08 - Steve Wacker Answers Questions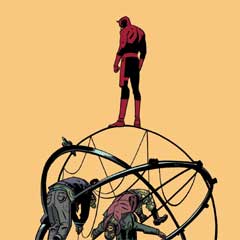 DAREDEVIL editor Steve Wacker dropped by CBR and answered several questions related to all the titles he works on, and there was a sneak peek of the cover to DAREDEVIL #24 by Chris Samnee. Some DD-related questions he answered include:
"My question is about Daredevil, I was wondering if we would see the character's old rogues come back in the near future. I miss the Owl, Typhoid Mary, Bullseye and the like. I love the what Waid is doing with the book, but I still kinda miss some of the old stuff."
"Are there any plans to do something exciting with Stilt-Man in Daredevil any time soon?"
"I'm really enjoying Daredevil and was wondering.Will Matt ever talk to Natasha, Elektra, Maya, or Dakota again? He came back to the city and we aren't sure if these characters are aware that Matt is back, nor do we know their reactions."
"Also is there a possibility of ever seeing Cap in DD's story again? Last time we saw the two Cap wanted to bring Matt in after the Shadowland incident (#2) will we ever see that continuance?"
Axel-in-Charge Extra @CBR
Axel-in-Charge @CBR
Earlier in the week, Wacker also stopped by Comics Beat to do an interview as well...
Comics Beat
More DAREDEVIL News!