2017 NEWS
---
Follow updates to NEWS on

Click on the links to display article!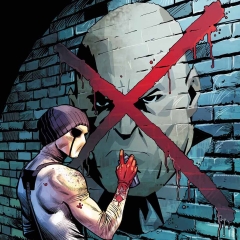 11/21 - DAREDEVIL February 2018 Solicits
February 2018 solicits are now on the site, and we've got DAREDEVIL #598 and #599, and DEFENDERS #10!
DAREDEVIL February 2018 Solicits
---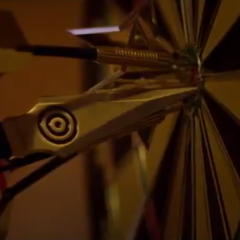 11/15 - New Fan Films
Some new Daredevil-related fan film/series to share...
First up is a new series by NerdBot called "The Man Who Never Misses" and features our favourite assassin Bullseye.
Episodes 1 and 2 are now available:
And next we have a new fan film from Chris .R. Notarile, who you may remember from his Daredevil and Elektra fan films from a few years ago.
This Typhoid Mary film features actress Shannon McDermott playing all the personalities of Mary.
---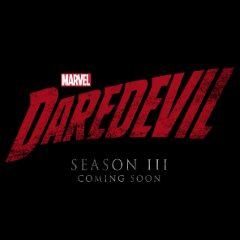 11/11 - DAREDEVIL S3 Character Breakdown
That Hastag Show has another exclusive for DAREDEVIL Season 3 as they've found some new character breakdowns.
Slight spoilers ahead!
It appears Marvel/Netflix is looking for actors to portray some FBI agents, and in the casting descriptions, they are looking for one agent to be South Asian who can speak Hindi.
Check out the video from That Hashtag Show below, as well as an audition video from actress Pia Shah who appears to be "in conversation" with the FBI agent.
That Hashtag Show
---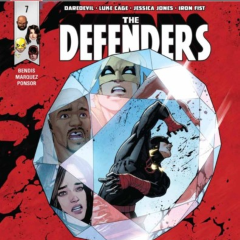 11/10 - DEFENDERS 7 Preview
BRIAN MICHAEL BENDIS (W) • DAVID MARQUEZ (A/C)
KINGPINS OF NEW YORK Part 2
The Kingpin's kingdom is up for grabs and the streets of Marvel will burn as every major crime figure makes a play to be the next kingpin of crime! Unfortunately for them, this is exactly why the Defenders have gathered — to defend our streets and make them a safer place!
32 PGS./Rated T+ …$3.99
DEFENDERS #7 Preview
---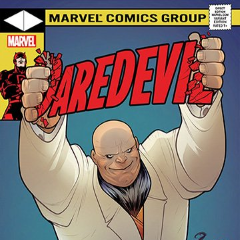 11/09 - DAREDEVIL 595 2nd Printing
DAREDEVIL 595, the renumbered issue for Marvel Legacy came out on Wednesday, and Diamond has announced a 2nd printing is on its way.
While we're not sure yet if the 2nd print will have a lenticular cover, it will be based on Elizabeth Torque's cover.
The Diamond code is SEP178925. If you want to order, the cut-off date is November 20th.
It is scheduled to ship December 20th.
Diamond
UPDATE:
---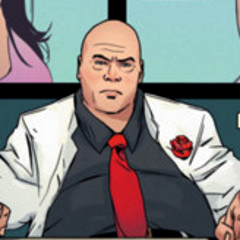 11/08 - Soule and Landini Interview
The Mayor Fisk storyline has begun in DAREDEVIL and Diamond has a new interview with Charles Soule and Stefano Landini.
I've been working with a bunch of different themes in my Daredevil run, but one of them has been that Matt has been pretty isolated, purposely. When we started all the way back in 2015, he'd left his girlfriend Kirsten MacDuffie behind, as well as his best friend, Foggy Nelson. He had a big plan he was trying to put together, which culminated in Issue 25 – that just hit shelves, and was the final chapter of the "Supreme" arc. But now, Matt's facing a scenario in the Legacy arc that he really can't handle alone – and the title of the first story, "Mayor Fisk," should suggest how bad it's going to get. Matt's lost his city.
Diamond
And if you've read the issue, share your thoughts with the editorial team and potentially get your letter published in the new letters page!
---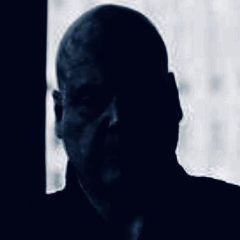 11/03 - D'Onofrio First Reading for DAREDEVIL S3
We know DAREDEVIL S3 is scheduled to start filming this month, and today we found out through actor Vincent D'Onofrio that the first script reading is tonight:
DAREDEVIL Season 3 is coming to Netflix in 2018.
---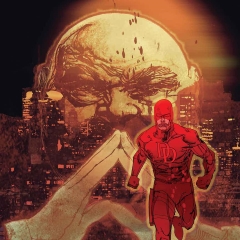 11/02 - DAREDEVIL #595 Preview
Marvel Legacy begins!
DAREDEVIL returns to its original numbering!
CHARLES SOULE (W) • STEFANO LANDINI (A)
Cover by BILL SIENKIEWICZ
Variant Cover by GREG HILDEBRANDT
Lenticular Homage (LH) Variant Cover by ELIZABETH TORQUE
Legacy Headshot Variant Cover by MIKE MCKONE
1965 T-SHIRT VARIANT COVER BY JACK KIRBY
VARIANT COVER BY TBA
BLANK VARIANT COVER ALSO AVAILABLE
MAYOR FISK Part 1
New York City has fallen to Wilson Fisk, the Kingpin – Daredevil's greatest and deadliest adversary. Matt Murdock has the law and he has his superhuman abilities – but Fisk has an entire city on his side. What can one man do? If he's Daredevil, he can FIGHT. PLUS: Includes 3 bonus MARVEL PRIMER PAGES!
32 PGS./Rated T+ …$3.99
DAREDEVIL #595, by Soule, Landini and Milla ships November 8th.
DAREDEVIL #595 Preview
---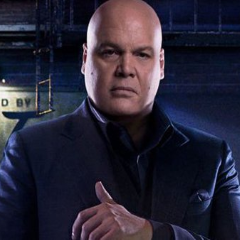 10/26 - D'Onofrio Returns for DAREDEVIL S3
While not surprising, considering where the storyline appeared to be heading after the end of THE DEFENDERS, Marvel officially announced today that actor Vincent D'Onofrio would be returning for season 3.
Also, we learned that the new season will have a new showrunner Erik Oleson. He has worked on ARROW and MAN IN THE HIGH CASTLE.
Marvel's Jeph Loeb had this to say:
"Vincent is an exceptional actor who returns with the incredible gravitas he brings to Fisk," said executive producer, Jeph Loeb, adding, "we're very excited how Marvel's Daredevil develops through the creative lens and guidance of our new showrunner, Erik Oleson."
The official Daredevil account on Twitter also played up the announcement:
One thing to notice in the press release:
"All episodes of the first and second seasons of "Marvel's Daredevil" are currently streaming on Netflix, with season three slated for release in 2018."
So while we don't have a date, it appears after JESSICA JONES S2, LUKE CAGE S2, we're getting DAREDEVIL S3 in the same year, so possible October/November?
Marvel.com
---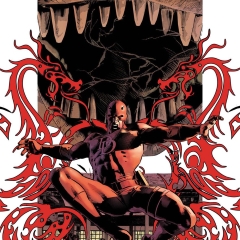 10/25 - DAREDEVIL #28 Preview
DAREDEVIL #28, by Soule, Garney and Milla ships October 25th.
DAREDEVIL #28 Preview
---
Click on links to display articles below...
2017-10-24-Josh-Turi-Interview
---
2017-10-17-January-2018-Daredevil-Solicits
---
2017-10-17-DAREDEVIL-595-Shalvey-Variant
---
2017-10-16-Daredevil-Season-3-Promo
---
2017-10-14-Soule-Mayor-Fisk-Interview
---
2017-10-13-Daredevil-Primer-Pages
---
2017-10-12-Mayor-Fisk-Soule-Interview
---
2017-10-12-DAREDEVIL-595-First-Look
---
2017-10-11-DAREDEVIL-27-Preview
---
2017-10-10-Mayor-Fisk-Daredevil-Sketchbook
---
2017-10-10-DEFENDERS-6-Preview
---
2017-10-09-DAREDEVIL-595-Variants
---
2017-10-06-Daredevil-News-Roundup
---
2017-10-04-Daredevil-News-Roundup
---
2017-10-02-Daredevil-News-Roundup
---
2017-09-30-Daredevil-News-From-The-Week
---
2017-09-29-Kotobukiya-Defenders
---
2017-09-27-Diamond-Select-PVC-Figures
---
2017-09-25-Chloe-Levine-Interview
---
2017-09-21-Marvel-Select-Daredevil-Pics
---
2017-09-19-December-2017-Daredevil-Solicits
---
2017-09-19-Daredevil-News-From-The-Week
---
2017-09-16-DAREDEVIL-Sales-Data
---
2017-09-14-J-Mallory-McCree-Interview
---
2017-09-10-DEFENDERS-5-Preview
---
2017-09-09-Daredevil-News-From-The-Week
---
2017-09-08-Marvel-101
---
2017-09-06-Jordan-White-New-Editor
---
2017-09-04-Fan-Expo-Daredevil-Pics
---
2017-09-01-DAREDEVIL-26-Preview
---
2017-08-30-Daredevil-News-Roundup
---
2017-08-25-Hot-Toys-Final-Product-Pics
---
2017-08-25-Chris-Brewster-Defenders-Interview
---
2017-08-24-Marvel-Heroes-Defenders
---
2017-08-24-Daredevil-News-Roundup
---
2017-08-23-Nikolai-Nikolaeff-Interview
---
2017-08-22-November-2017-Daredevil-Solicits
---
2017-08-21-Monday-DEFENDERS-News
---
2017-08-20-DEFENDERS-Intro
---
2017-08-19-DEFENDERS-Released-On-Netflix
---
2017-08-18-DAREDEVIL-25-Preview
---
2017-08-17-Thursday-DEFENDERS-News-Part-2
---
2017-08-17-Thursday-DEFENDERS-News-Part-1
---
2017-08-16-Wednesday-DEFENDERS-News
---
2017-08-16-DAREDEVIL-26-Venomized-Variant
---
2017-08-15-Tuesday-DEFENDERS-News
---
2017-08-15-DAREDEVIL-595-Info
---
2017-08-14-Monday-DEFENDERS-News
---
2017-08-13-DEFENDERS-Trailer
---
2017-08-11-DEFENDERS-News
---
2017-08-09-DEFENDERS-Interviews
---
2017-08-09-DEFENDERS-4-Preview
---
2017-08-08-Disney-Leaving-Netflix
---
2017-08-01-DEFENDERS-More-Promo-Pictures
---
2017-08-01-DAREDEVIL-Zdarsky-Variant
---
2017-07-31-THE-DEFENDERS-News
---
2017-07-31-Premiere-DEFENDERS-NYC
---
2017-07-31-Netflix-Marvel-Projects
---
2017-07-31-Loot-Crate-Marvel-Knights
---
2017-07-30-DAREDEVIL-Sales-Data
---
2017-07-25-DEFENDERS-Press-Reviews
---
2017-07-23-Sunday-San-Diego
---
2017-07-22-More-From-San-Diego
---
2017-07-22-DEFENDERS-Panel-More-Interviews
---
2017-07-21-DEFENDERS-Trailer-2
---
2017-07-21-DEFENDERS-Press-Interviews
---
2017-07-20-Stan-Lee-Defenders-Teaser
---
2017-07-20-DEFENDERS-Interviews
---
2017-07-20-DEFENDERS-Advertising
---
2017-07-20-Ben-Torres-Interview
---
2017-07-19-October-2017-Daredevil-Solicits
---
2017-07-18-SFX-Defenders-Magazine
---
2017-07-15-D23-Defenders-Vinyl
---
2017-07-14-DEFENDERS-PUNISHER-SDCC-Posters
---
2017-07-14-DAREDEVIL-24-Preview
---
2017-07-13-DAREDEVIL-595-Variant
---
2017-07-12-DEFENDERS-Empire-Feature
---
2017-07-09-DEFENDERS-3-Preview
---
2017-07-03-2018-DAREDEVIL-Collections
---
2017-06-30-DEFENDERS-at-SDCC-2017
---
2017-06-30-DAREDEVIL-Renumbering
---
2017-06-30-DAREDEVIL-23-Preview
---
2017-06-25-Interview-with-George-Papadimatos
---
2017-06-22-DEFENDERS-2nd-Printing
---
2017-06-21-Latest-DEFENDERS-Promos
---
2017-06-20-September-2017-Daredevil-Solicits
---
2017-06-16-DAREDEVIL-Sales-Data
---
2017-06-15-DAREDEVIL-22-Preview
---
2017-06-14-Marvel-Legends-Marvel-Knights
---
2017-06-11-Marvel-Kremer-Johnson-Photos
---
2017-06-10-Matt-Gerald-Daredevil-Interview
---
2017-06-10-DEFENDERS-1-Preview
---
2017-06-09-Daredevil-Appearances-Covers
---
2017-06-08-KINGPIN-5-Preview
---
2017-06-01-Daredevil-Q-Fig
---
2017-06-01-DAREDEVIL-21-Preview
---
2017-06-01-BULLSEYE-5-Preview
---
2017-05-29-Jessica-Jones-Set-Pics
---
2017-05-26-LA-Times-Defenders-Interview
---
2017-05-24-Scott-Glenn-Interview
---
2017-05-23-Marvel-Heroes-Daredevil
---
2017-05-23-August-2017-Daredevil-Solicits
---
2017-05-21-DEFENDERS-1-Covers
---
2017-05-20-ELEKTRA-4-Preview
---
2017-05-17-DEFENDERS-Empire-Magazine
---
2017-05-16-Daredevil-Marvel-Legends-New-Pics
---
2017-05-11-More-DEFENDERS-Motion-Posters
---
2017-05-11-KINGPIN-4-Preview
---
2017-05-11-DAREDEVIL-20-Preview
---
2017-05-10-Defenders-Hip-Hop-Cover
---
2017-05-10-Defenders-Best-Offence
---
2017-05-09-DEFENDERS-Motion-Posters
---
2017-05-04-DEFENDERS-Promo-Pics
---
2017-05-03-DEFENDERS-Trailer
---
2017-05-02-DEFENDERS-Elektra-Teaser
---
2017-05-02-Bendis-Marquez-Defenders-Interview
---
2017-05-01-Susan-Varon-Interview
---
2017-05-01-Daredevil-Marvel-Legends-SDCC
---
2017-04-30-Daredevil-Manga-Realization
---
2017-04-28-BULLSEYE-4-Preview
---
2017-04-23-Marvel-Legacy
---
2017-04-22-ELEKTRA-3-Preview
---
2017-04-20-Latest-Daredevil-Merchandise
---
2017-04-18-July-2017-Daredevil-Solicits
---
2017-04-17-Marko-Zaror-DEFENDERS-Role
---
2017-04-16-DAREDEVIL-Sales-Data
---
2017-04-14-DAREDEVIL-19-Preview
---
2017-04-12-HeroClix-Avengers-Defenders-War
---
2017-04-11-Daredevil-Jessica-Jones-Loot-Crate
---
2017-04-07-Daredevil-on-DEFENDERS-Set
---
2017-04-06-KINGPIN-3-Preview
---
2017-04-04-DEFENDERS-Release-Date
---
2017-04-03-Charlie-Cox-Interview
---
2017-03-31-BULLSEYE-3-Preview
---
2017-03-28-DEFENDERS-Set-Pics
---
2017-03-24-Soule-talks-DAREDEVIL-Supreme
---
2017-03-23-Soule-talks-Foggy-Friendship
---
2017-03-22-June-2017-Daredevil-Solicits
---
2017-03-22-DEFENDERS-Poster
---
2017-03-20-Daredevil-Season-2-Steelbook
---
2017-03-18-KINGPIN-3-First-Look
---
2017-03-17-ELEKTRA-2-Preview
---
2017-03-16-IRON-FIST-Premiere-Screening
---
2017-03-15-DEFENDERS-Set-Videos
---
2017-03-09-DAREDEVIL-18-Preview
---
2017-03-09-Charles-Soule-Interview-EJ-Scott
---
2017-03-07-KINGPIN-2-Preview
---
2017-03-02-Big-Apple-Con-Daredevil-Guests
---
2017-02-25-DEFENDERS-Comics-Previews
---
2017-02-24-BULLSEYE-2-Preview
---
2017-02-22-May-2017-Daredevil-Solicits
---
2017-02-20-Daredevil-at-Toy-Fair
---
2017-02-16-Collector-Corps-Daredevil-Bullseye
---
2017-02-15-Sideshow-Daredevil-Sixth-Scale-Daredevil
---
2017-02-10-ELEKTRA-J-Scott-Campbell-Covers
---
2017-02-09-Mezco-Toyz-Netflix-Daredevil
---
2017-02-09-DAREDEVIL-17-Preview
---
2017-02-09-Big-Apple-Con-Discount
---
2017-02-07-IRON-FIST-Trailer
---
2017-02-03-DEFENDERS-Set-Pics
---
2017-01-25-ELEKTRA-1-First-Look
---
2017-01-25-CBR-Soule-Interview
---
2017-01-24-Daredevil-S2-Pop-Vinyl
---
2017-01-24-April-2017-Daredevil-Solicits
---
2017-01-23-DAREDEVIL-17-First-Look
---
2017-01-20-DAREDEVIL-Sales-Data
---
2017-01-19-Hot-Toys-Bobble-Heads
---
2017-01-19-DAREDEVIL-16-Preview
---
2017-01-18-Complete-DEFENDERS-Entertainment-Weekly
---
2017-01-17-Newsarama-Soule-Interview-Bullseye
---
2017-01-15-Even-More-DEFENDERS-Entertainment-Weekly
---
2017-01-13-More-DEFENDERS-Entertainment-Weekly
---
2017-01-12-KINGPIN-1-First-Look
---
2017-01-12-DEFENDERS-Entertainment-Weekly
---
2017-01-11-THE-DEFENDERS-Bendis-Marquez
---
2017-01-06-DAREDEVIL-15-Preview
---
2017-01-05-BULLSEYE-1-First-Look
---
2017-01-04-New-Variants
---