2019 NEWS
---
Follow updates to NEWS on

Click on the links to display article!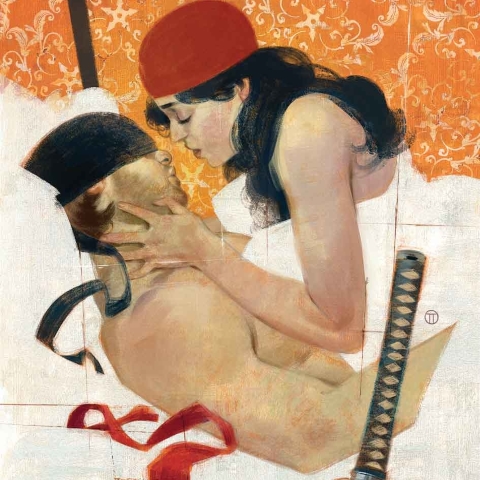 11/12 - DAREDEVIL Cover Changes
A few days back I let you know about some solicitation changes for DAREDEVIL with Francesco Mobili coming onboard to help with issues #14 and #15... now there are more changes...
The previously solicited #16 cover is now going to be issue #15's cover:
Now have a look at the new #16 cover by Julian Totino Tedesco!
These covers have been really good... maybe get an art book printed, Marvel?
---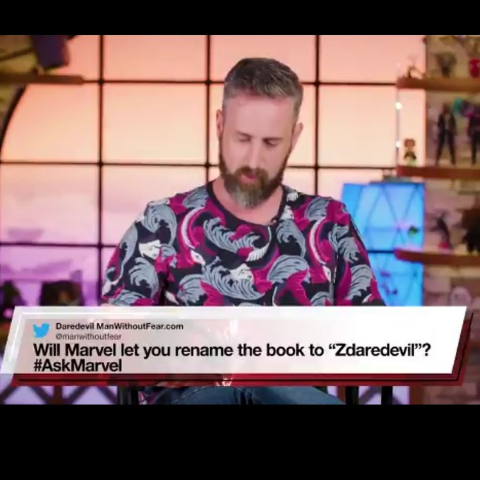 11/07 - Zdarsky #AskMarvel, Changes on DD#14 & DD#15
DAREDEVIL writer Chip Zdarsky stopped by Marvel HQ to answer some fan questions (including a question from yours truly!).
In other news, artist Francesco Mobili has been announced as an additional artist on DAREDEVIL #14 and #15, helping Marco Checchetto with the two issues in December.
Here are the updated solicitations:
DAREDEVIL #14
(W) Chip Zdarsky (A) Francesco Mobili, Marco Checchetto (CA) Julian Totino Tedesco
THE ENEMY OF MY ENEMY IS MY FRIEND…
• COLE NORTH goes for a drink with the one person he never expected to…
• Meanwhile, WILSON FISK learns that in New York, some people are more powerful than even the mayor.
• This, while Hell's Kitchen and IZZY LIBRIS are targeted by the Owl, with no Man Without Fear to stand in his way!
Rated T+In Shops: Dec 04, 2019 SRP: $3.99
DAREDEVIL #15
(W) Chip Zdarsky (A) Francesco Mobili, Marco Checchetto (CA) Julian Totino Tedesco
• As Mayor Fisk suffers an existential crisis, his city descends into chaos.
• Matt Murdock, on the other hand, has more conviction than ever – and stands poised to reprise his role as Hell's Kitchen's protector.
Rated T+In Shops: Dec 18, 2019 Final Orders Due: Nov 18, 2019 SRP: $3.99
---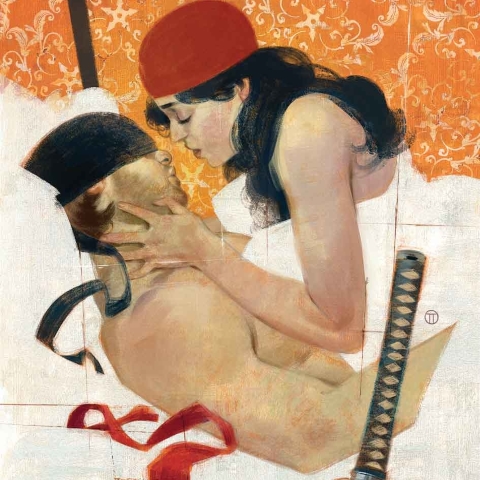 11/02 - Chip Zdarsky DAREDEVIL Interview
I interviewed current DAREDEVIL writer Chip Zdarsky and we discussed all things Matt Murdock, Wilson Fisk and more.
We also talked about how far into the future he has outlined, and that will please DD fans! Many thanks to him for this opportunity.
Interview with Chip Zdarsky
---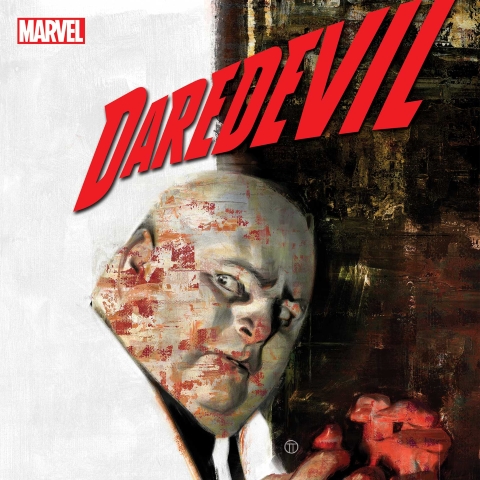 11/01 - DAREDEVIL #13 Preview
CHIP ZDARSKY (W) • MARCO CHECCHETTO (A) • Cover by JULIAN TOTINO TEDESCO
2099 VARIANT COVER BY Declan Shalvey
• After the epic conclusion to NO DEVILS, ONLY GOD, Matt Murdock has no choice but to investigate the corruption in New York's police force further.
• And Wilson Fisk may be the Kingpin of Crime no more, but he still has blood on his hands…
32 PGS./Rated T+ …$3.99
---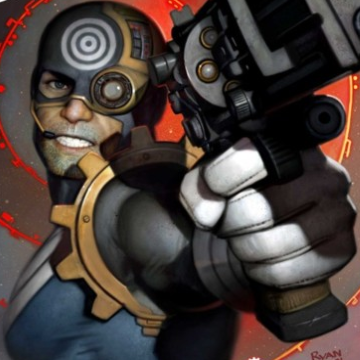 ---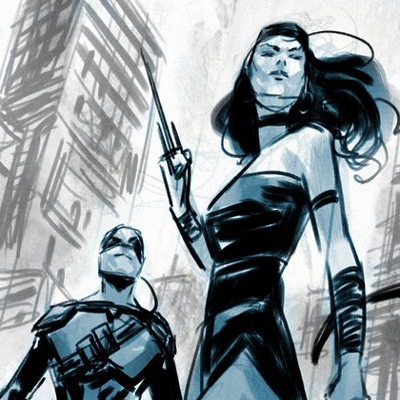 10/25 - More J. Totino Tedesco Sketches
Current DAREDEVIL cover artist Julian Totino Tedesco posts design sketches from time-to-time on Twitter, and here are the latest designs. Check out the news article from August for earlier designs!
DAREDEVIL #13
DAREDEVIL #14
DAREDEVIL #16
---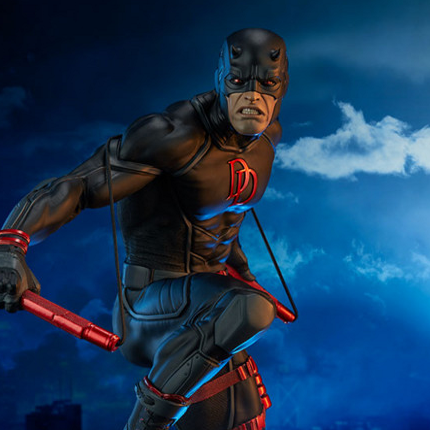 10/24 - Sideshow Shadowland Daredevil
A surprise Premium Format Figure from Sideshow was revealed today... a Shadowland version of Daredevil!
Limited to 150, it sells for $580 USD. Link is below, but have a look at the pictures...
Sideshow
---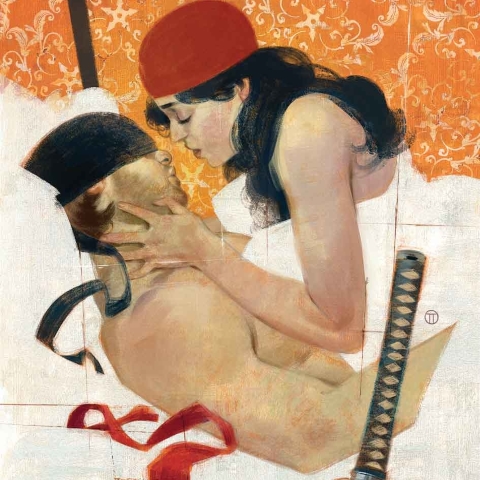 10/24 - DAREDEVIL January 2020 Solicits
January 2020 solicits are out and DAREDEVIL #16 sees the return of Jorge Fornes on art (along with a fantastic cover by Julian Tedesco).
There are also some new reprints of DAREDEVIL #4 and #131, featuring the debuts of Purple Man and Bullseye.
DAREDEVIL January 2020 Solicits
---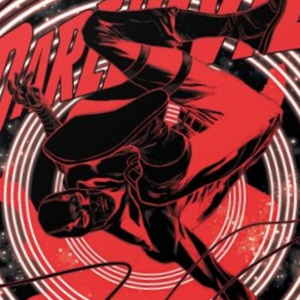 10/14 - DAREDEVIL Artist Edition
The Lucca 2019 Comics and Games convention in Italy at the end of the month will have a special preview of the "artist edition" of DAREDEVIL by Zdarsky, Checchetto and Gho.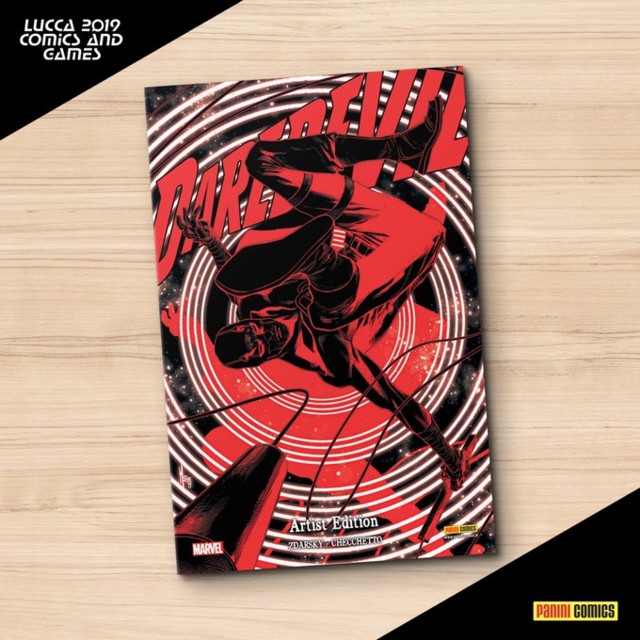 Artist Marco Checchetto took to Twitter and Instagram as well:
As more details become available I will post here and on Twitter.
---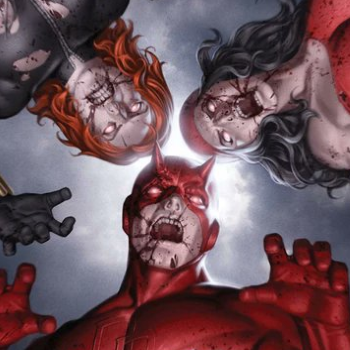 10/13 - MARVEL ZOMBIES RESURRECTION Variants
MARVEL ZOMBIES RESURRECTION ships October 30th and there will a couple of variants that will interest Daredevil fans.
Artist Jung-Geun Yoon has two covers available in a regular and "virgin" edition featuring Daredevil, Elektra and Black Widow. Check with your comic shops, as the "virgin" variant is 1:200.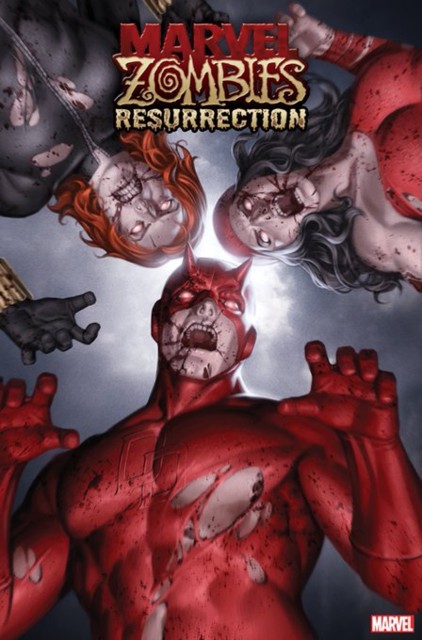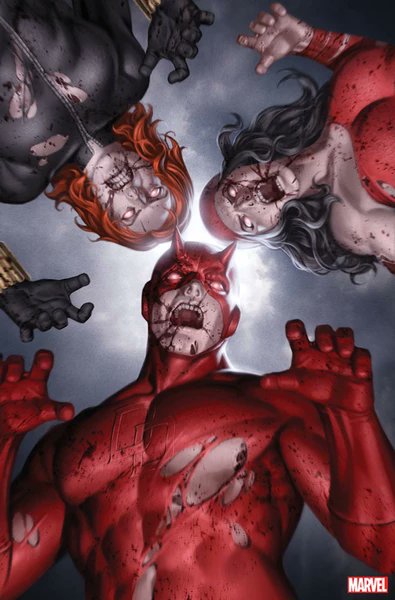 ---
Click on links to display articles below...
2019-10-02-Nandita-Shenoy-Interview
---
2019-09-28-DAREDEVIL-12-Preview
---
2019-09-27-DAREDEVIL-13-2099-Shalvey-Variant
---
2019-09-27-DAREDEVIL-12-Quesada-NYCC-Variant
---
2019-09-26-Wes-Louie-Interview
---
2019-09-26-Arden-Wolfe-Interview
---
2019-09-19-December-2019-Daredevil-Solicits
---
2019-09-14-Daredevil-Saturn-Awards-2019
---
2019-09-13-Marco-Checchetto-Commentary
---
2019-09-10-Vincent-DOnofrio-Interview
---
2019-09-09-DAREDEVIL-12-Conner-Variant
---
2019-09-06-DAREDEVIL-11-Preview
---
2019-09-06-DAREDEVIL-10-2nd-Printing
---
2019-09-02-DAREDEVIL-Sales-Data
---
2019-08-22-November-2019-Daredevil-Solicits
---
2019-08-16-DAREDEVIL-9-2nd-Printing
---
2019-08-16-DAREDEVIL-10-Preview
---
2019-08-15-DAREDEVIL-11-Pham-Variant
---
2019-08-06-Tedesco-Sketches
---
2019-08-05-Tony-Naumovski-Interview
---
2019-08-02-DAREDEVIL-9-Preview
---
2019-07-31-DAREDEVIL-8-2nd-Printing
---
2019-07-26-Iron-Studios-Daredevil-SDCC
---
2019-07-25-Lalit-Kumar-Sharma-Interview
---
2019-07-24-October-2019-Daredevil-Solicits
---
2019-07-23-Miller-Simonson-Unpublished-Script
---
2019-07-19-Jorge-Fornes-on-DAREDEVIL-10
---
2019-07-16-Bill-Sienkiewicz-Revolution
---
2019-07-15-DAREDEVIL-9-Johnson-Variant
---
2019-07-12-DAREDEVIL-8-Preview
---
2019-06-30-DAREDEVIL-7-2nd-Printing
---
2019-06-27-Prop-Store-Auction-Catalog-Set
---
2019-06-21-September-2019-Daredevil-Solicits
---
2019-06-13-WAR-SCROLLS-3-Preview
---
2019-06-13-Latest-Daredevil-News
---
2019-06-13-DAREDEVIL-7-Preview
---
2019-06-11-Grey-Matter-Daredevil-Jock-Print
---
2019-06-08-Panini-Italia-Special-Love-War-Edition
---
2019-06-05-DAREDEVIL-10-Yoon-Variant
---
2019-06-01-Support-Man-Without-Fear-Com
---
2019-05-28-JESSICA-JONES-S3-June-14
---
2019-05-24-WAR-SCROLLS-2-Preview
---
2019-05-24-DAREDEVIL-6-Preview
---
2019-05-24-DAREDEVIL-5-2nd-Printing
---
2019-05-23-August-2019-Daredevil-Solicits
---
2019-05-21-Latest-Daredevil-News
---
2019-05-17-Lawyer-as-Superhero
---
2019-05-11-Daredevil-News-From-The-Week
---
2019-05-10-DAREDEVIL-5-Preview
---
2019-05-09-DAREDEVIL-6-Cover
---
2019-05-02-DAREDEVIL-6-Romita-Jr-Variant
---
2019-05-02-DAREDEVIL-4-2nd-Printing
---
2019-04-30-DAREDEVIL-Sales-Data
---
2019-04-28-Daredevil-Emmy-Award-FYC
---
2019-04-26-Venomized-Daredevil-Pop-Vinyl-Funko
---
2019-04-20-DAREDEVIL-5-Romita-Jr-Variant
---
2019-04-19-July-2019-Daredevil-Solicits
---
2019-04-17-DAREDEVIL-3-2nd-Printing
---
2019-04-16-Netflix-Marvel-Production-Stills
---
2019-04-13-WAR-REALMS-Daredevil-Variant-Covers
---
2019-04-12-WAR-SCROLLS-1-Preview
---
2019-04-12-DAREDEVIL-4-Preview
---
2019-04-07-Daredevil-Born-Again-Artisan-Edition
---
2019-04-05-Retailer-Summit-Daredevil-Yellow-PVC
---
2019-03-26-Latest-DAREDEVIL-Variants
---
2019-03-23-DAREDEVIL-3-Preview
---
2019-03-21-Netflix-Auction
---
2019-03-20-DAREDEVIL-1-3rd-Printing
---
2019-03-19-June-2019-Daredevil-Solicits
---
2019-03-15-DAREDEVIL-2-2nd-Printing
---
2019-03-13-Latest-Daredevil-Shipping-Updates
---
2019-03-09-DAREDEVIL-Sales-Data
---
2019-03-05-Stolen-Maleev-Artwork
---
2019-02-28-DAREDEVIL-3-Romita-Jr-Variant
---
2019-02-22-DAREDEVIL-2-Preview
---
2019-02-20-May-2019-Daredevil-Solicits
---
2019-02-18-PUNISHER-JESSICA-JONES-Canceled
---
2019-02-17-Frank-Miller-Daredevil-Box-Set
---
2019-02-16-New-DAREDEVIL-variants
---
2019-02-12-DAREDEVIL-Production-Stills
---
2019-02-07-DAREDEVIL-1-2nd-Printing
---
2019-02-06-DAREDEVIL-1-Preview
---
2019-02-06-DAREDEVIL-1-Directors-Cut
---
2019-02-04-Happy-Birthday-DAREDEVIL
---
2019-01-31-DAREDEVIL-2-Variants
---
2019-01-28-Grey-Matter-Jock-Daredevil-Print
---
2019-01-25-MARVEL-KNIGHTS-20TH-6-Preview
---
2019-01-25-MAN-WITHOUT-FEAR-5-Preview
---
2019-01-24-Zdarsky-Checchetto-DAREDEVIL-Interview
---
2019-01-22-April-2019-Daredevil-Solicits
---
2019-01-19-MAN-WITHOUT-FEAR-4-Preview
---
2019-01-17-WAR-SCROLLS
---
2019-01-16-Save-Daredevil-Interview
---
2019-01-16-Interview-with-Jed-MacKay
---
2019-01-16-23-Years-of-Man-Without-Fear
---
2019-01-12-MAN-WITHOUT-FEAR-3-Preview
---
2019-01-10-Upper-Deck-Maleev-Print
---
2019-01-09-DAREDEVIL-1-Variants
---
2019-01-09-DAREDEVIL-1-3-Covers
---
2019-01-07-Marvel-Knights-History
---
2019-01-04-MAN-WITHOUT-FEAR-2-Preview
---
2019-01-03-Daredevil-Comics-Updates
---
2019-01-01-MARVEL-KNIGHTS-20TH-5-Preview
---
2019-01-01-MAN-WITHOUT-FEAR-1-Preview
---