2019 NEWS
---
Follow updates to NEWS on

Click on the links to display article!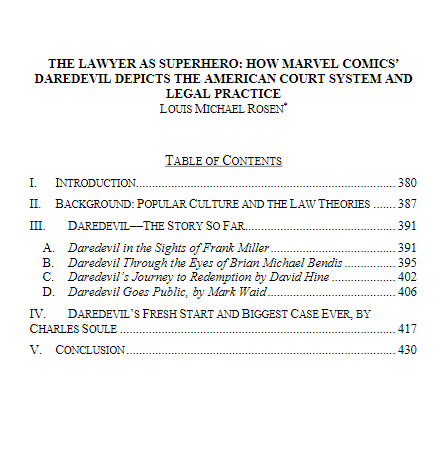 05/17 - Lawyer as Superhero
Louis Michael Rosen is an Associate Professor of Law Library at Barry University School of Law in Orlando, Florida, and he has written an article published in the Capital Law Review.
The full title is "The Lawyer as Superhero: How Marvel Comics' Daredevil Depicts the American Court System and Legal Practice". In it, Rosen delves into DD's secret identity, the legal system in the comics and how various writers have written DD throughout the years.
He also examines how lawyers have been portrayed and the legal system in the comics.
You can read it on the site, or download a PDF to read offline.
Capital Law Review
---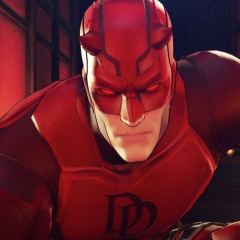 ---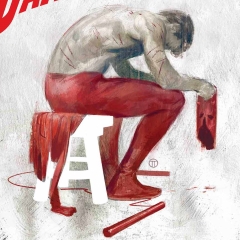 05/10 - DAREDEVIL #5 Preview
CHIP ZDARSKY (W)
MARCO CHECCHETTO (A)
Cover by JULIAN TOTINO TEDESCO
Hidden Gem Variant Cover by JOHN ROMITA JR.
• Accused of murder, Daredevil has been on the run trying to prove his innocence. But even he can't outrun judgment forever.
• Don't miss the explosive finale of Chip Zdarsky's first arc of DAREDEVIL!
32 PGS./Rated T+ …$3.99
---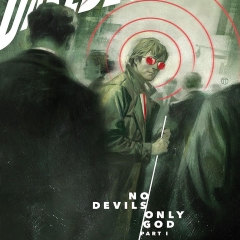 05/09 - DAREDEVIL 6 Cover
If you follow the monthly solicitations for DAREDEVIL, you may have noticed that the cover for issue #6 has not been shown... until now.
Here's the awesome cover for the first issue of the next arc, by Julian Tedesco.
CHIP ZDARSKY (W)
LALIT KUMAR SHARMA (A)
Cover by JULIAN TOTINO TEDESCO
HIDDEN GEM VARIANT COVER BY JOHN ROMITA JR.
Daredevil has disappeared from Hell's Kitchen — and in his absence the real devils are just starting to come out to play…
32 PGS./Rated T+ …$3.99
Issue #6 ships May 29th!
---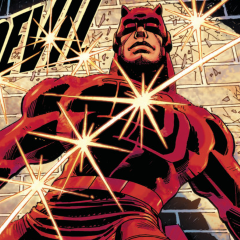 ---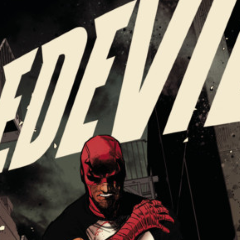 ---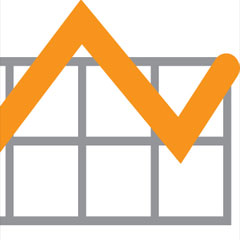 04/30 - DAREDEVIL Sales Data
The new volume has been a critical success, but is it a commercial success? The numbers for the first three issues are out, and here we go...
| | | | | |
| --- | --- | --- | --- | --- |
| DATE | RANK | ISSUE | SALES | CHANGE |
| 03/2019 | 19 | #3 | 51.3 | +15.5 |
| 03/2019 | 483 | #2 (2nd) | 0.5 | -- |
| 03/2019 | 303 | #1 (2nd) | 2.6 | -- |
| 02/2019 | 43 | #2 | 35.8 | -25.8 |
| 02/2019 | 13 | #1 | 61.6 | +19.8 |
Volume 6's #1 was almost 20K higher than Volume 5's last issue #612.
How did it compare to other #1's?
Volume 5 - 84.5K
Volume 4 - 76.0K
Volume 3 - 64.9K
Volume 2 - 91.1K

Another thing to notice, is that #1 and #2 shipped in February, and #2 went down about 25K, but #3 went up almost 16K in March. So from #1-->#3 only down 10K. Can it keep up these sales?
DAREDEVIL Sales Data
---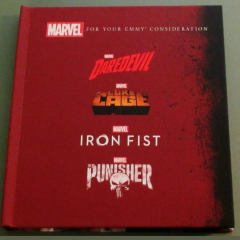 04/28 - Daredevil Emmy Award FYC
Netflix canceled all of its Marvel shows... but they are promoting the shows for the forthcoming Emmy Awards, as Daredevil, Luke Cage, Punisher and Iron Fist are included in a special FYC (For Your Consideration) booklet with DVDs sent out to qualified members.
It is surprising, considering what happens if DD wins... will Netflix even acknowledge it then?
Here's a pic from a listing on eBay:
If you have never seen the previous sets, Netflix also promoted S1 and S2:
Good luck to all the Marvel Netflix shows in this year's Emmy Awards. Nominations will be revealed in July and winners will be announced in September.
---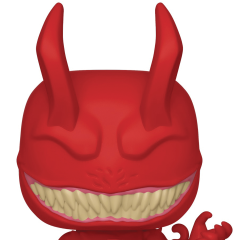 04/26 - Venomized Daredevil Pop!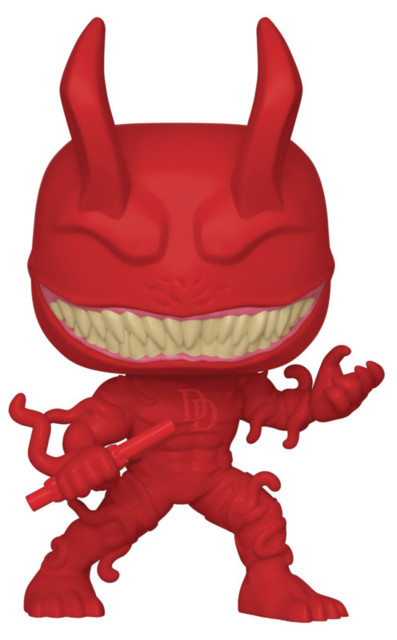 From Funko. Feel the venom! Bring home some of Marvel's beloved Super Heroes as Venomized Pop! figures. Daredevil, Rocket Raccoon, Storm, X-23, Groot and the Mad Titan Thanos will bring power, style and charm to any Super Hero collection. Each Pop! measures about 3 3/4" tall and comes in a window box for display.
In Shops: Aug 28, 2019
---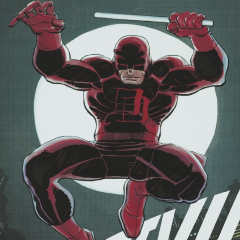 ---
Click on links to display articles below...
2019-04-19-July-2019-Daredevil-Solicits
---
2019-04-17-DAREDEVIL-3-2nd-Printing
---
2019-04-16-Netflix-Marvel-Production-Stills
---
2019-04-13-WAR-REALMS-Daredevil-Variant-Covers
---
2019-04-12-WAR-SCROLLS-1-Preview
---
2019-04-12-DAREDEVIL-4-Preview
---
2019-04-07-Daredevil-Born-Again-Artisan-Edition
---
2019-04-05-Retailer-Summit-Daredevil-Yellow-PVC
---
2019-03-26-Latest-DAREDEVIL-Variants
---
2019-03-23-DAREDEVIL-3-Preview
---
2019-03-21-Netflix-Auction
---
2019-03-20-DAREDEVIL-1-3rd-Printing
---
2019-03-19-June-2019-Daredevil-Solicits
---
2019-03-15-DAREDEVIL-2-2nd-Printing
---
2019-03-13-Latest-Daredevil-Shipping-Updates
---
2019-03-09-DAREDEVIL-Sales-Data
---
2019-03-05-Stolen-Maleev-Artwork
---
2019-02-28-DAREDEVIL-3-Romita-Jr-Variant
---
2019-02-22-DAREDEVIL-2-Preview
---
2019-02-20-May-2019-Daredevil-Solicits
---
2019-02-18-PUNISHER-JESSICA-JONES-Canceled
---
2019-02-17-Frank-Miller-Daredevil-Box-Set
---
2019-02-16-New-DAREDEVIL-variants
---
2019-02-12-DAREDEVIL-Production-Stills
---
2019-02-07-DAREDEVIL-1-2nd-Printing
---
2019-02-06-DAREDEVIL-1-Preview
---
2019-02-06-DAREDEVIL-1-Directors-Cut
---
2019-02-04-Happy-Birthday-DAREDEVIL
---
2019-01-31-DAREDEVIL-2-Variants
---
2019-01-28-Grey-Matter-Jock-Daredevil-Print
---
2019-01-25-MARVEL-KNIGHTS-20TH-6-Preview
---
2019-01-25-MAN-WITHOUT-FEAR-5-Preview
---
2019-01-24-Zdarsky-Checchetto-DAREDEVIL-Interview
---
2019-01-22-April-2019-Daredevil-Solicits
---
2019-01-19-MAN-WITHOUT-FEAR-4-Preview
---
2019-01-17-WAR-SCROLLS
---
2019-01-16-Save-Daredevil-Interview
---
2019-01-16-Interview-with-Jed-MacKay
---
2019-01-16-23-Years-of-Man-Without-Fear
---
2019-01-12-MAN-WITHOUT-FEAR-3-Preview
---
2019-01-10-Upper-Deck-Maleev-Print
---
2019-01-09-DAREDEVIL-1-Variants
---
2019-01-09-DAREDEVIL-1-3-Covers
---
2019-01-07-Marvel-Knights-History
---
2019-01-04-MAN-WITHOUT-FEAR-2-Preview
---
2019-01-03-Daredevil-Comics-Updates
---
2019-01-01-MARVEL-KNIGHTS-20TH-5-Preview
---
2019-01-01-MAN-WITHOUT-FEAR-1-Preview
---