2019 NEWS
---
Follow updates to NEWS on

Click on the links to display article!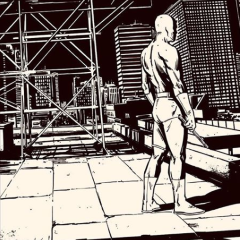 07/19 - Jorge Fornés on DAREDEVIL #10
First reported on Bleeding Cool's Diamond updates, artist Jorge Fornés will be drawing issue #10, replacing Lalit Kumar Sharma on the final issue of the "No God, Only Devils" arc.
Fornés took to Twitter to confirm my update as well:
He also thanked everyone for their kind words...
Fornés posted this Daredevil artwork in May... is this a sneak peek of the issue?
DAREDEVIL #10 ships August 21st.
---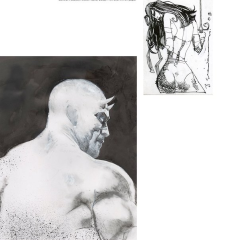 07/16 - Bill Sienkiewicz: Revolution
FOR IMMEDIATE RELEASE:
SIX FOOT PRESS TO PUBLISH BILL SIENKIEWICZ: REVOLUTION, VOL. I THIS OCTOBER

COMIC BOOK LEGEND BILL SIENKIEWICZ GETS FINE ART TREATMENT IN MASSIVE, THREE-VOLUME CAREER RETROSPECTIVE
(July 15, 2019) For forty years, the name Bill Sienkiewicz has been synonymous with groundbreaking, genre-pushing artwork. Since exploding on the scene in the pages of Moon Knight, and continuing to push the boundaries of what's possible in comic book art in titles like The New Mutants, Daredevil, and Elektra: Assassin, Sienkiewicz has built a reputation as of the most respected, original, and, unpredictable artists to ever work in comic books. To honor the career of a true artistic original, Six Foot Press will publish Bill Sienkiewicz: Revolution, Vol. I in October 2019, in both standard Trade Edition and Limited Edition formats, with two more volumes planned to follow.

"Revolution features a ton of artwork," said Sienkiewicz. "A lot that people have seen, and plenty from my private notebooks that they have never seen. And that's just Volume I!"

Bill Sienkiewicz: Revolution, Vol. I (Trade Edition) features a fabric-wrapped, foil-stamped cover and contains over 200 pages of art, as well as an introduction by best-selling writer Neil Gaiman, an interview with Sienkiewicz, and an essay by Ben Davis, award-winning Senior Writer for Artnet News, who examines Sienkiewicz's process and places him within the context of art and popular culture.

"Bill Sienkiewicz is a great comic book artist and a great artist, period," Davis said. "He's both mastered the visual storytelling of costumed heroics and hatched works of the most singularly weird, personal, and tough-to-categorize kind. Sometimes Sienkiewicz has actually done both at once—which in my opinion is what makes him really great. Just exactly how he's pulled off this trick is what we try to show in this book, so I hope the result has something new to offer art snobs and super fans alike."

The Limited Edition is a fabric-covered clamshell box containing a collection of 40 individual deluxe reproductions of previously unpublished paintings, drawings, sketches, and mixed media works from four decades of Sienkiewicz's notebooks and personal collection as well as other private collections. A booklet signed by the artist will include an introduction by Neil Gaiman and an interview in which Sienkiewicz explains his influences and techniques and offers his view on the future of comic book art.

"Bill's work has served to revolutionize the comic book industry. But he is a fine artist whose experimental techniques and unusual mixing of mediums deserve serious consideration by the larger art world," explains Charles Kim, Publisher of Six Foot Press and former Associate Publisher of The Museum of Modern Art in New York. "This three-volume series will give us the chance to explore his output from a new perspective."
Bill Sienkiewicz: Revolution, Vol. I will be released in October 2019. The Trade and Limited Editions are available now for pre-order at sienkiewiczrevolution.com.

Attendees of Comic-Con International 2019 can stop by the Bill Sienkiewicz Art booth (#2614) to receive a code for free shipping on pre-orders of Bill Sienkiewicz Revolution, Vol. I. Representatives of Bill Sienkiewicz and Six Foot Press will also be on-hand for press inquiries and interviews.
---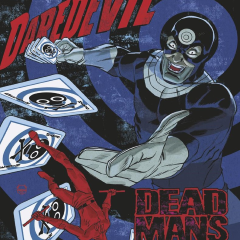 ---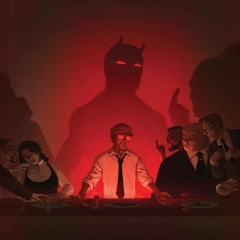 07/12 - DAREDEVIL #8 Preview
CHIP ZDARSKY (W) • LALIT KUMAR SHARMA (A)
Cover by CHIP ZDARSKY
CARNAGE-IZED VARIANT COVER BY LEE GARBETT
• With Daredevil still missing, his shadow looms large over Hell's Kitchen…and ordinary citizens are starting to feel his absence.
• Detective Cole North may think he's stopped Daredevil, but there are bigger problems coming his way!
32 PGS./Rated T+ …$3.99
---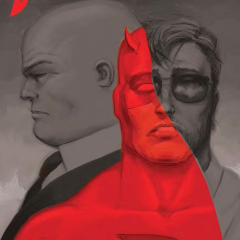 ---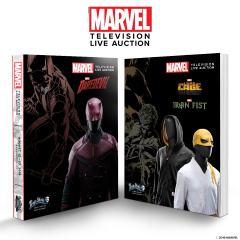 06/27 - Prop Store Auction Catalog Set
Prop Store, the company doing the auctions for the props, costumes and more from DAREDEVIL, LUKE CAGE and IRON FIST has announced that the auction will happen on August 12 & 13.
Registration has begun via their web site, and a special two catalog set is available for purchase.
If you are interested in the catalog set, there are two locations (London and LA) from where to ship from, so do a shipping quote to see which may be cheaper for you. The catalog set itself is about $60 USD. But shipping is really high.
If you register before July 8 and live in the US, you will be entered in a draw for a production LUKE CAGE hoodie.
(Use code: TRUEBELIEVER for 10% off if you order from the US location)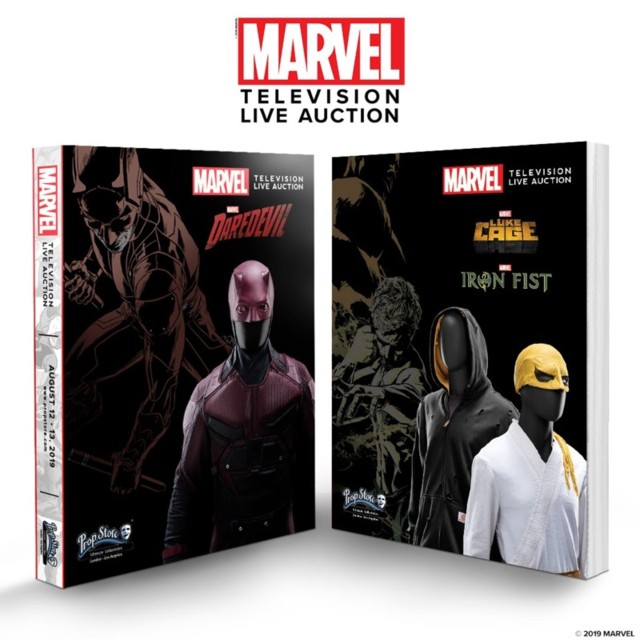 PropStore.com
---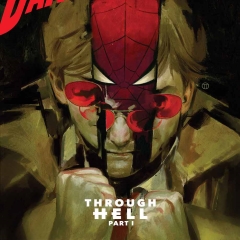 06/21 - DAREDEVIL September 2019 Solicits
Lots of Daredevi-related comics in the September previews...
Marco Checchetto returns for the new arc of DD with issue #11. DAREDEVIL #181 gets a facsimile edition.
There were also advanaced solicits as well... There's a new printing of the BENDIS OMNIBUSES. MARVEL MASTERWORKS returns with volume 14. And the latest EPIC COLLECTION reprints Volume 4.
DAREDEVIL September 2019 Solicits
---
---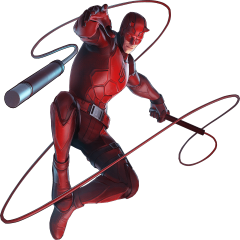 06/13 - Latest Daredevil News
MARVEL NETFLIX SHOWS
---
MARVEL PUZZLE QUEST
---
MARVEL ULTIMATE ALLIANCE 3
---
JIMMY KIMMEL
---
LAW IS A ASS
---
MEZCO REVIEW
---
SAVAGE AVENGERS VARIANT
---
DAREDEVIL ORIGINAL ART
---
TEDESCO SKETCHES
---
BORN AGAIN
---
ZDARSKY INTERVIEW
---
---
06/13 - DAREDEVIL #7 Preview
CHIP ZDARSKY (W) • LALIT KUMAR SHARMA (A)
Cover by CHIP ZDARSKY
MARVELS 25TH TRIBUTE VARIANT COVER BY LEINIL YU
• In the aftermath of Chip Zdarsky's explosive first arc of DAREDEVIL, the ground of Hell's Kitchen has shifted and Matthew Murdock has emerged a changed man…but for better or worse?
• Don't miss the second installment of this new arc: "No Gods, Only Devils"!
32 PGS./Rated T+ …$3.99
---
Click on links to display articles below...
2019-06-11-Grey-Matter-Daredevil-Jock-Print
---
2019-06-08-Panini-Italia-Special-Love-War-Edition
---
2019-06-05-DAREDEVIL-10-Yoon-Variant
---
2019-06-01-Support-Man-Without-Fear-Com
---
2019-05-28-JESSICA-JONES-S3-June-14
---
2019-05-24-WAR-SCROLLS-2-Preview
---
2019-05-24-DAREDEVIL-6-Preview
---
2019-05-24-DAREDEVIL-5-2nd-Printing
---
2019-05-23-August-2019-Daredevil-Solicits
---
2019-05-21-Latest-Daredevil-News
---
2019-05-17-Lawyer-as-Superhero
---
2019-05-11-Daredevil-News-From-The-Week
---
2019-05-10-DAREDEVIL-5-Preview
---
2019-05-09-DAREDEVIL-6-Cover
---
2019-05-02-DAREDEVIL-6-Romita-Jr-Variant
---
2019-05-02-DAREDEVIL-4-2nd-Printing
---
2019-04-30-DAREDEVIL-Sales-Data
---
2019-04-28-Daredevil-Emmy-Award-FYC
---
2019-04-26-Venomized-Daredevil-Pop-Vinyl-Funko
---
2019-04-20-DAREDEVIL-5-Romita-Jr-Variant
---
2019-04-19-July-2019-Daredevil-Solicits
---
2019-04-17-DAREDEVIL-3-2nd-Printing
---
2019-04-16-Netflix-Marvel-Production-Stills
---
2019-04-13-WAR-REALMS-Daredevil-Variant-Covers
---
2019-04-12-WAR-SCROLLS-1-Preview
---
2019-04-12-DAREDEVIL-4-Preview
---
2019-04-07-Daredevil-Born-Again-Artisan-Edition
---
2019-04-05-Retailer-Summit-Daredevil-Yellow-PVC
---
2019-03-26-Latest-DAREDEVIL-Variants
---
2019-03-23-DAREDEVIL-3-Preview
---
2019-03-21-Netflix-Auction
---
2019-03-20-DAREDEVIL-1-3rd-Printing
---
2019-03-19-June-2019-Daredevil-Solicits
---
2019-03-15-DAREDEVIL-2-2nd-Printing
---
2019-03-13-Latest-Daredevil-Shipping-Updates
---
2019-03-09-DAREDEVIL-Sales-Data
---
2019-03-05-Stolen-Maleev-Artwork
---
2019-02-28-DAREDEVIL-3-Romita-Jr-Variant
---
2019-02-22-DAREDEVIL-2-Preview
---
2019-02-20-May-2019-Daredevil-Solicits
---
2019-02-18-PUNISHER-JESSICA-JONES-Canceled
---
2019-02-17-Frank-Miller-Daredevil-Box-Set
---
2019-02-16-New-DAREDEVIL-variants
---
2019-02-12-DAREDEVIL-Production-Stills
---
2019-02-07-DAREDEVIL-1-2nd-Printing
---
2019-02-06-DAREDEVIL-1-Preview
---
2019-02-06-DAREDEVIL-1-Directors-Cut
---
2019-02-04-Happy-Birthday-DAREDEVIL
---
2019-01-31-DAREDEVIL-2-Variants
---
2019-01-28-Grey-Matter-Jock-Daredevil-Print
---
2019-01-25-MARVEL-KNIGHTS-20TH-6-Preview
---
2019-01-25-MAN-WITHOUT-FEAR-5-Preview
---
2019-01-24-Zdarsky-Checchetto-DAREDEVIL-Interview
---
2019-01-22-April-2019-Daredevil-Solicits
---
2019-01-19-MAN-WITHOUT-FEAR-4-Preview
---
2019-01-17-WAR-SCROLLS
---
2019-01-16-Save-Daredevil-Interview
---
2019-01-16-Interview-with-Jed-MacKay
---
2019-01-16-23-Years-of-Man-Without-Fear
---
2019-01-12-MAN-WITHOUT-FEAR-3-Preview
---
2019-01-10-Upper-Deck-Maleev-Print
---
2019-01-09-DAREDEVIL-1-Variants
---
2019-01-09-DAREDEVIL-1-3-Covers
---
2019-01-07-Marvel-Knights-History
---
2019-01-04-MAN-WITHOUT-FEAR-2-Preview
---
2019-01-03-Daredevil-Comics-Updates
---
2019-01-01-MARVEL-KNIGHTS-20TH-5-Preview
---
2019-01-01-MAN-WITHOUT-FEAR-1-Preview
---