2020 NEWS
---
Follow updates to NEWS on

Click on the links to display article!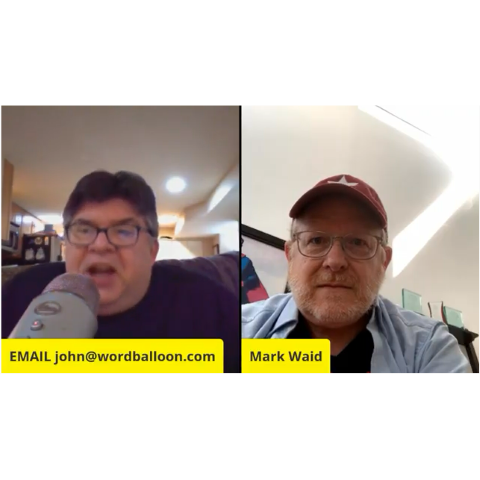 08/13 - Mark Waid Interview
Former DAREDEVIL writer Mark Waid spoke with Word Balloon about his current work at Humonoids and more.
Waid talks about his DD stint, hinting at a story he is yet to tell, and also how he felt his run was going to be short because of how different it was than what had come before...
---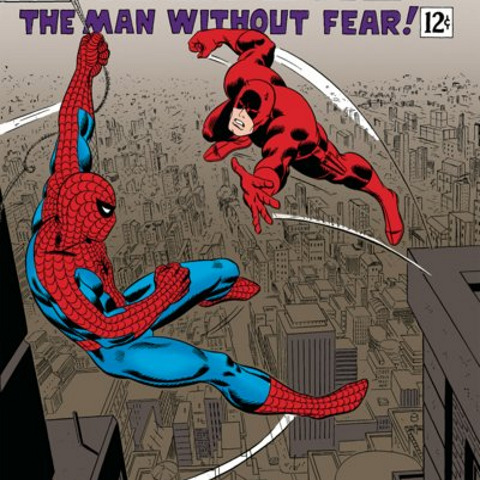 08/05 - Grey Matter Daredevil #16 Print
On sale this Thursday August 6th at 1PM ET!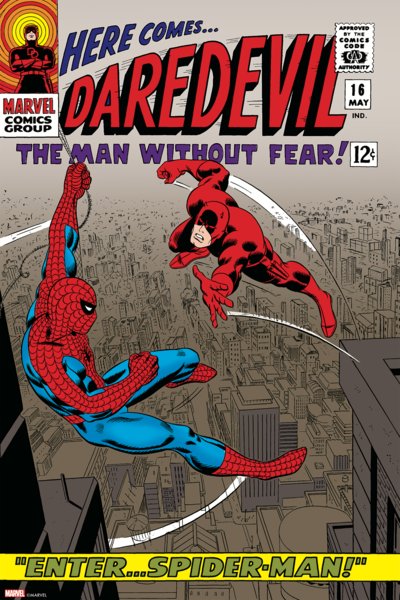 Daredevil #16, (1966) by John Romita & Frank Giacoia
16" x 24" Hand-Numbered Fine Art Giclee (Hot Press Bright)
Edition of 100
Printed by Grey Matter Printing
$45
More information below:
Grey Matter Art
---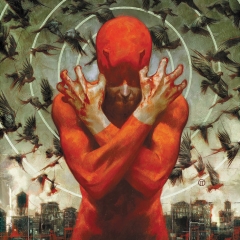 08/03 - Oversized Hardcovers coming in 2021
There hasn't been an omnibus or oversized hardcover for DAREDEVIL since the Waid/Samnee run, and today we have learned through Near Mint Condition, that starting next year, there will be oversized hardcovers of volume 6 of DAREDEVIL.
While not officially announced yet, the hardcover will most likely contain issues #1-10.
Hopefully if these sell well, omnibuses are also on the horizon.
---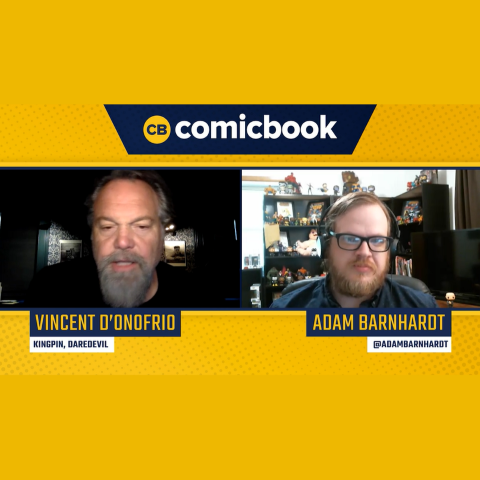 07/31 - Vincent D'Onofrio Interview
ComicBook.com had a chance to speak with DAREDEVIL actor Vincent D'Onofrio about his career and lots about Kingpin, the DD show and more...
Here's the hour long interview:
---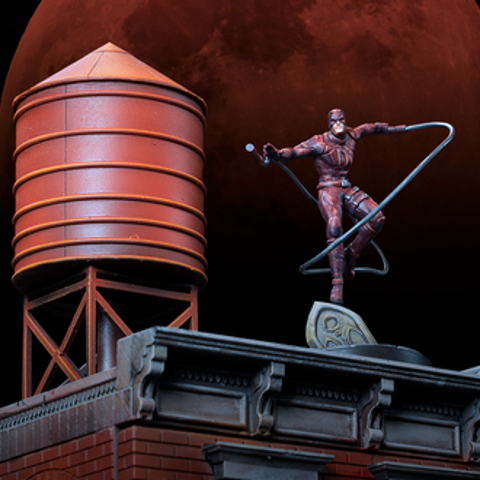 07/31 - Marvel Crisis Protocol
The Marvel: Crisis Protocol tabletop miniatures game will adding some new characters to the game soon.
If you want to learn more about the game, check out this video below:
There is more information at the Atomic Mass Games site:
Atomic Mass Games
---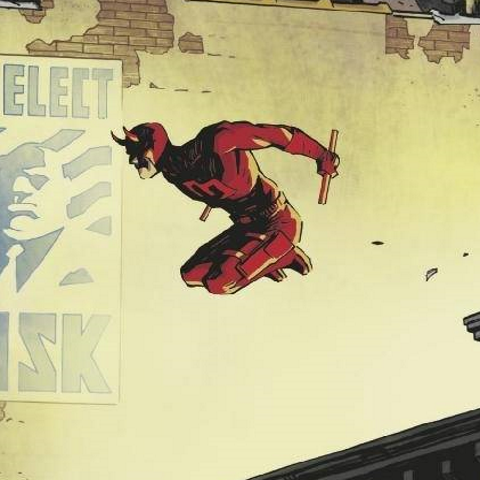 07/27 - DAREDEVIL ANNUAL Declan Shalvey Variant
Coming in August is the DAREDEVIL ANNUAL, and there will be a variant cover by Declan Shalvey.
There are some Easter eggs in the pic, so have a look!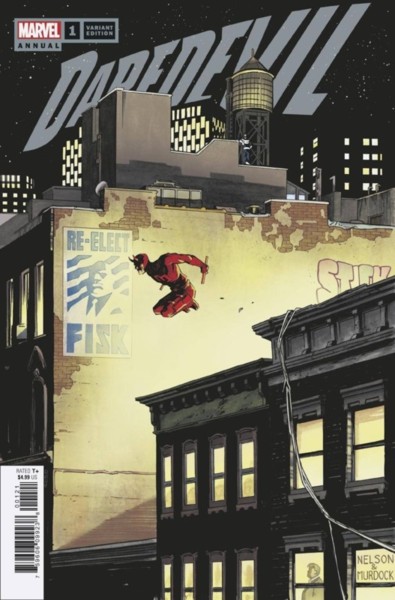 (W) Chip Zdarsky (A) Chris Mooneyham, Manuel Garcia (CA) Declan Shalvey
ONE MORE DAY!
Rated T+
In Shops: Aug 26, 2020
SRP: $4.99
The regular cover will be drawn by Chip Zdarsky.
---
07/27 - Word Balloon Chip Zdarsky Interview
DAREDEVIL writer Chip Zdarsky stopped by John Siuntres's Word Balloon show today for an interview.
Zdarsky talked about many of his projects, including some info about DAREDEVIL.
He is already on issue #26, and has plans for another year at a minimum.
Issue #25 will have a "major upheaval" for the title.
DAREDEVIL will also tie-in to the "King in Black" event for a couple of issues.
---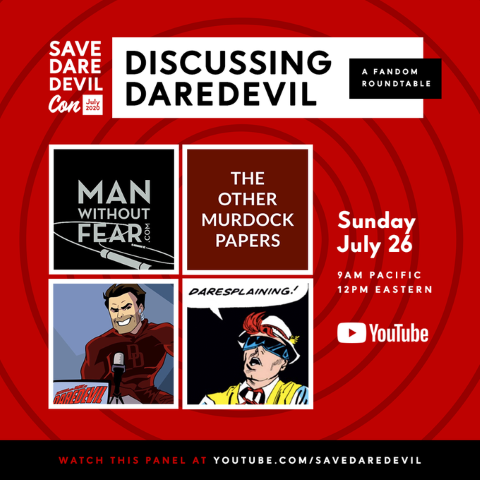 07/26 - Save Daredevil Con Day 4
Here are the highlights from the final day of the Save Daredevil Con!
Discussing Daredevil: A Daredevil Fandom Podcast
Featuring Kuljit (that's me!) from manwithoutfear.com, Christine from TOMP, Joshua from JandJDoDaredevil and Emma from Daresplaining!
A Look Inside Team SaveDaredevil
Check out @RenewDaredevil on Twitter, or @SaveDaredevil on Instagram for the latest highlights and more!
---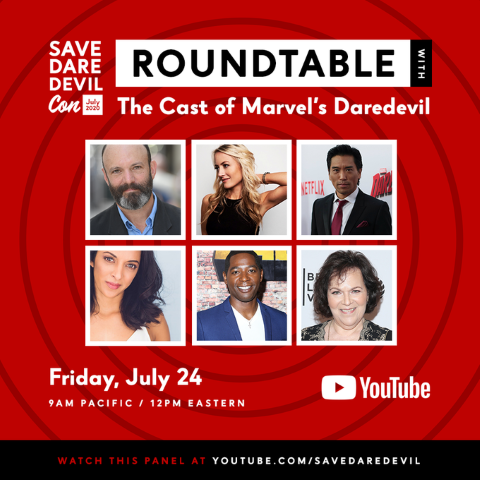 07/25 - Save Daredevil Con Day 3
Here are the highlights from the third day of the Save Daredevil Con!
A Conversation with Steven DeKnight and Erik Oleson
Livestream with Geoffrey Cantor, Peter Shinkoda and Tommy Walker
Check out @RenewDaredevil on Twitter, or @SaveDaredevil on Instagram for the latest highlights and more!
---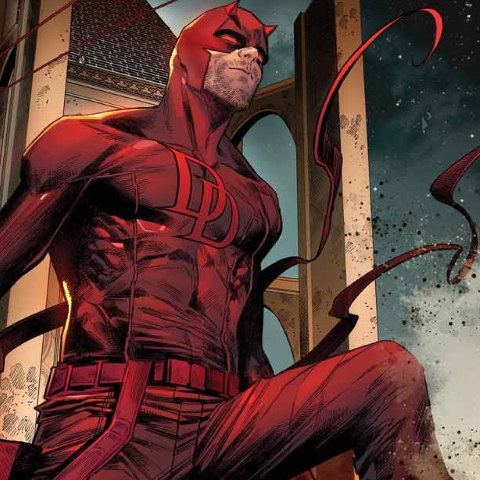 07/25 - DAREDEVIL #21 Poster Cancelled
Originally DAREDEVIL #21 was going to ship in May, and there was also going to be a poster available for order through Diamond of the cover by Marco Checchetto.
With COVID-19 changing the plans for everyone, comics were delayed and some were cancelled.
DAREDEVIL #21 finally came out this month in July, but there had been no word on the poster.
Unfortunately, the poster has now been cancelled with code "4", meaning Cancelled By Publisher.
And another unfortunate thing to come from this is the cancellation of the promo posters for stores to advertise the issue as well.
Right now, there are no plans to produce the poster... but if anything comes up, I'll let you know.
---
Click on links to display articles below...
2020/07/24/Save-Daredevil-Con-Day-2
---
2020/07/23/Save-Daredevil-Con-Day-1
---
2020/07/23/October-2020-Daredevil-Solicits
---
2020/07/20/DAREDEVIL-23-Variant-Alex-Ross
---
2020/07/18/Elektra-White-SDCC-Statue
---
2020/07/17/DAREDEVIL-21-Preview
---
2020/07/15/Previously-in-DAREDEVIL
---
2020/07/14/Original-DAREDEVIL-43-Cover
---
2020/07/12/Ann-Nocenti-Interview
---
2020/07/03/Save-Daredevil-Con
---
2020/06/27/DAREDEVIL-So-Far
---
2020/06/23/Defenders-Auction-Catalog
---
2020/06/23/Daredevil-Grey-Matter-Print-Paolo-Rivera
---
2020/06/19/September-2020-Daredevil-Solicits
---
2020/06/18/Is-Marvel-Casting-Echo
---
2020/06/12/Denny-ONeil-Dies-At-81
---
2020/06/10/Ann-Nocenti-Interview
---
2020/06/08/DAREDEVIL-20-Preview
---
2020/06/07/Elsa-Sjunneson-Interview
---
2020/06/04/DAREDEVIL-Eisner-Awards-Nominations
---
2020/06/03/Chip-Zdarsky-Interview
---
2020/05/28/JESSICA-JONES-SerialBox
---
2020/05/26/Chip-Zdarsky-Interview
---
2020/05/25/DAREDEVIL-Shipping-Update
---
2020/05/22/Marvel-Legends-Armored-Daredevil-Figure
---
2020/05/22/Jack-DiFalco-Interview
---
2020/05/21/August-2020-Daredevil-Solicits
---
2020/05/19/DAREDEVIL-Shipping-Update
---
2020/05/18/Cori-Dioquino-Interview
---
2020/05/16/Chip-Zdarsky-Interviews
---
2020/05/15/DAREDEVIL-20-Interview
---
2020/05/13/Marty-Pasko-Dies-At-Age-65
---
2020/05/12/Will-Stout-Interview
---
2020/05/09/LOVE-AND-WAR-Gallery-Edition
---
2020/05/06/PUNISHER-DEFENDERS-Auction
---
2020/05/05/JESSICA-JONES-SerialBox
---
2020/05/01/DAREDEVIL-Shipping-Update
---
2020/04/30/Charlie-Cox-Interview
---
2020/04/29/Charlie-Cox-Addresses-Spider-Man-Rumors
---
2020/04/28/DAREDEVIL-Quarantine-Watch-Party
---
2020/04/28/Chris-Tardio-Interview
---
2020/04/27/DAREDEVIL-Shipping-Update
---
2020/04/24/Jimmy-Palmiotti-Interview
---
2020/04/22/Klaus-Janson-Interview
---
2020/04/22/Kevin-Smith-Interview-Part-2
---
2020/04/20/Sideshow-Daredevil-Elektra-Print
---
2020/04/20/Kevin-Smith-Interview
---
2020/04/14/DAREDEVIL-Shipping-Update
---
2020/04/10/Happy-5th-DAREDEVIL-S1
---
2020/04/09/Deborah-Ann-Woll-Interview
---
2020/04/07/More-Delays
---
2020/03/31/Sideshow-Daredevil-Shadowland-Figure
---
2020/03/30/DAREDEVIL-20-Delayed
---
2020/03/28/1982-Proposed-Daredevil-Cartoon
---
2020/03/27/Sideshow-Shadowland-Figure
---
2020/03/26/Grey-Matter-Daredevil-Print
---
2020/03/23/Diamond-Halts-All-New-Shipments
---
2020/03/19/June-2020-Daredevil-Solicits
---
2020/03/18/MARVELS-X-3-Preview
---
2020/03/16/Chip-Zdarsky-Interview
---
2020/03/15/Elodie-Yung-Interview
---
2020/03/13/Daredevil-Links
---
2020/03/08/Nyla-Skin-Returns
---
2020/03/07/HAWKEYE-FREEFALL-4-Preview
---
2020/03/04/DAREDEVIL-19-Sketches
---
2020/02/28/DAREDEVIL-19-Preview
---
2020/02/20/May-2020-Daredevil-Solicits
---
2020/02/20/DAREDEVIL-Sales-Data
---
2020/02/19/DAREDEVIL-Annual-One-More-Day
---
2020/02/17/DAREDEVIL-Inferno
---
2020/02/14/DAREDEVIL-18-Preview
---
2020/02/12/Recent-Daredevil-Appearances
---
2020/02/07/MAN-WITHOUT-FEAR-MARVEL-SELECT
---
2020/02/06/DAREDEVIL-Back-in-Red
---
2020/02/05/DAREDEVIL-19-Spider-Woman-Variant
---
2020/01/31/Holly-Cinnamon-Interview
---
2020/01/30/DAREDEVIL-17-Preview
---
2020/01/28/Marco-Checchetto-Interview
---
2020/01/23/April-2020-Daredevil-Solicits
---
2020/01/21/DAREDEVIL-20-Marvel-Zombies-Variant-Sliney
---
2020/01/21/DAREDEVIL-18-Rivera-Gwen-Stacy-Variant
---
2020/01/16/24-Years-of-Man-Without-Fear
---
2020/01/10/More-Tedesco-Sketches
---