MEDIA
DIGITAL COMICS
Marvel is quickly making many of their titles available in digital form. There are several ways you can now view or purchase Daredevil comics. These include Marvel's Digital Comics Unlimited, Sony's PlayStation Digital Comics, and ComiXology. If you'd like to see what issues are available, please check out the links below. Marvel's initiative costs $4.99 US/month (billed as $59.88 year) or $9.99 US/month. This gives access to all titles to view. Sony's Digital Comics can only be viewed on the PSP, and must be downloaded through the PlayStation Network (this is now discontinued). Each download ranges in cost (most seem to be $1.99 US). ComiXology's app is downloaded onto your iPhone/iPad/Android and comics are viewed on it.
---
ComiXology/Marvel App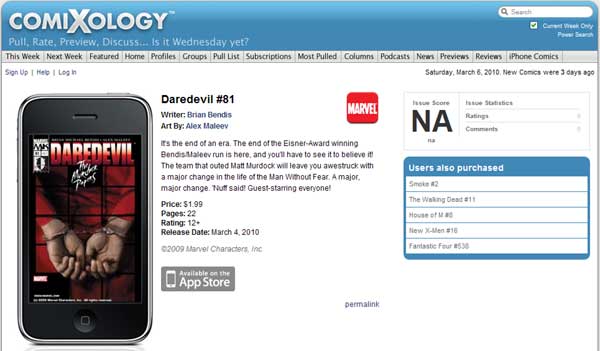 Please note: ComiXology's Marvel comics are now available internationally (originally was only US). These comics are now available on the iPhone, iPad and Android.
DAREDEVIL VOL. 3 (#1-10, #10.1, #11-25, Annual #1)
DAREDEVIL VOL. 2 (#1-19, #26-119, #500-512)
DAREDEVIL VOL. 1 (#1-8, #105-107, #238, #252)
DAREDEVIL YELLOW
DAREDEVIL: SEASON ONE
DAREDEVIL: NOIR
DAREDEVIL: END OF DAYS
DAREDEVIL/DEADPOOL '97

---
Marvel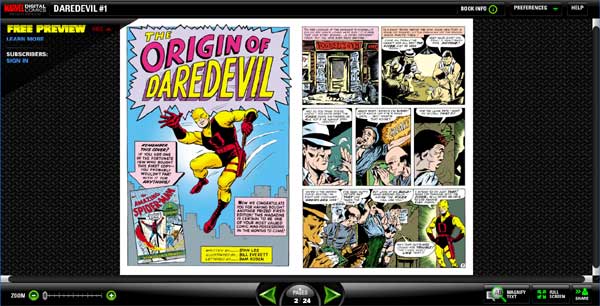 ---
Sony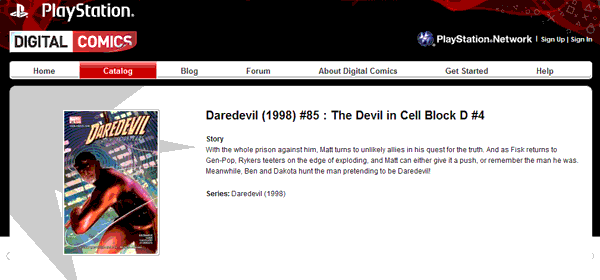 Note, as of July 2011, the program for PSP has been cancelled. No new titles will be produced.
---
Intec DVD's
Intec Interactive - Daredevil Vol.1: Guardian Devil DVD

This digital comic book came out in 2003, and features the whole Guardian Devil story on DVD, with voice actors.

Taken from the Intec Interactive site:


History of the main characters

Sketches, Drawings and Testimonials

Digital 5.1 Surround Sound

8 chapters of Daredevil

Documentary: How Marvel makes a comic book

7 trailers of Marvel titles available

Art gallery

Cover page gallery

Bonus: Daredevil #1

Runs for 208 minutes
Intec Interactive - Ultimate Daredevil/Elektra Vol.1 DVD

This digital comic book came out in 2003, and features the 4 issue limited series Ultimate Daredevil/Elektra, with voice actors.

Taken from the Intec Interactive site:


History of the main characters

Sketches, Drawings and Testimonials

Digital 5.1 Surround Sound

4 chapters of Ultimate Daredevil/Elektra

Documentary: How Marvel makes a comic book

7 trailers of Marvel titles available

Art gallery

Cover page gallery

Bonus: Daredevil #1

Runs for 100 minutes
---
Last Modified - Wednesday, 15-May-2013 17:21:14 PDT