NEWS
Your #1 trusted source for all Daredevil-related news since 1996!
Please check out the new archive of news!
---
Archive
NEWS from 2013
|
NEWS from 2012
|
NEWS from 2011
|
NEWS from 2010
|
NEWS from 2009
|
NEWS from 2008
|
NEWS from 2007
|
NEWS from 2006
|
NEWS from 2005
|
NEWS from 2004
|
NEWS from 2003
|
NEWS from 2002
|
NEWS from 2001
|
NEWS from 2000
|
NEWS from 1999
|
NEWS from 1998
|
NEWS from 1997
---
Latest headlines...
---
March 2014
---
03/10 - What does Daredevil mean to you?
DAREDEVIL editor has a request for fans... get those keyboards ready!
03/10 - Fearless Daredevil Fan Film
There's a new Daredevil fan film out, written and directed by Jonas Stolpe. It's about 3 minutes long but packs a punch. Some nice effects and fight sequences. Well done.
03/04 - Mark Waid Interview at Kindle Post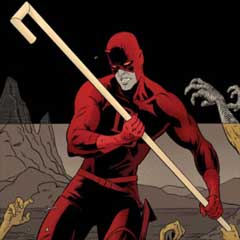 Kindle Post, the Amazon blog about their digital reading device, had a quick 5 question interview with DAREDEVIL writer Mark Waid.
They discuss what's ahead with Matt Murdock in San Francisco, and his collaboration with Chris Samnee.
Kindle Post
03/04 - DAREDEVIL #1 Exclusive Wizard World Covers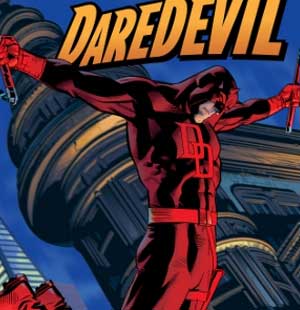 Just when you thought you knew about all the covers for DAREDEVIL #1, Marvel and Wizard World have announced two special variants for the relaunched series that will only be available in Louisville later this month at the Wizard World show.
Drawn by Michael Golden, the exclusive variants will come in a color and b&w version, and will have a limited run of 3000 and 2500, respectively.
This will bring the total number of covers for DAREDEVIL #1 to 8!
Wizard World
03/04 - DAREDEVIL: ROAD WARRIOR #2 Preview
DAREDEVIL: ROAD WARRIOR #2 Hits Digital Devices Today!
The Smash Hit Infinite Comic Series Continues Today!
NEW YORK, NY -- Today, hit the road with Matt Murdock as Daredevil makes the jump to your digital device in DAREDEVIL: ROAD WARRIOR #2, the next chapter of the genre-defining Infinite Comic series from critically acclaimed Daredevil writer Mark Waid and artist Peter Krause!

Now that the world knows about his double life, Matt Murdock has been forced to leave NYC. In the company of Kirsten McDuffie, he.s begun his journey to his new home in San Francisco. But it.s Matt Murdock -- you didn.t think he was going to stay out of trouble, did you? No, he'll have to dodge bullets, lasers, and survive a thrilling high speed chase atop a police car. And that's just this issue!

Designed specifically for mobile devices while fully embracing the technologies of tomorrow, Marvel's offering its all-new weekly digital comic content in style. Accessible for new fans, but also set in current continuity, Daredevil: Road Warrior defies expectations at every turn -- shattering the possibilities of what's possible in Infinite Comic storytelling!

Available right at your fingertips, in DAREDEVIL: ROAD WARRIOR #2 is available on the Marvel Comics app (for iPhone®, iPad®, iPod Touch® & Android TM devices) and online in the Marvel Digital Comics Shop!

As the Man Without Fear dukes it out with mysterious foes atop a speeding car -- what else could possibly go wrong? Find out today, as Daredevil's digital adventure continues in one of the hottest digital comics of the year!
03/03 - Skottie Young DAREDEVIL #1 Variant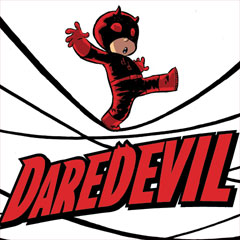 DAREDEVIL #1 is only a few weeks away, and today artist Skottie Young revealed his variant cover.
You'll also get a first look at the new design for the DAREDEVIL logo!
SkottieYoung.com
03/01 - Will Devokees Fan Film 1989 Diet Coke Commercial
Daredevil fan Will Devokees, who you may remember from his previous fan teaser to help promote himself for a DD role, has returned with a parody of the old Diet Coke commercials from the 80's.
Foggy Nelson has run out of his favourite refreshment, and Matt Murdock is on his way to pick some up for him...
---
February 2014
---
02/26 - Marvel Netflix shows will film in New York City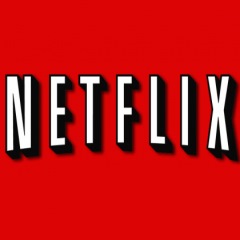 Daredevil, Jessica Jones, Iron Fist, Luke Cage and the Defenders will all film in New York City, under an agreement between Disney/Marvel and the city. Daredevil will be the first show, with cameras rolling this summer. More details below!
Governor Andrew M. Cuomo, The Walt Disney Company, Marvel and Netflix Inc. today announced that Marvel's landmark live-action television series, which will bring Marvel's "flawed heroes of Hell's Kitchen" characters to Netflix, the world's leading Internet TV network, will principally film in New York State. Produced by Marvel Television in association with ABC Television Studios, this groundbreaking series is Marvel's most ambitious foray yet into live-action television storytelling and represents the largest film or television production project commitment in New York State history.

Daredevil will be the first series from Marvel and Netflix to film in New York City

Filming is set to begin in the Summer 2014 and will create at least three thousand jobs in New York State including up to 400 full time jobs. The project will include nearly 60 one-hour episodes focused on the 4 Defenders characters: Daredevil, Jessica Jones, Luke Cage and Iron Fist.

"New York is where the entertainment industry started, and this unprecedented commitment from Disney and Marvel is further evidence that we're bringing it back bigger and better than ever before," said Governor Cuomo. "And when the entertainment industry thrives, it fuels dozens of other industries and businesses. The competition for these projects is fierce and Disney could have chosen to film these shows anywhere, but they knew that shooting in New York means getting to work with the best in world. These shows bring New York's super heroes home where they belong--along with hundreds of jobs and millions of dollars in new business."

"Since 2008 Disney has directly contributed almost half a billion dollars to New York's economy through television and film production, along with approximately 9,000 jobs for New Yorkers," said Robert A. Iger, Chairman and CEO, The Walt Disney Company. "The Governor's policies make this great state a more affordable and attractive location, opening the door for even greater economic investment and job creation for New Yorkers. Our Marvel series for Netflix will inject millions directly into the local economy and create hundreds of new jobs."

"We thank the Governor and the great state of New York for helping us create the ultimate backdrop to this epic series. Setting our production in New York City truly underscores the authenticity and excitement we plan to bring to The Defenders and their 'flawed heroes of Hell's Kitchen' stories," said Alan Fine, President, Marvel Entertainment.

Last November, Disney and Netflix announced an unprecedented deal for Marvel TV to bring multiple original series of live-action adventures of four of Marvel's most popular characters exclusively to the world's leading Internet TV Network beginning in 2015. This pioneering agreement calls for Marvel to develop four serialized programs totaling 52 one-hour episodes culminating in a four to eight episode mini-series programming event. Led by a series focused on "Daredevil," followed by "Jessica Jones," "Iron Fist" and "Luke Cage," the epic will unfold over multiple years of original programming, taking viewers deep into the gritty world of heroes and villains of Hell's Kitchen, New York. Netflix has committed to a minimum of four, thirteen episodes series and a mini-series event in which the Marvel characters from the first four series team up as "The Defenders," much like "The Avengers."

This new original TV deal follows last year's landmark movie distribution deal through which, beginning with 2016 theatrically released feature films, Netflix will be the exclusive U.S. subscription television service for first-run, live-action and animated movies from the Walt Disney Studios, including titles from Disney, Walt Disney Animation Studios, Pixar Animation Studios, Marvel Studios, Disneynature and Lucasfilm.

"The Defenders are classic New York characters; smart, resourceful and tough enough to always stand up for what's right," said Ted Sarandos, Netflix Chief Content Officer. "We're delighted they're coming to life on their home turf thanks to Governor Cuomo and his team."

When Governor Cuomo took office in 2011, he made the attraction of the film and television production and post production industries, and jobs and the economic impact they bring with them, a key part of his overall strategy to grow New York State's economy. Since that time, he has signed into law several important changes to both programs to make New York more competitive in this global marketplace, and the results have been significant. Both programs enjoyed record-breaking years in 2013, bringing billions of dollars in new spending and thousands of jobs into the Empire State. The stability provided by multiyear funding has particularly encouraged the development of television series production work, like the new Marvel series, as well as long term investments in infrastructure, all of which creates thousands of jobs directly and indirectly related to the actual productions themselves.

During calendar year 2013, applications for 183 film productions were submitted that included 124 films, 33 television programs and 26 pilots. These projects will:

-Generate a direct spend of $2.11 billion in NYS;
-Collect a projected $477 million in credits; and
-Hire an estimated 128,165 actors and crew for the 183 projects submitted.

John Ford, President, International Alliance of Theatrical and Stage Employees (IATSE) Local 52 said, "The men and women of the IATSE look forward to participating in this groundbreaking endeavor. Thanks to the vision of Governor Cuomo and the Legislature, the long term funding of the production incentives gives employers the comfort they need to invest in these new avenues of entertainment, which will provide thousands of new jobs with good wages and benefits."

Thomas J. O'Donnell, President Teamsters Local 817 said, "Theatrical Teamsters Local 817 is thrilled that Marvel's newest television series will be filmed in New York. This long-term commitment is an incredible accomplishment that will bring not just jobs, but also stability to our members work and family lives."
02/21 - DAREDEVIL #1 First Look
The Devil Comes to San Francisco This March in DAREDEVIL #1!
This March, the Eisner Award winning creative team returns for the next chapter in the saga of Matt Murdock, as the Man Without Fear rushes headlong into All-New Marvel NOW! Marvel is proud to present your first look at DAREDEVIL #1 -- from the blockbuster creative team of Mark Waid & Chris Samnee!

Gifted with an imperceptible radar sense, blind lawyer Matt Murdock patrols the streets with a Billy club and a passion for justice. Only this time -- it's a brand new city, with even more dangerous foes. Join Matt Murdock as he journeys from the dark streets of Hell's Kitchen to the sun-drenched boulevards of San Francisco.

"With a new status quo that demanded an ALL-NEW MARVEL NOW! launch," says Editor Ellie Pyle, "this is a perfect time to jump on to DAREDEVIL."

"With the Eisner-Award winning creative team and the kick-butt San Francisco setting (and did we mention the Netflix series starting next year?) you're crazy not to give DAREDEVIL #1 a try!"

And the scenery isn't the only new thing in store for Ol' Hornhead. A world of changes are in store for Matt Murdock as old haunts and familiar faces rise up to give the devil his due. Changes that will turn his life upside down yet again! Don't miss one moment of the highly anticipated series this March when DAREDEVIL #1 comes to comic shops and digital devices!

DAREDEVIL #1 (JAN140630)
Written by MARK WAID
Art & Cover by CHRIS SAMNEE
75th Anniversary Variant by ALEX ROSS (JAN140633)
75th Anniversary Sketch Variant by ALEX ROSS (JAN140632)
Variant Cover by PAOLO RIVERA (JAN140631)
Animal Variant by CHRIS SAMNEE (JAN140634)
Young Variant by SKOTTIE YOUNG (JAN140635)
FOC .02/24/14 On-Sale -03/19/14
02/20 - Daredevil Links of the Day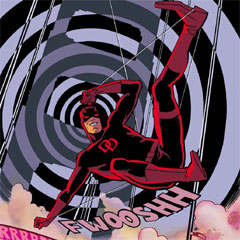 DAREDEVIL #36 shipped this week and I hope you enjoyed my feature with most of the creators who worked on Volume 3 of DAREDEVIL yesterday (added Kano's contribution!).
Today there were several interviews and features online, so here's a quick rundown for you...
First up, Marvel.com has a feature on Matt and Foggy's "bromance" and highlight some stories that may interest you...
Marvel.com
Next, Newsarama sat down with Mark Waid, Chris Samnee and Javier Rodriguez to get their comments on DAREDEVIL and what's coming up in Volume 4!
Newsarama
And last, but certainly not least, Cosmic Book News posted a new interview with Mark Waid, where they discussed who may be showing up in the new relaunch.
CosmicBookNews.com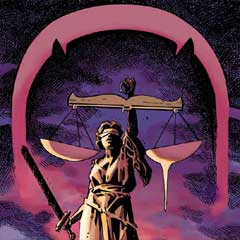 02/19 - DAREDEVIL May 2014 Solicits
May 2014 solicits are now up on the site! DAREDEVIL #3 comes out, with a variant cover by Jerome Opena!
* Also ELEKTRA #2!
DAREDEVIL May 2014 Solicits
02/18 - DAREDEVIL Volume 3 Interview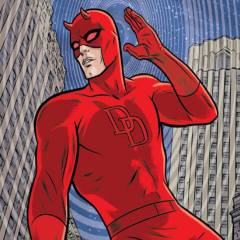 Volume 3 of DAREDEVIL ends this week, and I reached out to many of the talented people who worked on the comic to get their response to this question... "What did working on DAREDEVIL Volume 3 mean to you personally and professionally"?
So, along with a brief history of Volume 3, I present the responses I received (and I will add others as I receive them...). Many thanks to all the creators who got back to me with their answers, much appreciated.
Daredevil Volume 3 Interview
02/14 - DAREDEVIL 36 Preview
DAREDEVIL #36 comes out February 19th by Waid, Samnee and Rodriguez and here's the preview! Spoilers ahead!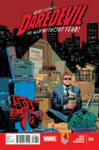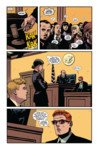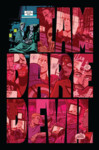 02/13 - Matt Fraction analyzes DAREDEVIL 230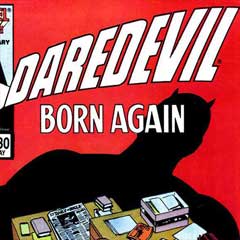 Writer Matt Fraction, who you may know from HAWKEYE, SEX CRIMINALS and a host of other books, took to his blog to investigate the cutting techniques used by Frank Miller and David Mazzucchelli.
It's a fascinating look at how Miller wrote the comic and how Mazzucchelli laid out the pages. You'll never look at those pages the same way again.
MattFraction.com
02/10 - Mark Waid talks Daredevil depression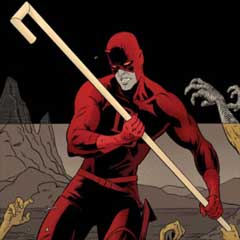 Comics Beat has an interview with Mark Waid today, where the topic of depression is discussed, as it pertains to Daredevil, Hulk, and also Waid's struggles of his own.
A very good interview.
Comics Beat
02/09 - DAREDEVIL #1.50 Images
Here's the cover for the special DAREDEVIL #1.50 by Paolo Rivera that will be coming our way April 9th. There are lots of DD graffiti images and DD creator names shown.
If you don't know the images Rivera used in the cover, here's a handy reference:

Corner box, that first appeared on DAREDEVIL V1 #27 cover by Gene Colan.

DAREDEVIL V1 #7 cover, by Wally Wood.

DAREDEVIL V2 #26 cover, by Alex Maleev.

DAREDEVIL: LOVE AND WAR GN cover, by Bill Sienkiewicz.

DAREDEVIL V1 #1 cover, by Jack Kirby.

DAREDEVIL V3 #1 variant cover, by Marcos Martin.

DAREDEVIL V1 #232 cover, by David Mazzucchelli.

DAREDEVIL V1 #189 cover, by Frank Miller and Klaus Janson.

DAREDEVIL V2 #1 cover, by Joe Quesada and Jimmy Palmiotti.

DAREDEVIL V1 #300 cover, by Lee Weeks.

DAREDEVIL V1 #53 cover, by Gene Colan.

DAREDEVIL V2 #18 cover, by David Mack.

DAREDEVIL: THE MAN WITHOUT FEAR double-page spread, by John Romita, Jr. and Al Williamson. Also on cover to hardcover collection.

DAREDEVIL V3 #23 page, by Chris Samnee and Javier Rodriguez.
Hope you enjoyed this look at the images used for this cover!
Of course, here's the list of DD creators on the cover as well:
Stan Lee, Brian Michael Bendis, Frank Miller, Ed Brubaker, Klaus Janson, Kevin Smith, and Mark Waid.
DAREDEVIL #1.50 ships April 9th, and also has a variant cover by Chris Samnee and a set of 5 variants by Marcos Martin.
02/06 - Mark Waid and Ellie Pyle talk DAREDEVIL #1.50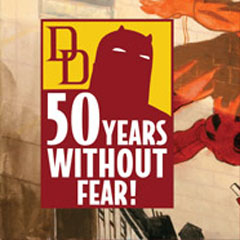 CBR has a new interview with DAREDEVIL writer Mark Waid and newly promoted editor Ellie Pyle, where they discussed the special #1.50 issue that will be drawn by Javier Rodriguez. They hint at what the "future" holds for DD and which past DD creators will be coming back for the issue.
There is also a small preview of issue #36 by Samnee and Rodriguez, so head on over!
CBR
02/06 - Peter Krause talks DAREDEVIL: ROAD WARRIOR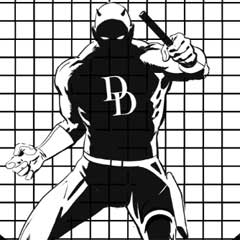 Christine at TOMP had a chance to speak with forthcoming DAREDEVIL: ROAD WARRIOR artist Peter Krause, and they discussed the digital story and some of Krause's favourite DD stories and characters. Check it out!
TOMP
02/03 - Thony Silas Interview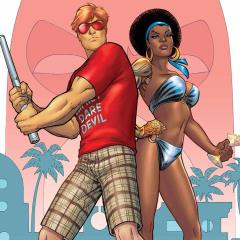 The second interview to help celebrate the site's anniversary is now up! DAREDEVIL: DARK NIGHTS artist Thony Silas spoke about his arc with Jimmy Palmiotti and also his work on BATMAN BEYOND. Hope you guys enjoy the new interview!
Interview with Thony Silas
---
January 2014
---
01/22 - DAREDEVIL 36 First Look
The End? Or the Beginning? Your First Look at DAREDEVIL #36!
This February -- Matt Murdock's life comes crashing down in DAREDEVIL #36 -- the fearless final issue from critically acclaimed storytellers Mark Waid & Chris Samnee! After the shocking events of last issue, there's nowhere left for Matt to run. The Man Without Fear stands alone against the villainous hate group known as Sons of the Serpent. And their climactic clash is about to take place on a different kind of battlefield -- in a New York City courtroom! But how much is he willing to sacrifice in the name of victory? It's time for the Man Without Fear to show how fearless he really is. And the truth may shock you! It's all been leading to this -- and the seeds sown here bear bitter fruit for Daredevil in 2014! You don't need a radar sense to know this one will be big! Don't miss the epic finale this February in DAREDEVIL #36!

DAREDEVIL #36 (DEC130738)
Written by MARK WAID
Art & Cover by CHRIS SAMNEE
FOC 1/27/14, ON-SALE 2/19/14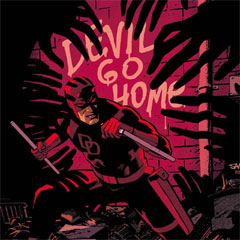 01/17 - DAREDEVIL April 2014 Solicits
April 2014 solicits are now up on the site! DAREDEVIL #2 comes out, along with a special DAREDEVIL #1.50!
* Also ELEKTRA #1!
DAREDEVIL April 2014 Solicits
01/16 - Mark Waid Interview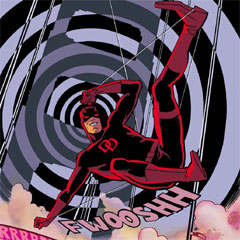 To help celebrate the site anniversary, I asked Mark Waid if he had time for a few quick questions, and he happily obliged. So I hope you like this quick Q&A with the current DD writer, and hopefully I've got another interview coming very soon! Many thanks to Mr. Waid.
Interview with Mark Waid
01/16 - Celebrate 50 Years of Daredevil
Celebrate 50 Years of Daredevil in April with DAREDEVIL #1.50!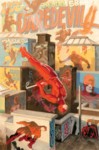 This April, grab fifty fearless years by the horns in DAREDEVIL #1.50! Brought to you by critically acclaimed Daredevil scribe Mark Waid and red-hot artist Javier Rodriguez, this special anniversary issue celebrates Daredevil's legacy not by reflecting on the past, but by barreling headfirst into the future!

"At editor Steve Wacker's suggestion, we're celebrating the Man Without Fear's 50th anniversary not by looking back--but by looking forward," says series writer Mark Waid. "With a special story set in the future, on Matt Murdock's 50th birthday, peppered with clues for sharp-eyed readers as to what the rest of 2014 will hold for Daredevil!"

But that's not all! DAREDEVIL #1.50 comes jam-packed with a hailstorm of brand-new backup stories crafted just the special occasion, courtesy of Horn Head's most iconic creators!

What will tomorrow bring for Matt Murdock, and how will this year's events play into his unexpected future? Can a man truly stay fearless forever? The answers -- and even more surprises -- will hit sooner than you'd expect! Hang on tight, because the future for Matt Murdock is now in DAREDEVIL #1.50!

DAREDEVIL #1.50
Written by MARK WAID
Art by JAVIER RODRIGUEZ
Cover by PAOLO RIVERA
Variant Covers by MARCOS MARTIN & CHRIS SAMNEE


ON-SALE THIS APRIL!
01/16 - 18 Years of Man Without Fear
I'm posting this about 4 hours early on the 15th, because I know I won't have time tomorrow morning. But I quickly wanted to say thank you to every single one of you who take the time to visit and contribute to this small corner of the internet that has been a part of my life for 18 years now.
I say it all the time, but I have been very lucky to have people around the world contact me to get my help about this character... this character that I didn't fully appreciate until I started the site.
I spend time on the site every single day, even if you don't see it or I don't announce it to the world. I appreciate the trust you have in me and it boggles my mind that I have been doing this for 18 years. I've been working on the site longer than I've known my wife and kids! And now my site is an adult.
I've got two interviews on the go that I hope to post to help celebrate the occasion. Fingers crossed those come through.
Enough about me. Thank you, again.
Here's to DD's 50th this year!
-- Kuljit Mithra
01/10 - DAREDEVIL 35 Preview
DAREDEVIL #35 comes out January 15th by Waid, Samnee and Rodriguez and here's the preview! Spoilers ahead!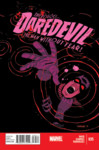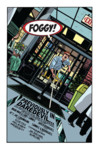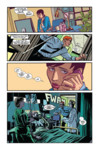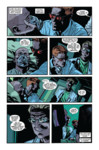 01/09 - Waid and Krause talk DAREDEVIL: ROAD WARRIOR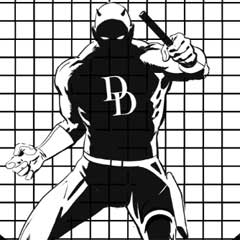 Posted today was a new interview with the DAREDEVIL: ROAD WARRIOR team of Mark Waid and Peter Krause. They discuss the digital Infinite comic and there's lots of black and white preview artwork. If you look at it closely, you might recognize a familiar villain from DD's past.
DAREDEVIL: ROAD WARRIOR starts one week after issue #36 ends Volume 3 in February.
Pipedream Comics
01/08 - Panel Borders interview with Mack, Janson and Sienkiewicz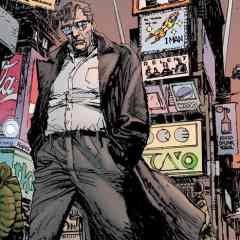 Panel Borders has posted an interview with DAREDEVIL: END OF DAYS creators David Mack, Klaus Janson and Bill Sienkiewicz that was recorded in 2013 at the London Super Comic Con.
Alex Fitch talks to the trio about the collaboration on the mini-series and all things Daredevil.
Panel Borders
01/07 - Geek Crash Course on Daredevil
If you ever wanted a quick rundown on Daredevil facts, Geek Crash Course has prepared a new video on everything Daredevil!
Do you agree with some of their views on the various arcs?
01/04 - DAREDEVIL: DARK NIGHTS #8 Preview
DAREDEVIL: DARK NIGHTS #8 ships next week on January 8th. Here is a sneak preview, courtesy of Marvel!
Jimmy Palmiotti, Thony Silas, Nelson DeCastro and Amanda Conner conclude their arc!
---
December 2013
---
12/31 - Daredevil in March 2014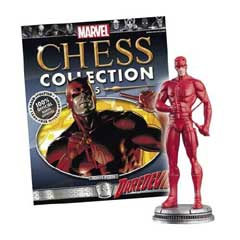 Earlier this month, we saw the solicits for DAREDEVIL #1 and all the covers etc.
Here's a quick look at some other things that may interest DD fans in March...
First up, we have a Daredevil chess piece:
If you like the Samnee and Ross covers for DAREDEVIL, you can order posters of them!
And while this isn't coming in March, here's a look at a new mini bust coming later in the year...
Have a safe and happy new year! See you in 2014!
12/31 - DAREDEVIL in 2013
It's been quite the year for DAREDEVIL, so I thought it would be interesting to see what issues came out in 2013.
Click on any of the images for previews of the issue!
DAREDEVIL #22-34
DAREDEVIL: DARK NIGHTS #1-7
DAREDEVIL: END OF DAYS #4-8
INDESTRUCTIBLE HULK #9-10
12/18 - Kevin Shinick talks Goblin Nation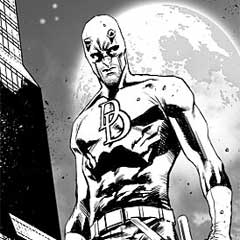 Daredevil will be making an appearance in the "Goblin Nation" storyline in SUPERIOR SPIDER-MAN TEAM-UP, starting in January, and CBR spoke with writer Kevin Shinick about bringing DD, Punisher and Spidey together again.
Artist Marco Checchetto draws the arc and several preview pages are available to view.
CBR
12/18 - W. Haden Blackman talks ELEKTRA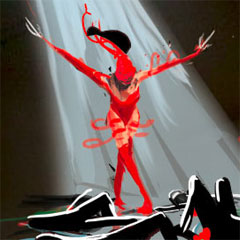 Originally, Zeb Wells had been announced as the writer of the new ELEKTRA series that was coming in early 2014. Due to some scheduling conflicts with TV writing, Wells had to bow out. Now scheduled for April, ELEKTRA will debut with writer W. Haden Blackman, along with artist Mike Del Mundo.
Blackman spoke with CBR about accepting the offer to write the series and what interested him in taking on the job.
CBR
12/13 - DAREDEVIL 34 Preview
DAREDEVIL #34 comes out December 18th by Waid, Rodriguez and Lopez and here's the preview! Spoilers ahead!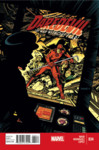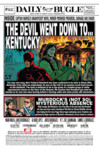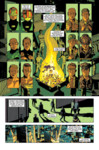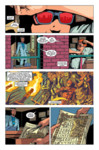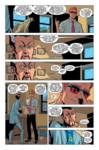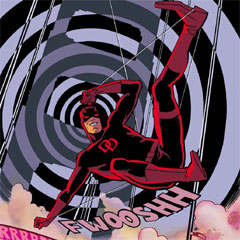 12/12 - DAREDEVIL March 2014 Solicits
March 2014 solicits are now up on the site! DAREDEVIL #1 comes out, with 6 covers!
* Also the DAREDEVIL: END OF DAYS TPB ships, as well as the DARK NIGHTS TPB.
* There are some early solicits for the 5th DD BY MARK WAID TPB, and the 7th DD BY MARK WAID HC. There's also a new DD AND ELEKTRA: FALL FROM GRACE TPB!
DAREDEVIL March 2014 Solicits
12/12 - DAREDEVIL #35 First Look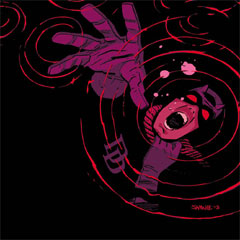 DAREDEVIL #35 doesn't come out until January, and #34 comes out next week, but here's an early look at issue #35 on the AV CLUB's web site.
Spoilers ahead for this unlettered preview...
AV CLUB
12/11 - Mark Waid Interview at Nerdist News
Mark Waid had an interview with Jessica Chobot at Nerdist News and they discussed many topics, including Waid's thoughts on the Netflix DD show and the comics. He also talks about his new book SHADOW WALK and much more.
12/06 - Drew Goddard Confirmed For Daredevil Netflix Series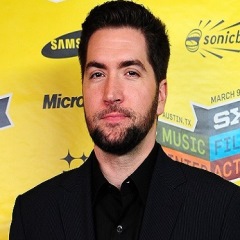 As reported here on November 12th, Drew Goddard was the frontrunner to helm the Netflix Daredevil series that is coming in 2015. Today Marvel.com confirmed the news, saying Goddard will write and direct the first episode, and will be the Showrunner and Executive Producer. Certainly is good news, but let's hope the casting of Daredevil is also well-received.
Marvel.com
12/03 - CBR Top 10 Daredevil Storylines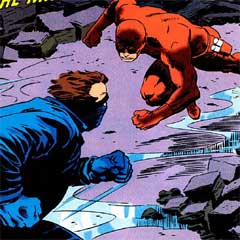 CBR's Marc Buxton posted his take on the Top 10 creative runs on DAREDEVIL, and DD fans are sure to have an opinion on some of his choices. While some of the more well-known runs are featured, he also chooses some runs that aren't quite as well-known or well-received. Have a read and let me know what you think on the board.
CBR
12/03 - Ben Affleck talks Batman and Daredevil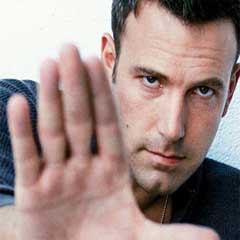 Playboy magazine has a new interview with Ben Affleck and he had a few choice words about his Daredevil experience and how it has motivated him for his forthcoming Batman role.
The only movie I actually regret is Daredevil. It just kills me. I love that story, that character, and the fact that it got fucked up the way it did stays with me. Maybe that's part of the motivation to do Batman.
More quotes at Latino Review...
Latino Review
12/02 - Mark Waid Interview at Comic Vine
Mark Waid was at the Long Beach Comic and Horror Con and sat down with Comic Vine for an interview. They spoke about DAREDEVIL (before the relaunch announcement) and all of Waid's other projects.