2018 NEWS
---
Follow updates to NEWS on

Click on the links to display article!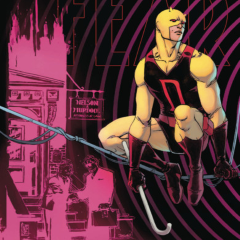 ---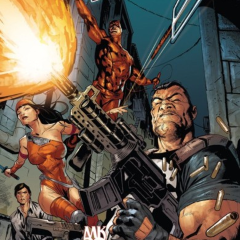 12/14 - MARVEL KNIGHTS 20TH Previews
MARVEL KNIGHTS 20TH #2
MATTHEW ROSENBERG WITH DONNY CATES (W) • NIKO HENRICHON (A)
Cover by GEOFF SHAW
VARIANT COVER BY JAE LEE
CONNECTING VARIANT COVER BY KAARE ANDREWS (2 OF 6)
VARIANT COVER BY JULIAN TOTINO TEDESCO
32 PGS./Rated T …$3.99
MARVEL KNIGHTS 20TH #3
TINI HOWARD WITH DONNY CATES (W) • Damian Couceiro (A)
Cover by GEOFF SHAW
Variant Cover by JAE LEE
Connecting Variant Cover by KAARE ANDREWS
THE 20th ANNIVERSARY CELEBRATION OF THE GAME-CHANGING MARVEL KNIGHTS IMPRINT CONTINUES!
• Bruce was happy in his life. At peace.
• But that was before the notes came every night.
• Scrawled in a childlike hand. Driving him to seek out others like him.
• The blind man. The law officer. The self-defense instructor.
• Together, they must probe the very darkest parts of the soul on a quest for identity.
• A mystery that can only be unraveled…a threat that can only be challenged…by Knights.
32 PGS./Rated T+ …$3.99
MARVEL KNIGHTS 20TH #4
VITA AYALA WITH DONNY CATES (W) • JOSHUA CASSARA (A)
Cover by GEOFF SHAW
Variant Cover JAE LEE
Connecting Variant Cover by KAARE ANDREWS
• What has changed the world around them?
• Who has taken their memories of who they were, and why?
• And why are they all haunted by the same ghost?
• Only one man can find the answers. A man who once ruled a nation!
• But even with no homeland, no fortune and no weapons, T'Challa is still the most dangerous man alive!
32 PGS./Rated T+ …$3.99
---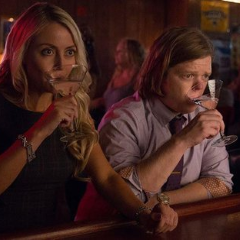 12/14 - Latest DAREDEVIL Show News
MARVEL WAS SURPRISED WHEN NETFLIX CANCELED DAREDEVIL, AMY RUTBERG SAYS
---
DON'T EXPECT THE DEFENDERS ON DISNEY SERVICE ANYTIME SOON
---
SAG AWARDS NOMINATION
---
HOW TO READ BETWEEN THE LINES OF A PRESS RELEASE
---
NETFLIX MARVEL SHOWS POST-MORTEM
---
---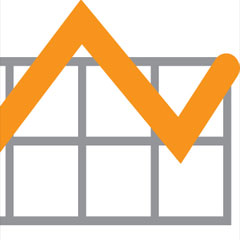 12/11 - DAREDEVIL Sales Data
Sales data for DAREDEVIL has been updated up to the milestone #612 issue.
There was a slight jump with the start of the "Death of Daredevil" arc, and a bigger jump (with multiple variants) for the final issue of volume 5.
It is also concerning to see the sales go below 23K... let's see how the new #1 does in February.
| | | | | |
| --- | --- | --- | --- | --- |
| 11/2018 | 40 | #612 | 41.8 | +18.6 |
| 11/2018 | 88 | #611 | 23.2 | +0.7 |
| 10/2018 | 123 | #610 | 22.5 | -4.0 |
| 10/2018 | 96 | #609 | 26.5 | +3.5 |
| 09/2018 | 101 | #608 | 23.0 | -0.3 |
| 08/2018 | 104 | #607 | 23.3 | -0.3 |
| 08/2018 | 102 | #606 | 23.6 | -0.4 |
| 08/2018 | 89 | ANN #1 | 27.4 | - |
DAREDEVIL Sales Data
---
12/10 - Marvel/Netflix Selling Show Wardrobes
Today I learned from a source in the NYC film industry that Marvel/Netflix is selling clothing from DAREDEVIL, LUKE CAGE and IRON FIST.
It appears to be an industry only sale, advertising "coats, dresses, shoes, you name it" from all three shows.
There are $1, $5, $10 and $15 racks (and the racks are on sale too), and only credit/debit is accepted.
The sale started today and continues until Friday at a location in Brooklyn.
It isn't clear if this sale also includes costumes, but it does mention "uniforms", which leads me to believe this includes things like FBI jackets and maybe ninja outfits?
Nevertheless, for fans hoping that a Season 4 could be salvaged, this doesn't look good.
It also isn't clear who is selling the clothing... is it Netflix or Marvel?
---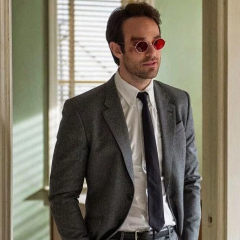 12/06 - Charlie Cox Discusses DAREDEVIL Cancellation
DAREDEVIL was cancelled a week ago and we had yet to hear any comments from Charlie Cox... until now. Entertainment Weekly discussed the cancellation with the actor, and Cox had some very personal takes on what has happened...
"...these characters mean a lot to people. It's weird to think there's a chance I won't be playing Matt Murdock ever again. That's a bizarre feeling, because that character has been such a huge part of my life for the last four and a half years."
Entertainment Weekly
---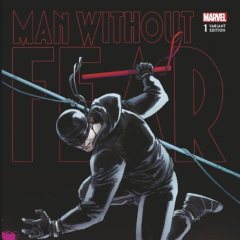 12/05 - MAN WITHOUT FEAR #1 Variants
The MAN WITHOUT FEAR series is coming in January, and you've probably seen all the covers for #1-5 by Kyle Hotz already.
Now here are the variant covers for #1, coming January 2nd.
GIUSEPPE CAMUNCOLI (Connecting Variant)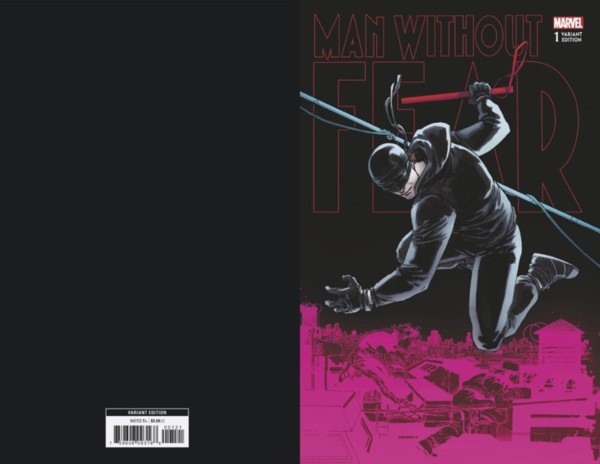 RAFAEL ALBUQUERQUE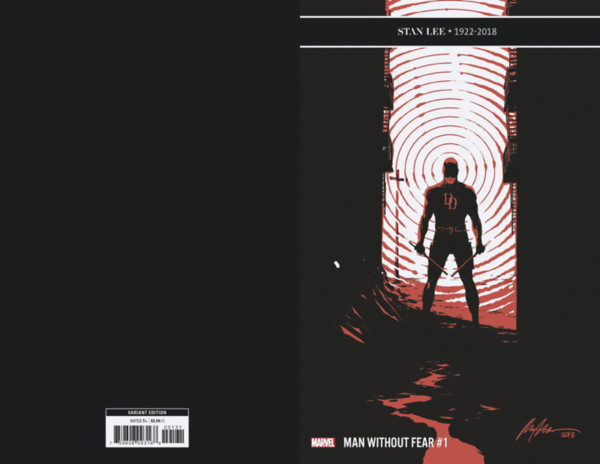 KHOI PHAM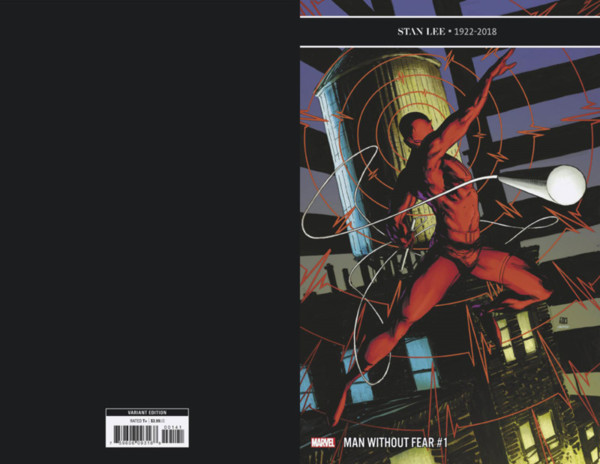 And here's an early look at one variant for #2, coming January 9th.
GREG SMALLWOOD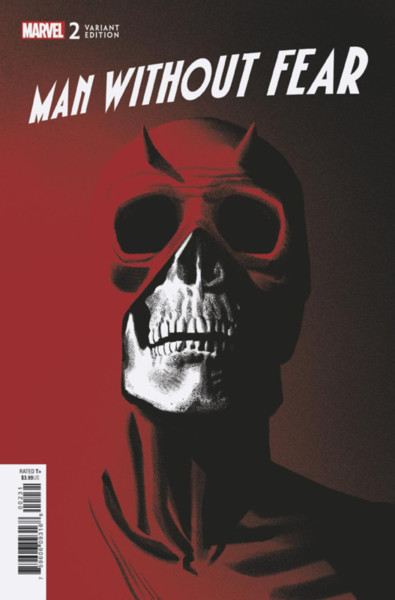 ---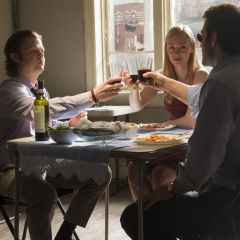 12/04 - DAREDEVIL Cancellation Articles
So, how's everybody dealing with the cancellation? Going through all the stages of grief?
---
#SAVEDAREDEVIL
---
"I THOUGHT IT WAS TOO BIG TO FAIL"
---
WE DON'T DESERVE DAREDEVIL
---
MARVEL SHOWS ON NETFLIX DESERVED BETTER
---
THE REAL REASON NETFLIX IS CANCELING THEIR MARVEL SHOWS
---
DAREDEVIL DESERVES TO LIVE ON AT DISNEY
---
NETFLIX TURNED A BLIND EYE TO VIEWER DEMAND
---
---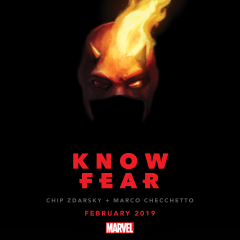 11/30 - Zdarsky & Checchetto Talk DAREDEVIL
The final issue of Volume 5 has shipped and we've got a long wait until February's relauch with writer Chip Zdarsky and artist Marco Checchetto.
Marvel.com chatted with the new creative team to get some details about what's coming for Daredevil in the new series.
If you haven't read the ending of issue #612 yet, I'd advise you to skip this interview until you've done so... some spoilers ahead...
Some comments from Zdarsky:
"He's trying to prove himself. That he can do the job. I've always loved the various tonal takes on DAREDEVIL, but for this run I've decided to really go deep on the realities of being a vigilante in this world. Out of all the main Super Heroes, Daredevil has felt like the one you could do that with. I don't care to see a "reality-based" Fantastic Four (though as I type that I remember how much I loved UNSTABLE MOLECULES. The exception to prove the rule!), but I love the idea of a reality-based DAREDEVIL."
Some comments from Checchetto:
"I felt in love immediately with Chip's script. It's in pure Daredevil style. We love the same stories and characters and we have a similar vision for this series, how Matt has to look and his costume for example, or the page layouts. I like his storytelling -- it's very simple to work on his script, it's all perfect and measured. It's a joy when you can work with writers like him. The fact he is an artist too can help to find some visual idea. Chip did the first teaser of the series for example."
DAREDEVIL #1 by Chip Zdarsky and Marco Checchetto ships in February.
Marvel.com
---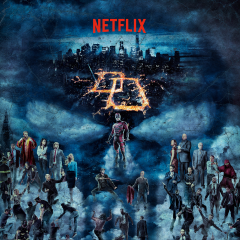 11/30 - DAREDEVIL Cast and Crew Reactions
It's a day later, and several members of the cast and crew of DAREDEVIL took to Twitter to say a few words about the cancellation.
Sam Ernst (co-EP on DAREDEVIL)
---
Full Marvel Statement
"Marvel is extremely grateful to the huge audience that loved Marvel's Daredevil. From the moment of young Matt's first act of heroism to the birth of Page, Murdock, & Nelson, it has been a unbelievable journey. We are incredibly proud of the amazing showrunners and writers starting with Drew Goddard and Steven DeKnight, Marco Ramirez and Doug Petrie and Erik Oleson, Charlie Cox, Deborah Ann Woll, Elden Henson, Vincent D'Onofrio and our casts who brought our characters to life with such excellence, and every one of the fantastic crews in NYC. We look forward to more adventures with the Man without Fear in the future."
---
Deadline Article
---
Deborah Ann Woll
---
Erik Oleson
---
Chris Brewster
---
Vincent D'Onofrio
---
Sunita Deshpande
---
Geoffrey Cantor
---
Jay Ali
---
Amy Rutberg
---
Danny Johnson
---
Loren Weeks
---
Peter Halpin
---
Gideon Emery
---
Rob Morgan
---
---
Click on links to display articles below...
2018-11-29-Mezco-Daredevil-Vigilante-Figure
---
2018-11-29-DAREDEVIL-Cancelled-on-Netflix
---
2018-11-28-DAREDEVIL-2nd-Printings
---
2018-11-27-Renew-Daredevil
---
2018-11-27-DAREDEVIL-612-Preview
---
2018-11-26-Interview-with-Matthew-McCurdy
---
2018-11-21-Interview-with-Don-Castro
---
2018-11-20-February-2019-Daredevil-Solicits
---
2018-11-17-Weekend-DAREDEVIL-Season-3-News
---
2018-11-16-DAREDEVIL-Comics-Updates
---
2018-11-15-Thursday-DAREDEVIL-Season-3-News
---
2018-11-15-DAREDEVIL-by-Chip-Zdarsky-and-Marco-Checchetto-February-2019
---
2018-11-13-Tuesday-DAREDEVIL-Season-3-News
---
2018-11-12-Stan-Lee-Passes-Away-1922-2018
---
2018-11-12-Interview-with-Karina-Casiano
---
2018-11-11-Latest-DAREDEVIL-Season-3-News
---
2018-11-09-DAREDEVIL-611-Preview
---
2018-11-07-MAN-WITHOUT-FEAR-Series
---
2018-11-06-Interview-with-Sunita-Deshpande
---
2018-11-04-More-DAREDEVIL-612-Variant-Covers
---
2018-11-04-MARVEL-KNIGHTS-Gallery
---
2018-11-03-Interview-with-Matt-Deangelis
---
2018-11-02-MARVEL-KNIGHTS-20TH-1-Preview
---
2018-11-02-Friday-DAREDEVIL-Season-3-News
---
2018-11-01-Interview-with-Kate-Udall
---
2018-10-30-Tuesday-DAREDEVIL-Season-3-News
---
2018-10-30-DAREDEVIL-612-Variant-Covers
---
2018-10-29-Weekend-DAREDEVIL-Season-3-News
---
2018-10-29-New-Fan-Tattoo
---
2018-10-27-AVENGERS-HALLOWEEN-SPECIAL-Preview
---
2018-10-26-More-MARVEL-KNIGHTS-Variants
---
2018-10-26-DAREDEVIL-610-Preview
---
2018-10-25-Thursday-DAREDEVIL-Season-3-News
---
2018-10-24-Wednesday-DAREDEVIL-Season-3-News
---
2018-10-24-Interview-With-Charlie-Cox
---
2018-10-23-Tuesday-DAREDEVIL-Season-3-News
---
2018-10-22-Monday-DAREDEVIL-Season-3-News
---
2018-10-21-Weekend-DAREDEVIL-Season-3-News
---
2018-10-21-Latest-DAREDEVIL-Season-3-Promo-Pics
---
2018-10-19-DAREDEVIL-Season-3-Now-Streaming
---
2018-10-18-Thursday-DAREDEVIL-Season-3-News
---
2018-10-17-Wednesday-DAREDEVIL-Season-3-News
---
2018-10-17-Marvel-Premiere-Netflix-Daredevil-Statue
---
2018-10-16-Tuesday-DAREDEVIL-Season-3-News
---
2018-10-16-January-2019-Daredevil-Solicits
---
2018-10-15-Monday-DAREDEVIL-Season-3-News
---
2018-10-13-MARVEL-KNIGHTS-20TH-Variant-Covers
---
2018-10-12-DAREDEVIL-Season-3-Review
---
2018-10-12-DAREDEVIL-609-Preview
---
2018-10-11-Thursday-DAREDEVIL-Season-3-News
---
2018-10-09-Latest-DAREDEVIL-Season-3-News
---
2018-10-08-Wilson-Bethel-DAREDEVIL-Season-3-Promo-Pics
---
2018-10-07-THE-MAN-WITHOUT-FEAR-Weekly-Series-January-2018
---
2018-10-06-DAREDEVIL-At-New-York-Comic-Con-2018
---
2018-10-05-DAREDEVIL-Season-3-Press-Tour
---
2018-10-04-More-DAREDEVIL-Season-3-Promo-Pics
---
2018-10-04-DAREDEVIL-Season-3-Trailer
---
2018-10-02-More-DAREDEVIL-Season-3-Set-Reports
---
2018-10-01-More-DAREDEVIL-Season-3-Promo-Pics
---
2018-10-01-Lesley-Ann-Warren-DAREDEVIL-Season-3
---
2018-10-01-DAREDEVIL-Season-3-Set-Reports
---
2018-09-29-DAREDEVIL-Season-3-NYCC-Poster
---
2018-09-28-Fisk-Teaser-DAREDEVIL-Season-3
---
2018-09-26-DAREDEVIL-Season-3-Teaser-and-Promo-Pics
---
2018-09-21-The-Death-of-Daredevil
---
2018-09-21-Entertainment-Weekly-DAREDEVIL-Season-3
---
2018-09-20-DAREDEVIL-Season-3-Teaser
---
2018-09-20-DAREDEVIL-Season-3-Poster
---
2018-09-19-DAREDEVIL-Season-3-Poster
---
2018-09-18-December-2018-Daredevil-Solicits
---
2018-09-14-DAREDEVIL-Teaser-The-End
---
2018-09-11-DAREDEVIL-Season-3-Release-Date
---
2018-09-07-DAREDEVIL-Season-3-Teaser
---
2018-09-07-DAREDEVIL-608-Preview
---
2018-09-06-DAREDEVIL-Season-3-Promo
---
2018-09-05-DAREDEVIL-Season-3-at-NYCC
---
2018-08-24-HUNT-FOR-WOLVERINE-DEAD-ENDS-1-Preview
---
2018-08-24-DAREDEVIL-ANNUAL-1-Preview
---
2018-08-21-November-2018-Daredevil-Solicits
---
2018-08-17-More-Marvel-Knights-Information
---
2018-08-17-DAREDEVIL-ANNUAL-Interview-Schultz-Takara
---
2018-08-17-DAREDEVIL-607-Preview
---
2018-08-14-DAREDEVIL-Sales-Data
---
2018-08-06-Latest-Daredevil-Merchandise
---
2018-08-03-DAREDEVIL-606-Preview
---
2018-07-31-Weapon-Lost-4-Preview
---
2018-07-31-DAREDEVIL-ANNUAL-Variant-Covers
---
2018-07-26-Interview-with-Loren-Weeks
---
2018-07-25-Diamond-Select-Daredevil-Statue
---
2018-07-24-October-2018-Daredevil-Solicits
---
2018-07-21-More-Marvel-Digital-Originals
---
2018-07-20-Mezco-Netflix-Daredevil
---
2018-07-20-Marvel-Knights-Relaunch
---
2018-07-19-IRON-FIST-S2-Teaser
---
2018-07-19-DAREDEVIL-607-Cover
---
2018-07-18-JESSICA-JONES-Digital-First
---
2018-07-17-IRON-FIST-SDCC
---
2018-07-15-Sideshow-Daredevil-Elektra-Print
---
2018-07-12-Marvel-Netflix-Emmy-Nominations
---
2018-07-11-Amazing-Comic-Con-Panel
---
2018-07-05-DAREDEVIL-605-Preview
---
2018-06-29-Weapon-Lost-3-Preview
---
2018-06-29-Marvel-Legends-Defenders-Pics
---
2018-06-27-Daredevil-Pinball
---
2018-06-21-Charles-Soule-Daredevil-Interview
---
2018-06-19-September-2018-Daredevil-Solicits
---
2018-06-19-San-Diego-Marvel-Legends-Defenders-Exclusive
---
2018-06-19-Charles-Soule-Daredevil-Interview
---
2018-06-18-Interview-with-Martin-Ahlgren
---
2018-06-15-DAREDEVIL-604-Preview
---
2018-06-12-Marvel-Legends-Pics
---
2018-06-12-LUKE-CAGE-S2-Final-Trailer
---
2018-06-06-Weapon-Lost-Variant-Covers
---
2018-06-01-Weapon-Lost-2-Preview
---
2018-05-26-Charlie-Cox-Weekend-Conventions
---
2018-05-24-DAREDEVIL-603-Preview
---
2018-05-23-Phil-Noto-Daredevil-Promo
---
2018-05-22-August-2018-Daredevil-Solicits
---
2018-05-19-Donofrio-Zurer-DAREDEVIL-S3-Updates
---
2018-05-16-Is-Wilson-Bethel-Bullseye
---
2018-05-15-DAREDEVIL-Season-3-Set-Pics-and-Video
---
2018-05-14-Interview-with-Christos-Gage
---
2018-05-11-DAREDEVIL-602-Preview
---
2018-05-10-INFINITY-COUNTDOWN-DAREDEVIL-Preview
---
2018-05-09-Sideshow-Elektra-Pre-Order
---
2018-05-07-Luke-Cage-S2-Trailer
---
2018-05-02-Project-Daredevil
---
2018-04-26-Weapon-Lost-1-Preview
---
2018-04-20-Infinity-Countdown-Daredevil-Changes
---
2018-04-18-July-2018-Daredevil-Solicits
---
2018-04-18-Interview-with-Alex-Huynh
---
2018-04-12-Sideshow-Daredevil-Pre-Order
---
2018-04-12-Daredevil-News-From-The-Week
---
2018-04-12-DAREDEVIL-601-Preview
---
2018-04-10-DAREDEVIL-Sales-Data
---
2018-04-09-Weekend-Conventions
---
2018-04-04-Deborah-Ann-Woll-Charity-Shirt
---
2018-04-03-Daredevil-Gamestop-Exclusive-PVC
---
2018-03-31-New-Sideshow-Daredevil-Statue
---
2018-03-30-Marvel-Knights-20th-Anniversary-Collections
---
2018-03-29-DAREDEVIL-Season-3-Set-Pics
---
2018-03-28-Marvel-Knights-Collections
---
2018-03-22-DAREDEVIL-600-Preview
---
2018-03-21-Jay-Ali-Joins-DAREDEVIL-Season-3
---
2018-03-21-Daredevil-Upper-Deck-Set-Giveaway
---
2018-03-20-June-2018-Daredevil-Solicits
---
2018-03-18-Eric-Michael-Gillett-DAREDEVIL-Interview
---
2018-03-12-Quesada-DAREDEVIL-600-Variants
---
2018-03-12-DEFENDERS-Mondo-Soundtrack
---
2018-03-08-DAREDEVIL-600-Adi-Granov-Variants
---
2018-03-07-DAREDEVIL-600-Scorpion-Comics-Variants
---
2018-03-06-LUKE-CAGE-Season-2-Teaser
---
2018-03-05-Joe-Quesada-Marvel-Netflix-Artwork
---
2018-03-05-Even-More-DAREDEVIL-600-Variants
---
2018-03-04-More-JESSICA-JONES-Promos
---
2018-02-28-More-DAREDEVIL-600-Variants
---
2018-02-22-May-2018-Daredevil-Solicits
---
2018-02-18-Toy-Fair-Daredevil-Figures
---
2018-02-18-DEFENDERS-10-Preview
---
2018-02-16-DAREDEVIL-599-Preview
---
2018-02-13-Weapon-Lost
---
2018-02-12-DAREDEVIL-600-Maleev-Variant
---
2018-02-08-Infinity-Countdown-Daredevil
---
2018-02-07-JESSICA-JONES-Trailer
---
2018-02-06-Garney-Leaves-DAREDEVIL-with-Issue-600
---
2018-02-02-Soule-Interview-Mayor-Fisk
---
2018-02-02-DAREDEVIL-598-Preview
---
2018-01-30-Daredevil-Upper-Deck-Card-Set
---
2018-01-26-DEFENDERS-9-Preview
---
2018-01-25-Joanne-Whalley-Joins-DAREDEVIL-Season-3
---
2018-01-23-April-2018-Daredevil-Solicits
---
2018-01-17-NECA-Toys-Daredevil-Final-Packaging
---
2018-01-17-Interview-with-Stephen-E-Henderson
---
2018-01-16-Daredevil-Fan-Survey-Results
---
2018-01-16-22-Years-of-Man-Without-Fear
---
2018-01-10-DAREDEVIL-597-Preview
---
2018-01-10-DAREDEVIL-596-2nd-Printing
---
2018-01-07-Daredevil-Fan-Survey
---
2018-01-06-Ron-Garney-Sneak-Peek
---
2018-01-03-Daredevil-Season-3-Set-Pics
---