2018 NEWS
---
Follow updates to NEWS on

Click on the links to display article!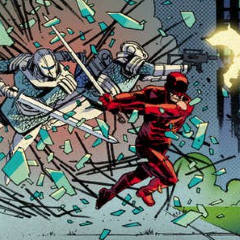 06/20 - Charles Soule Interview
CBR's Dave Richards posted a new interview with DAREDEVIL writer Charles Soule, and they discussed the current arc and what is coming in the finale.
There are also several preview pages from DAREDEVIL #605 which comes out next month.
"I love the "city under siege" sub-genre, where people trapped in some untenable situation have to find a way to survive and escape. It's a little tricky to pull something like that off in Marvel's New York City, but I like how it came together here."
Charles Soule Interview
---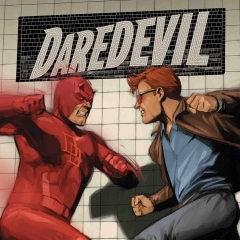 06/19 - DAREDEVIL September 2018 Solicits
September 2018 solicits are now on the site, and we've got DAREDEVIL #608, PUNISHER #3, some new TRUE BELIEVERS reprints, and some more MARVEL KNIGHTS 20th Anniversary collections.
DAREDEVIL September 2018 Solicits
---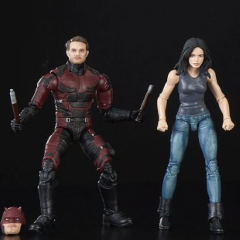 06/19 - San Diego Defenders Exclusive
ToyArk has posted a mysterious image that Hollywood Reporter reported on today, but took down very quickly this morning...
Here's the image...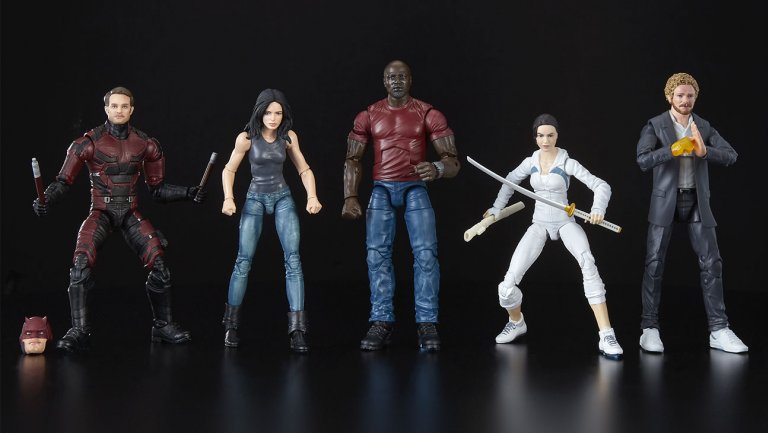 Daredevil, Jessica Jones, Luke Cage, Colleen Wing and Iron Fist (where is Misty Knight?) will be exclusive figures at SDCC this year. Why was the post taken down by Hollywood Reporter? Stay tuned for more updates...
Toy Ark
---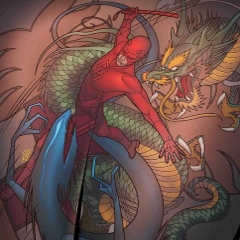 06/19 - Charles Soule Interview
Newsarama has a new interview with DAREDEVIL writer Charles Soule, where he discusses the current "Mayor Murdock" arc and what is ahead for the finale.
Some quotes:
"Well, the "Mayor Murdock" story in Daredevil covers a very specific, intense period in New York's mayoral history. With #603, the last issue to hit, it's not even three days since the Hand took down Fisk and Matt Murdock assumed the duties of mayor. So, he's just trying to figure out how to save his city from the immediate threat. The rest…things like budget negotiations and arguing with Albany about fixing the subways…that will have to wait."
And what does Wilson Fisk think of Mayor Murdock?
"Well, he's not happy that Matt Murdock's been running the city during his convalescence, obviously. The Fisk of it all just adds a new layer of complexity to the story that I think will be fun to see as we move forward. The situation was bad enough in NYC without adding the Kingpin to the mix."
DAREDEVIL #604 ships June 20, by Soule, Henderson and Milla!
Charles Soule Interview
---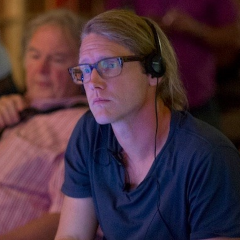 06/18 - Martin Ahlgren Interview
Posted a new interview with DAREDEVIL Season 2 Cinematographer Martin Ahlgren.
We discuss his film background, and what it was like to work on a lot of the action scenes on the show.
Many thanks to Mr. Ahlgren for this opportunity, and hope you guys enjoy the interview!
Martin Ahlgren Interview
---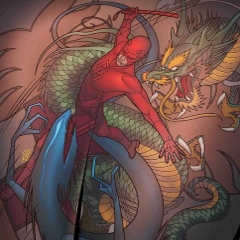 06/15 - DAREDEVIL #604 Preview
CHARLES SOULE (W) • MIKE HENDERSON (A)
Cover by CHRIS SPROUSE
ENTER: THE ORDER OF THE DRAGON!
New York City is under siege, and it's up to Matt to lead the troops to defend the city he loves! Will these new players help him stem the chaos, or unleash a fresh horror on Daredevil and company?
32 PGS./Rated T+ …$3.99
DAREDEVIL #604, by Soule, Henderson and Milla ships June 20th.
DAREDEVIL #604 Preview
---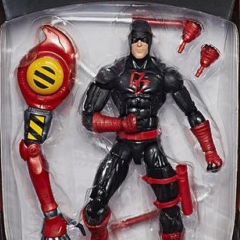 06/12 - Marvel Legends Pics
Revealed a few months ago to be a part of a new Marvel Legends Spider-Man wave of figures, here are some new box pics of the Back in Black Daredevil, and the Elektra figures.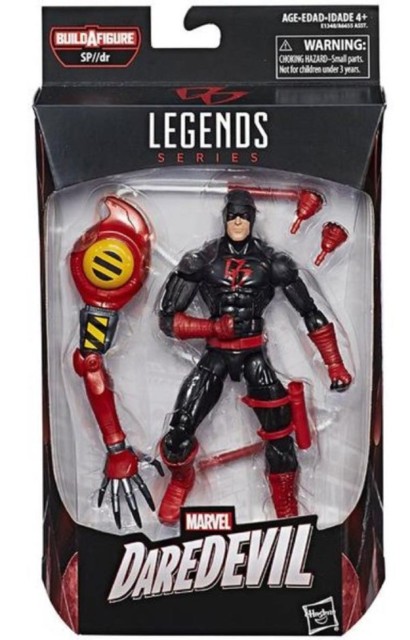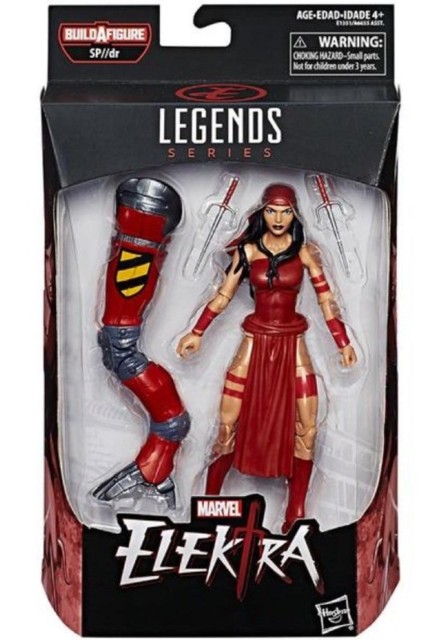 The figures will be available in July!
And what's this? An exclusive 2-pack of Luke Cage and Claire Temple?
---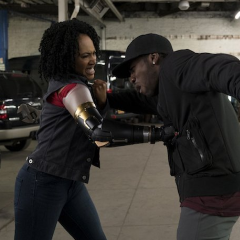 06/12 - LUKE CAGE S2 Final Trailer
June 22 is fast approaching, and Marvel/Netflix are producing lots of promo material for the second season of LUKE CAGE.
---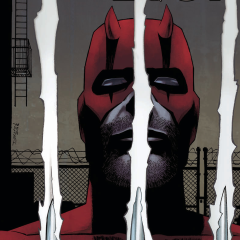 06/06 - WEAPON LOST Variants
HUNT FOR WOLVERINE: WEAPON LOST features Daredevil and issue #2 just came out today.
Here are all the regular covers by Greg Land and Giuseppe Camuncoli:
Here are some of the variant covers you may want to look out for, if you are a completist.
#1
Variant covers by Todd Nauck, Shane Davis, and second printing by Matteo Buffagni.
#2
Variant cover by Scott Koblish.
#3
Variant cover by Declan Shalvey.
#4
Variant cover by Ron Garney.
---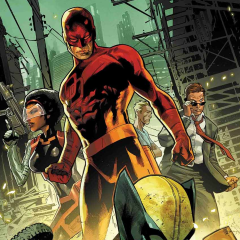 06/01 - WEAPON LOST #2 Preview
CHARLES SOULE (W) • MATTEO BUFFAGNI (A)
Cover by GREG LAND Variant Cover by MATTEO BUFFAGNI
A HOT LEAD ON LOGAN!
• DAREDEVIL and his squad of ace detectives – FRANK McGEE, MISTY KNIGHT and CYPHER – continue their search for the missing WOLVERINE, hoping to stir up a lead by questioning folks in the MARVEL UNIVERSE who might have a grudge against Logan.
• In other words... half the MARVEL UNIVERSE!
• But when their investigation hits pay dirt, the squad starts to think they might just wrap things up more quickly than they ever imagined.
32 PGS./Parental Advisory …$3.99
HUNT FOR WOLVERINE: WEAPON LOST #2 ships June 6th.
---
Click on links to display articles below...
2018-05-26-Charlie-Cox-Weekend-Conventions
---
2018-05-24-DAREDEVIL-603-Preview
---
2018-05-23-Phil-Noto-Daredevil-Promo
---
2018-05-22-August-2018-Daredevil-Solicits
---
2018-05-19-Donofrio-Zurer-DAREDEVIL-S3-Updates
---
2018-05-16-Is-Wilson-Bethel-Bullseye
---
2018-05-15-DAREDEVIL-Season-3-Set-Pics-and-Video
---
2018-05-14-Interview-with-Christos-Gage
---
2018-05-11-DAREDEVIL-602-Preview
---
2018-05-10-INFINITY-COUNTDOWN-DAREDEVIL-Preview
---
2018-05-09-Sideshow-Elektra-Pre-Order
---
2018-05-07-Luke-Cage-S2-Trailer
---
2018-05-02-Project-Daredevil
---
2018-04-26-Weapon-Lost-1-Preview
---
2018-04-20-Infinity-Countdown-Daredevil-Changes
---
2018-04-18-July-2018-Daredevil-Solicits
---
2018-04-18-Interview-with-Alex-Huynh
---
2018-04-12-Sideshow-Daredevil-Pre-Order
---
2018-04-12-Daredevil-News-From-The-Week
---
2018-04-12-DAREDEVIL-601-Preview
---
2018-04-10-DAREDEVIL-Sales-Data
---
2018-04-09-Weekend-Conventions
---
2018-04-04-Deborah-Ann-Woll-Charity-Shirt
---
2018-04-03-Daredevil-Gamestop-Exclusive-PVC
---
2018-03-31-New-Sideshow-Daredevil-Statue
---
2018-03-30-Marvel-Knights-20th-Anniversary-Collections
---
2018-03-29-DAREDEVIL-Season-3-Set-Pics
---
2018-03-28-Marvel-Knights-Collections
---
2018-03-22-DAREDEVIL-600-Preview
---
2018-03-21-Jay-Ali-Joins-DAREDEVIL-Season-3
---
2018-03-21-Daredevil-Upper-Deck-Set-Giveaway
---
2018-03-20-June-2018-Daredevil-Solicits
---
2018-03-18-Eric-Michael-Gillett-DAREDEVIL-Interview
---
2018-03-12-Quesada-DAREDEVIL-600-Variants
---
2018-03-12-DEFENDERS-Mondo-Soundtrack
---
2018-03-08-DAREDEVIL-600-Adi-Granov-Variants
---
2018-03-07-DAREDEVIL-600-Scorpion-Comics-Variants
---
2018-03-06-LUKE-CAGE-Season-2-Teaser
---
2018-03-05-Joe-Quesada-Marvel-Netflix-Artwork
---
2018-03-05-Even-More-DAREDEVIL-600-Variants
---
2018-03-04-More-JESSICA-JONES-Promos
---
2018-02-28-More-DAREDEVIL-600-Variants
---
2018-02-22-May-2018-Daredevil-Solicits
---
2018-02-18-Toy-Fair-Daredevil-Figures
---
2018-02-18-DEFENDERS-10-Preview
---
2018-02-16-DAREDEVIL-599-Preview
---
2018-02-13-Weapon-Lost
---
2018-02-12-DAREDEVIL-600-Maleev-Variant
---
2018-02-08-Infinity-Countdown-Daredevil
---
2018-02-07-JESSICA-JONES-Trailer
---
2018-02-06-Garney-Leaves-DAREDEVIL-with-Issue-600
---
2018-02-02-Soule-Interview-Mayor-Fisk
---
2018-02-02-DAREDEVIL-598-Preview
---
2018-01-30-Daredevil-Upper-Deck-Card-Set
---
2018-01-26-DEFENDERS-9-Preview
---
2018-01-25-Joanne-Whalley-Joins-DAREDEVIL-Season-3
---
2018-01-23-April-2018-Daredevil-Solicits
---
2018-01-17-NECA-Toys-Daredevil-Final-Packaging
---
2018-01-17-Interview-with-Stephen-E-Henderson
---
2018-01-16-Daredevil-Fan-Survey-Results
---
2018-01-16-22-Years-of-Man-Without-Fear
---
2018-01-10-DAREDEVIL-597-Preview
---
2018-01-10-DAREDEVIL-596-2nd-Printing
---
2018-01-07-Daredevil-Fan-Survey
---
2018-01-06-Ron-Garney-Sneak-Peek
---
2018-01-03-Daredevil-Season-3-Set-Pics
---