MEDIA
Movies and TV Shows
---
Marvel's DAREDEVIL on Netflix (2015-)



Season 1
Episode 1 - "Into the Ring"
Episode 2 - "Cut Man"
Episode 3 - "Rabbit in a Snowstorm"
Episode 4 - "In the Blood"
Episode 5 - "World on Fire"
Episode 6 - "Condemned"
Episode 7 - "Stick"
Episode 8 - "Shadows in the Glass"
Episode 9 - "Speak of the Devil"
Episode 10 - "Nelson v. Murdock"
Episode 11 - "The Path of the Righteous"
Episode 12 - "The Ones We Leave Behind"
Episode 13 - "Daredevil"
Daredevil News Roundup
New Bernthal Pics on Daredevil Set
Tickets for Daredevil Panel
Latest Daredevil News
New Bernthal Set Pics Daredevil
Shade VFX Emmy Video
Jon Bernthal Set Pics Daredevil
Elodie Yung cast as Elektra
Daredevil Season 2 Shooting
Interview with Elastic
Jon Bernthal cast as Frank Castle Punisher Daredevil S2
Interview with Patrick Clair
Dawson Returns For Season Two
Thursday Daredevil Links
Daredevil Links From The Week
Tuesday Daredevil Links
Weekend Daredevil Links
Daredevil Links From The Week
DAREDEVIL Season 2
Friday Daredevil Links
Thursday Daredevil Links
Wednesday Daredevil Links
Tuesday Daredevil Links
Monday Daredevil Links
Daredevil Launch Reaction
Red Costume Revealed
Even More Promos and Interviews
More Promos and Interviews
Latest Daredevil Promo Video
Evolution of Daredevil Costume
Daredevil Art Murals
Cox Dawson Interviews
Daredevil Reddit with Cox DOnofrio
New Daredevil Trailers
LA Daredevil Premiere
Cox DOnofrio Interview
Charlie Cox Seth Meyers
Woll Cox IGN Interview
New Clips Cox Interview
Latest Daredevil TV Commercial
First Daredevil Reviews Are In
Charlie Cox on Letterman
New Daredevil Characters Posters
Daredevil TV Commercial
Daredevil Make A Difference
Spotlight Report Interview
Short List Daredevil Set Interview
Nelson Murdock Promo
Madame Gao Fisk Promo
Daredevil Boxing Promo
Scott Glenn Interview
Street Scene Daredevil Motion Poster
New Motion Poster Costume Details Scott Glenn
New Pics DOnofrio Twitter Q and A
DOnofrio Kingpin Interview
Six Supporting Actors Announced
Official Daredevil Trailer
Writers Guild Foundation Daredevil Panel
Union Allied Promo
Hells Kitchen Promo
New Vincent DOnofrio Pics
Set Visit in Empire Magazine
New Daredevil Posters
Battlin Jack Murdock Poster
New Daredevil Pic and Drea de Matteo Casting
Daredevil Teaser
Daredevil Teaser Preview
Podcast with Cox and Woll
Rachael Taylor cast as Patsy Walker
Charlie Cox talks Daredevil Costume
David Tennant cast as Killgrave Purple Man
New Daredevil Promo
Shade VFX working on Daredevil Netflix show
Daredevil will premiere on April 10
More Details From Netflix Daredevil Entertainment Weekly
Netflix Daredevil Hardcover
Mike Colter Cast as Luke Cage
New Daredevil Pics in Entertainment Weekly
Krysten Ritter Cast as Jessica Jones
Steven DeKnight Answers Fan Questions
Rosario Dawson talks Daredevil
Spoilers from the Daredevil Set
Charlie Cox talks Darker Matt Murdock
Daredevil News from New York Comic Con
John Paesano to Score Daredevil Show
Meet the Stars of Daredevil at NYCC
More Pics of Deborah Ann Woll From Daredevil Set
Jeph Loeb talks Daredevil on Netflix
Scott Glenn cast as Stick
DeKnight Interview at Paste Magazine
Daredevil Cast to Appear at New York Comic Con
Vincent DOnofrio Mens Journal Interview
Deborah Ann Woll talks Karen Page
Vincent DOnofrio talks Kingpin
Toby Leonard Moore joins Netflix Daredevil
Daredevil Netflix Set Pictures
DeKnight talks tone of Daredevil show
Deborah Ann Woll cast as Karen Page
Peter Shinkoda joins Daredevil
Daredevil Filming Has Started
Elden Henson is Foggy Nelson in Daredevil show on Netflix
Rosario Dawson joins cast of Daredevil Netflix show
Vincent DOnofrio cast as Wilson Fisk Kingpin
Charlie Cox cast in Daredevil Netflix Show
Steven DeKnight Joins Netflix Daredevil
Joe Quesada talks Daredevil Netflix
Daredevil Netflix Show Part Of Cinematic Universe
Michael C Hall Daredevil Rumor
Daredevil Netflix will film in New York City
Drew Goddard Confirmed For Netflix Series
Drew Goddard in talks to write Daredevil show on Netflix
Daredevil television show on Netflix

You can check out the gallery of pics here!
---
DAREDEVIL REBOOT
FOX had the rights to make a DAREDEVIL movie and plans were in place... but the rights have expired and reverted back to Marvel. David Slade was originally going to direct, and then had to step down due to his work on Hannibal. Then Joe Carnahan pitched his own 70's version of DD, which FOX apparently was interested in doing, but the deadine was too close to get production underway. It remains to be seen what Marvel may do now with DD back in its studio.
UPDATE: September 24, 2009 - From an article in Variety, it was mentioned that "Fox was 'quietly developing a newer version of Daredevil'"
UPDATE: February 5, 2010 - Deadline Hollywood: EXCLUSIVE: Latest Marvel Hero To Reboot
UPDATE: March 15, 2011 - Variety: David Slade to direct next 'Daredevil' pic
UPDATE: June 3, 2011 - Variety: Fox puts superheroes on parade
UPDATE: June 7, 2011 - HR: Fox's 'Daredevil' Relaunch Hires 'Fringe' Writer Brad Caleb Kane
UPDATE: April 27, 2012 - Deadline New York: David James Kelly Rewriting 'Daredevil' Reboot For David Slade
UPDATE: July 12, 2012 - Deadline New York: David Slade drops out of Daredevil reboot
UPDATE: August 6, 2012 - Variety: Fox, Marvel huddle as clock ticks on Daredevil
UPDATE: August 6, 2012 - Deadline New York: Fox Insider: No Galactus Talks with Marvel
UPDATE: August 14, 2012 - Deadline New York: Looks Like DAREDEVIL Will Go Back To Marvel And Disney
UPDATE: August 14, 2012 - Variety: DAREDEVIL falling back to Marvel
UPDATE: August 15, 2012 - Joe Carnahan posts his DD "sizzle reel": Youtube.com

---

DAREDEVIL (2003)
The Daredevil movie was released on February 14, 2003, and starred Ben Affleck, Jennifer Garner, Michael Clarke Duncan and Colin Farrell. It was written and directed by Mark Steven Johnson.

It was #1 at the box office for two straight weeks, and went on to gross over $102 million domestically, despite lukewarm reviews.

There are two versions of the DVD: A 2-disc edition with lots of extras, and a single disc "Director's Cut". In 2008, a Blu-ray disc was also released, which has the Director's Cut, along with the extras from the first DVD.
INTERVIEWS
Here are some interviews that were conducted by this site that are related to the movie:

Writer/Director Mark Steven Johnson in March, 2002, click here.

Actor Scott Terra in September, 2002, click here.

DD author Greg Cox in January, 2003, click here.

Ilustrator Tim Flattery in March, 2003, click here

DD composer Graeme Revell in February, 2003, click here.

Rhythm and Hues' Caleb Howard in March 2003, click here

Sparkhill Productions' producer Jon Mefford in September, 2003, click here
PICTURE GALLERY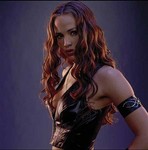 You can check out my archive of movie-related pics here.
---

ELEKTRA (2005)
Jennifer Garner reprised her role of Elektra in her own movie which began production in May, 2004 and was released January 14, 2005. The DVD was released on April 5, 2005, after a critical drubbing and a less than stellar box office of $24 million domestically. A "Director's Cut" was also released later in the year.

Directed by: Rob Bowman
Produced by: Mark Steven Johnson, Gary Foster, Avi Arad
Written by: Raven Metzner & Stu Zicherman, Zak Penn

INTERVIEW

Elektra author Yvonne Navarro, February 2005, click here.
PICTURE GALLERY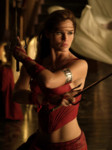 You can check out my archive of movie-related pics here.
---
Jay and Silent Bob Strike Back (2001)

Released in late 2001, this film by Kevin Smith features a very small cameo of Daredevil fighting a group of ninjas. Jay and Silent Bob pass by a movie shoot of a 'Daredevil' movie in production. Even Joe Quesada makes an appearance as a pizza delivery guy in the movie.

On the 2-disc DVD set that came out in February 2002, the deleted scenes feature an extended look at the DD cameo. Look for it under the 'COMICS!!!!' title in the Deleted Scenes part of disc 2. Mark Steven Johnson is the 'director' of this make believe DD movie within this movie.

Here's a link to a pic from the NewsAskew.com site.
---
The Trial of the Incredible Hulk

Thanks to Alan Wright for these screen captures of the TV movie.


Many of you may remember the Hulk movies that aired in the 80's. This movie had Daredevil guest-starring. Daredevil was featured in a black costume. Rex Smith (remember him from Solid Gold?) played Matt/Daredevil, and John Rhys-Davies (Sliders, Raiders of the Lost Ark) played Fisk.


There were plans on making DD into a series directly from his movie, but no network picked up the pilot. Apparently it is available on bootleg. Anyone have a copy?


There is an illegal copy of this movie on DVD in Canada (a company called Top Ten New Media put it out and it was available in Wal-Mart), and the official version came out in May 2003 as part of The Incredible Hulk collection, with loads of extras. There is a VHS copy of the movie that appears on eBay from time to time.
---
Daredevil/Black Widow TV Series (1975)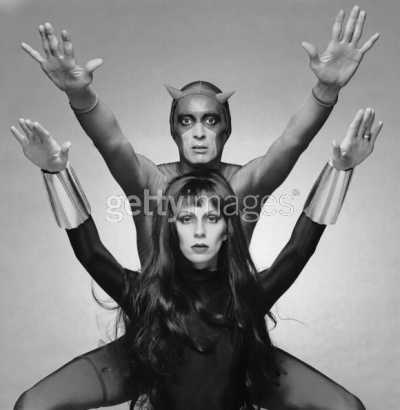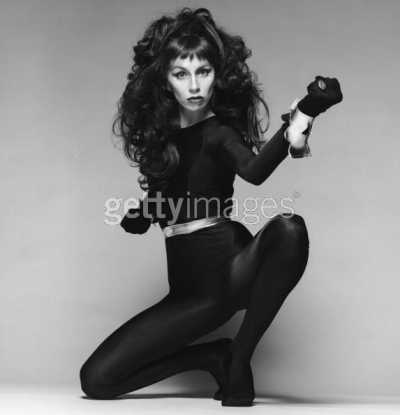 (Source: Getty Images: here and here.)
Angela Bowie, former wife of David Bowie, and Ben Carruthers took these promo shots in 1975 for a planned Daredevil/Black Widow TV series. Nothing was ever filmed, as Angela Bowie herself explains in this e-mail, after I asked her about the series...
Dear Kuljit,
Thank you for your interest and e-mail.
I am surprised that you ask me that question. I received permission from Stan Lee
to have the rights to Daredevil and Black Widow for a year.
We were unable to place the series.
Actor, writer, Benny Carruthers and I did the photo shoot with Terry
O'Neill and Natasha Kornilkoff costume designer and Barbara Daly - make-up
in London and that was all that ever happened. Unfortunately at that time
it was considered too difficult and expensive to film, special effects
etc.
I appreciate your asking,
kindest regards,
Angie
---
FAN FILMS have also been created by Daredevil fans all over the world... have a look!
---
Wizard Casting Calls
In Wizard #224, the magazine cast a Daredevil reboot movie.
Here were their choices:
Bradley Cooper as Daredevil
Summer Glau as Elektra
John C. Reilly as Foggy Nelson
Crispin Glover as Bullseye
Yvonne Strahovski as Karen Page
Tom Sizemore as Kingpin
Alicia Keys as Typhoid Mary
Mandy Patinkin as Owl
Guy Pearce as Mr. Fear
Keira Knightley as Dakota North
In Wizard #56, for Casting Call 14, the magazine cast a Daredevil Movie.
Here were their choices:
Brad Pitt as Daredevil
Woody Harrelson as Bullseye
Andy Richter (from Conan O'Brien) as Foggy Nelson
Josie Bissett (from Melrose Place) as Karen Page
Daisy Fuentes as Elektra
John Rhys-Davies (from Sliders) as Kingpin
Roy Scheider as Ben Urich
Lance Henriksen (from Millennium & Aliens) as Stick
Andie McDowell as Typhoid Mary
Razor Ramon as Punisher
Here is a list of Wizard choices from a subsequent issue, with the help of Joe Quesada:
* Matt Damon as DD/Matt Murdock
* Oliver Platt as Foggy Nelson
* Robin Wright as Karen Page
* Sigourney Weaver as Razor Sharpe
* Jose Quesada (Joe's Dad) as The Priest
* Anne Bancroft as Sister Maggie
* Angelina Jolie as Black Widow
* Harley Quinn Smith (Kevin's daughter) as Karen (the baby)
* Mike Starr as Mr. Gabriel
* Alec Baldwin as Bullseye
* Robert De Niro as Kingpin
* Kevin Spacey as Mysterio
* And Robert Rodriguez and Kevin Smith doing the movie

---
Last Modified - Monday, 11-May-2015 19:54:35 PDT