DAREDEVIL NEWS
HOME
>
DAREDEVIL NEWS
>
2013-01-27-Recent-Daredevil-Cameos
01/27 - Recent Daredevil Cameos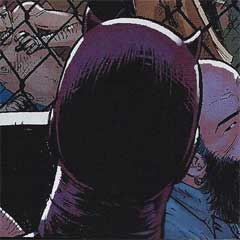 I know a lot of you collect any and all Daredevil appearances, so there were a couple of one-panel cameos in comics last week that you may want to know about.
I don't want to spoil it, so if you don't want to know which comics, then please don't read any further...
SPOILERS!
Daredevil's watching a fight in DEADPOOL #4 and all we see is the back of his head... and you may recognize some of the comics creators watching the fight as well...
And...
Daredevil's dead body is in the background in a flashback in DEADPOOL KILLUSTRATED #1.
So, these are not important appearances, but if you really do collect ALL Daredevil appearances, there you go.
More DAREDEVIL News!