DAREDEVIL NEWS
HOME
>
DAREDEVIL NEWS
>
2013-02-14-10-Year-Anniversary-of-Daredevil-Movie
02/14 - 10 Year Anniversary of the Daredevil Movie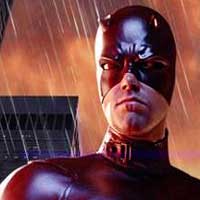 10 years ago, on February 14, 2003, the DAREDEVIL movie officially was released. Written and directed by Mark Steven Johnson, the movie was #1 at the box office for two weeks, and ultimately made over $102 million domestically. Despite its "success", it has its reputation as one of the weaker Marvel movies.
The movie starred Ben Affleck as Matt Murdock/Daredevil, Jennifer Garner as Elektra, the late Michael Clarke Duncan as Wilson Fisk/Kingpin and "newcomer" Colin Farrell, whose career was just starting with Tigerland, The Recruit and Minority Report.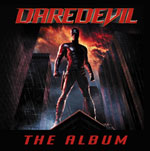 Like the Spider-Man movie, Daredevil also had a soundtrack, with its most famous contributor being Evanescence, whose "Bring Me To Life" and "My Immortal" moved them up the charts.
Here is the official track listing for the album, which was released through Wind-Up Records on February 4, 2003.
1. Fuel - "Won't Back Down"
2. The Calling - "For You"
3. Saliva - "Bleed For Me"
4. Seether - "Hang On"
5. Nickelback - "Learn the Hard Way"
6. Drowning Pool feat. Rob Zombie - "The Man Without Fear"
7. Nappy Roots feat. Marcos Curiel of P.O.D. - "Right Now"
8. Moby - "Evening Rain"
9. Evanescence - "Bring Me To Life"
10. Chevelle - "Until You're Reformed"
11. Hoobastank - "Right Before Your Eyes"
12. Palo Alto- "Fade Out/In"
13. Revis - "Caught In The Rain"
14. BOYSETSFIRE - "High Wire Escape Artist"
15. Autopilot Off - "Raise Your Rifles"
16. Graeme Revell and Mike Einziger - "Daredevil Theme (Blind Justice Remix)"
17. Evanescence - "My Immortal"
18. Finger Eleven - "Sad Exchange"
19. Endo - "Simple Lies"
20. 12 Stones - "Let Go"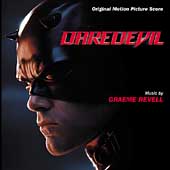 The movie also had a score written by Graeme Revell.
1. Daredevil Theme (4:39)
2. Young Matt's Father (1:57)
3. Hell's Kitchen (2:12)
4. Matt Becomes Daredevil (1:38)
5. The Kingpin (3:51)
6. The Darkest Hour (2:44)
7. Bullseye (2:44)
8. Elektra (4:15)
9. Mistaken Identity (2:50)
10. Nachios' Assassination (1:11)
11. Elektra Vs. Bullseye (2:56)
12. Blind Justice (2:09)
13. Church Battle (2:22)
14. Falling Rose (1:11)
15. The Necklace (3:19)
Here's the trailer:
Many fans consider the Director's Cut to be superior to the theatrical cut, as the DC removes the Elektra romance angle, and brings back the sub-plot involving Coolio's character Dante Jackson. The DC is about 30 minutes longer.
Would the movie have done better critically if the DC was the one released?
With the Daredevil rights now back at Marvel, we may be waiting much longer for a return to the screen, as he may not fit into the current plans. But let's hope Marvel treats him well and we don't have to hear of any studio interference.
My own experience with the movie went something like this...
In 2000/2001 or so, a rumour had surfaced that the "director of Grumpy Old Men" was involved with a planned Daredevil movie. I took it with a grain of salt, considering the previous plans with Chris Columbus and Carlo Carlei (I think that's what his name was). I posted this rumour on my news section, thinking nothing of it, really.

And then I got an e-mail from the "director of Grumpy Old Men", Mark Steven Johnson. He told me the rumour was somewhat true. He wanted the job, but there was no DD movie yet. But he was working behind-the-scenes, making a screenplay, making storyboards (as has been documented), and he REALLY wanted the job.

He wanted my opinion on what he'd prepared so far. He wanted to send me some stuff.

Now by stuff, I thought he'd send me some photocopies or something.

What I got in the mail was infinitely better. I got an oversized art portfolio, with character designs, prop designs, set designs, you name it. AND, I also got a 6 inch thick binder of storyboards. Do you remember the bar fight scene? I "saw" it years before it was filmed. I had 4 scenes from a Daredevil movie, that was not greenlit, did not have an actor involved, didn't even have a studio involved. But boy did it look cool.

And I couldn't tell anyone about it!

Months later, after several stops and starts, the movie was finally picked up by FOX. I don't want to make it sound like Mark Steven Johnson was updating me constantly on what was going on... he updated me maybe once every few months, just letting me know what was going on, where they might be shooting the movie, and who would ultimately be Matt Murdock. I know who was considered, but I think I'll keep that info secret for now.

Things were looking good. Nothing could go wrong, right?

MSJ hinted at some of the casting, and confirmed or denied rumours that I'd heard. I learned from him that he was coming to Toronto to interview an up and coming actor named Colin Farrell for the Bullseye role. Farrell was in Toronto filming The Recruit, with Al Pacino and Bridget Moynahan (who, I would learn later was also considered for Elektra). MSJ had been up in my neck of the woods before, when he filmed Simon Birch. He knew all the local comics stores and the cool areas of Toronto.

Then, it seemed, all the actors were in place, Affleck was cast and suddenly the Daredevil movie was gonna be shot (in LA, subbing as New York). MSJ told me some of the issues the studio had with costumes and the story, but everyone knows about that by now.

FOX marketing got a hold of me, and wanted to run a contest on the site. Then the local FOX office in Toronto got a hold of me, and wanted to run some promos as well.

Literally, the night before he was off to shoot the movie, MSJ sat down and had an interview with me. People were really excited about it, and because of the movie, I seriously went broke. Bandwidth traffic was 5 times larger than normal, and I had to pay all these extra costs. I guess I should have cared, but I let the Daredevil hysteria take over. :)

I think it was MTV that got a first look at DD (an interview conducted by Rob Zombie). Since I didn't have MTV, I was going to miss it. I might have mentioned this, cuz then I heard from a longtime visitor of my site who had taped the show and wanted to send it to me. So that was another cool thing I got in the mail. This nice person also visited the comicon and taped the DD panel for me as well.

The contest was funny, in that I had prepared all the code, and seriously, FOX legal was a nightmare, with so many documents I had to sign. The day of launch, I had gone out to do a quick errand, and then I blew a tire. I was going to miss the contest launch. So I actually called FOX in LA to tell them I would be late getting the contest up... yeah, I was crazy. Fortunately, I got home in time.

MSJ sent me one of the DD coins, and then the two posters... and also a pair of Affleck's glasses. Too cool.

February 2003 was approaching... I had been invited to the press screening in Toronto, I was watching the trailer and previews like 20 times a day. FOX asked me if I knew anyone in the LA area who'd be interested in attending the press screening there. And I instantly thought of the nice person who sent me the tapes. I sent an e-mail, basically saying, if you want to see the DD movie first, let me know, like, today. She went as my guest. :)

Then I caught some really bad flu and was knocked out for a week... the week of February 14, the release date of DAREDEVIL. The press screening was a few days beforehand, and I took my wife with me. I was high on drugs (the legal kind) to keep me from passing out. My work was nice enough to let me miss work to attend this screening.

So, there we were, among all these "important" people. I got some more DD stuff, a DVD of promo material, some cards, you know, all the stuff reviewers get. The lights went dim, and the movie started just the way I had seen it on the storyboards.

I sat there in the theatre with my wife, and several local media critics. I was just barely awake... the serious cold I had was really taking its toll on me. (I lost 10 pounds that week). The movie began, and immediately I noticed subtle changes from the storyboards. The worries that MSJ had about changing things appeared to have come true. I was disappointed in the Josie's Bar fight. It just didn't flow and the editing had taken out all the good stuff. The CGI was so bad, I just had to shake my head. The 'wire-fu' and Matrix-stuff I think should have been left out.

It sounds like I hated the movie, right? Now that I look back, and after seeing the Director's Cut, I'm surprised I actually said I liked the movie. It was entertaining and it has so many flaws. But I liked it. I went back to see it with friends 4 more times that week and enjoyed it more each time. Love it or hate it, there are people on this site right now because of the movie.

As part of thanking me for the promotion, FOX sent me hats, cups, posters, cards, coins, you name it. It was shipped in a giant box and it almost never got to me. It got stuck at customs for a week because there was no "value". Insert your own joke here.

I also got to be a part of the promotion for the eventual DVD, as the company who did the documentaries asked for my help for the text commentary... and that's why my name is there. I didn't know about it and it was a genuine 'wtf' moment for me.

I almost forgot... I also was part of a phone conference with FOX's head honchos for media, to figure out ways to promote the DVD... but for some reason, it turned into all of them wondering if I was wearing a mask because I lived in Toronto. At the time, the SARS outbreak was in the news. I don't think we ever really talked much about promoting the DVD.

When the Director's Cut finally came out, that to me was the DD movie in the storyboards. Now if only they could re-do the CGI.
Here are some interviews that were conducted by me with many of the people involved with the movie. Hope you enjoy reading them!
Writer/Director Mark Steven Johnson in March, 2002, click here.
Actor Scott Terra in September, 2002, click here.
DD author Greg Cox in January, 2003, click here.
Ilustrator Tim Flattery in March, 2003, click here.
DD composer Graeme Revell in February, 2003, click here.
Rhythm and Hues' Caleb Howard in March 2003, click here.
Sparkhill Productions' producer Jon Mefford in September, 2003, click here.
Movie credits designer Karin Fong in March, 2011, click here.
Actress Josie DiVincenzo in April, 2013, click here.
Magic Consultant Thomas Baxter in January, 2013, click here
So what was your opinion of the movie? Did you love it? Hate it? Did the movie get you into the character?
More DAREDEVIL News!