DAREDEVIL NEWS
HOME
>
DAREDEVIL NEWS
>
2013-05-02-Feige-talks-Daredevil
05/02 - Kevin Feige talks Daredevil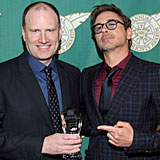 Marvel Studios' Kevin Feige has been talking Iron Man 3 recently, but has also been commenting on Daredevil, now that he has confirmed DD is back with Marvel.
But if you're expecting a DD movie soon, Feige had this to say with EW:
"There comes a time in contracts where, if a studio is done making the movies, [the characters] come home... That doesn't mean we're going to make another movie. But it means they're back in the fold, which is where we want them to be."
EW
Feige also spoke with Superherohype about how easy it would be to bring Daredevil to the world that they've created so far...
"...I think that frankly would be easy. We're still exploring the stuff that's not as easy, which is we've been to Asgard, we've been through the Bifrost. We peeked a little bit through that portal at the end of the Avengers and now obviously in "Thor: The Dark World" and particularly in "Guardians of the Galaxy" we're going full bore through that portal to literally the other side of the Marvel Universe, the entire universe, to explore the cosmic side of our characters and our storylines. That I think we've only still experienced the surface of that, and there's much more to be done there."
SHH!
It was also interesting to find out that Ghost Rider is also back at Marvel now, along with Punisher, Blade... and Daredevil. Marvel Knights anyone?
More DAREDEVIL News!