DAREDEVIL NEWS
HOME
>
DAREDEVIL NEWS
>
2013-11-26-More-News-on-DAREDEVIL-1
11/26 - More News on DAREDEVIL #1
There has been lots of news today about DAREDEVIL #1, and let's begin with the official press release from Marvel: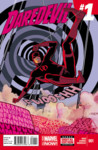 Superstar Storytellers MARK WAID & CHRIS SAMNEE Re-Team for DAREDEVIL #1!
The Critically Acclaimed Creative Team Returns!
New York, NY -- November 26th, 2013 -- You just can't keep the Man Without Fear down! Matt Murdock makes his All-New Marvel NOW! debut with an exciting new monthly series starting with Daredevil #1 this March!

Beloved by critics and fans alike, Eisner-Award winning storytellers Mark Waid (Captain America, The Amazing Spider-Man) and Chris Samnee (Thor: The Mighty Avenger) re-team to take Marvel's fearless hero in a bold new direction -- starting with a move to The City by the Bay!

Spinning out of the groundbreaking new Infinite Comic series Daredevil: Road Warrior, Daredevil #1 marks a new start for Matt Murdock. Armed with an imperceptible radar sense and a passion for justice -- the blind lawyer from Hell's Kitchen is ready to make his mark on the Golden City's streets. But, San Francisco local vigilante, The Shroud is already keeping the street safe -- and he's not ready to share the spotlight!

Big changes are in store for the Man Without Fear -- as old haunt -- and familiar faces emerge ready to give the devil his due!

"Mark and Chris (along with Javier Rodriguez and Joe Caramagna) have made history on Daredevil over the past couple years," said Senior Editor Stephen Wacker. "But their new plans for the Man Without Fear are their most exciting yet. This is a perfect place to jump on see what everyone is talking about."

Every FIRST ISSUE bearing the All New Marvel NOW! branding includes a code for a free digital copy of that same comic on the Marvel Comics app for iOS and Android devices.

Once again, the biggest creators bring you the biggest characters in the biggest stories.... and it's happening NOW!

Daredevil #1 strikes this March! For more on Moon Knight & All-New Marvel NOW!, please visit now.marvel.com and join in the conversation on Twitter with hashtag #MarvelNOW.
Then there were various interviews with Mark Waid and Chris Samnee posted, that revealed quite a bit about the direction of the story and why DD making the move to San Francisco.
CBR: Waid Gives San Francisco a Guardian "Daredevil"
Newsarama: DAREDEVIL Returns... And So Do Waid & Samnee, Spilling Secrets
IGN: Mark Waid and Chris Samnee Give Daredevil a Fresh Start
MARVEL: All-New Marvel NOW! Q&A: Daredevil
And last, but certainly not least... Alex Ross will be painting a variant cover to DAREDEVIL #1. CBR has the exclusive first look!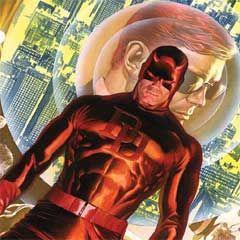 CBR: EXCLUSIVE: Alex Ross Covers Marvel's New "Daredevil" #1
As always, keep checking back for more news!
More DAREDEVIL News!