DAREDEVIL NEWS
HOME
>
DAREDEVIL NEWS
>
2014-02-20-Daredevil-Links-of-the-Day
02/20 - Daredevil Links of the Day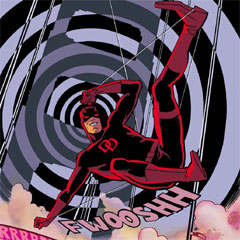 DAREDEVIL #36 shipped this week and I hope you enjoyed my feature with most of the creators who worked on Volume 3 of DAREDEVIL yesterday (added Kano's contribution!).
Today there were several interviews and features online, so here's a quick rundown for you...
First up, Marvel.com has a feature on Matt and Foggy's "bromance" and highlight some stories that may interest you...
Marvel.com
Next, Newsarama sat down with Mark Waid, Chris Samnee and Javier Rodriguez to get their comments on DAREDEVIL and what's coming up in Volume 4!
Newsarama
And last, but certainly not least, Cosmic Book News posted a new interview with Mark Waid, where they discussed who may be showing up in the new relaunch.
CosmicBookNews.com
More DAREDEVIL News!