05/01 - Daredevil Quick Links
Lots of links from the week, so here we go...
Board member "Bratface" made a special dress based on her favourite hero, which is featured here: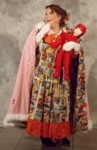 There's a new Sideshow statue coming... check out the preview next week, but here's a first look:
A new pint glass is available for order in the latest Previews, based on Joe Quesada's DAREDEVIL: FATHER artwork.
Will Devokees returns with his final audition trailer for a role in the DD show.
Kenneth Gorman is another actor who wants a shot at a DD role as well...
The History of Daredevil continues at the Marvel site, with Part 2 and the intro of the red costume!
TotalXBox tells us why it's time for a Daredevil video game
Mike Mitchell showcases Marvel characters at his show, including Daredevil...