07/31 - Loot Crate Marvel Knights Box
Loot Crate's Marvel Gear + Goods Box for September will have a Marvel Knights theme.
Pictured here is a Daredevil desk tray: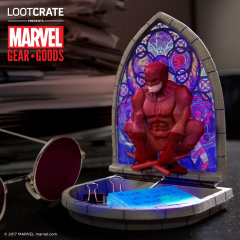 No guarantees, but Loot Crate describes the box as follows:
Entry No. 0915: Have observed a group of mysterious, formidable individuals gathering together, making alliances and joining forces to defend people. Daredevil, Jessica Jones, Luke Cage, Iron Fist and Elektra—will code name them MARVEL KNIGHTS and investigate further...once I get more organized.
(If you need a 10% off coupon code, let me know)
Loot Crate