03/28 - 1982 Proposed Daredevil Cartoon
If you've been a long-time reader of the site, you've no doubt visited the CARTOONS section and seen some images from the proposed Daredevil cartoon from 1982.
We learned this week why the proposal never turned into a TV cartoon show...
It has to do with this cover: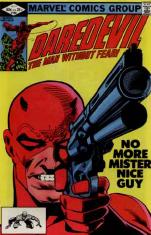 Marvel's Tom Brevoort commented on a tweet from Spinner Rack this week...
So, we didn't get this cartoon because the TV studio didn't like that Daredevil was associated with a threatening image of a gun.
If you've never seen the images before, here they are again... Daredevil with his trusty friend, Lightning the dog!