DAREDEVIL SEASON 3 REVIEW
By Kuljit Mithra
A Superb Combination of DAREDEVIL Comic Influences With Outstanding Performances
(This review is based on the first six episodes of DAREDEVIL Season 3. If you've already watched the trailers etc. this review is fine. Otherwise, if you are staying away from even mild spoilers, then please do not read the review.)
At the end of DEFENDERS, Daredevil fans instantly thought the next season of DAREDEVIL would be based on the famous "Born Again" story by Frank Miller and David Mazzuchelli. It is often considered the best DD story, and it always appears on fan recommendations for new readers. With new showrunner Erik Oleson onboard and his team of writers, you are going to get elements of "Born Again", but you are also going to get elements from other famous DD arcs. Sure, you are going to get dialogue that you've memorized from the many, many times you've read it. And there are shots that look like they've come right out of the comics, but there's no way they could have adapted it completely. This is its own story. And it's great.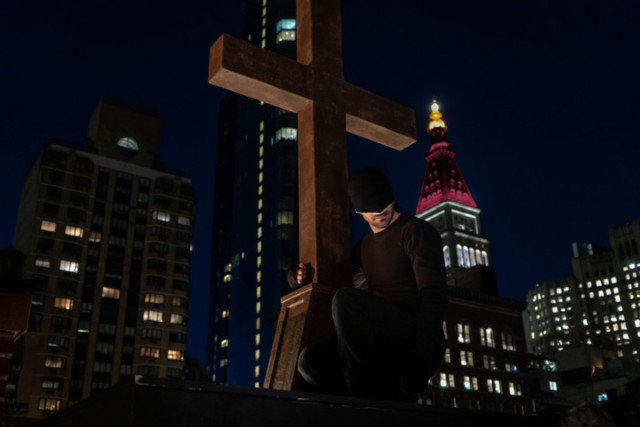 Charlie Cox as Daredevil. Image courtesy of Netflix.
I won't get into many specific story details. You are visiting my Daredevil site, you are going to watch it anyway. But I hope you can stay away from spoilers as much as you can. There are so many exciting moments. There are two fight scenes that are really well done, so much so, that you really have no idea if Daredevil will make it through it, they are so intense. Oleson has hyped one of these scenes as better than the hallway fight from S1, and he's not lying.
And since I know you don't skip over the intro credits... keep your ears open for a very subtle change in the music.
If there's a theme to go with this season, it's "Friends, Family and Loved Ones". All the characters have something they need from their circle, but some choose not to get the help they need. Wilson Fisk is putting the wheels in motion to see Vanessa again one day. Matt Murdock is "dead" to Foggy and Karen, and maybe they are not finding it easy to move on. We get to meet a lot of families... Foggy's, Ellison's, Ray Nadeem's (played by Jay Ali), and Wilson Bethel's FBI Agent Poindexter origins. As Matt Murdock heals in the church, we meet his new "family". And it's hinted that we will see Karen's story expanded as well. Is life easier when you feel you belong? Or is it easier to go it alone?
I've always been a fan of the simpler scenes in the show, the dynamic of the cast, the interactions that reveal things about them. For example, we meet Agent Nadeem's family. One thing that stuck with me was seeing a family like my own, dealing with something many families go through. Also, another scene is his wife Seema (played by Sunita Deshpande) bringing some chole for him for lunch because she knows he won't eat otherwise. Something simple like that stuck with me. For you it might be Foggy's extended family, harping on his career choice instead of taking over the family business, or maybe you relate to trying to move on from your past like Karen. The show may be called DAREDEVIL, but the supporting cast elevates it to something more. You'll see a lot of familiar faces return, and they do seem like our family don't they after all these years?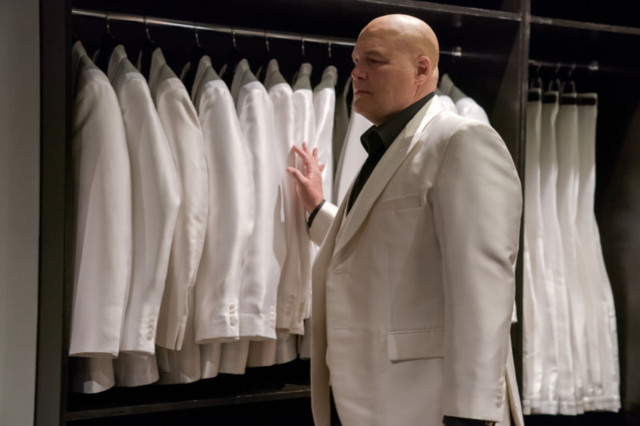 Vincent D'Onofrio as Wilson Fisk. Image courtesy of Netflix.
The sense of belonging is something Matt Murdock is struggling with at the start of the show. Like the comics, Matt Murdock internalizes a lot and questions his purpose. Who is he really? Is he Matt Murdock? Or is he Daredevil? Wilson Fisk indirectly helps him make this decision. And like the comics, this leads to many questionable and poor decisions by Matt Murdock in his quest to rid the city of Fisk. I asked "What are you doing, Matt?" out loud a few times while watching.
Speaking of Wilson Fisk, he's the centerpiece of this season... manipulating everyone in the FBI and particularly Agent Poindexter. As much as Charlie Cox has become Matt Murdock/Daredevil to us, Vincent D'Onofrio is Wilson Fisk... I can't imagine who could have done better in this role. I only hope this isn't the last season we see of him.
While I'm a fan of the simpler scenes, the pacing is something that critics of the Marvel Netflix shows have mentioned several times... this problem is better this season. The first few episodes do get you more anxious for what you know is coming, but you get lots of questions answered in those episodes. Be patient. Matt needs some time to pick himself up. Once the trouble starts, it doesn't really let up. And you have to worry who survives in the end.
DAREDEVIL Season 3 premieres October 19th on Netflix.
Starring Charlie Cox, Elden Henson, Deborah Ann Woll, Vincent D'Onofrio, Joanne Whalley, Wilson Bethel and Jay Ali.