Interview with Elsa Sjunneson
(June 2020)
The Hugo, Aurora and British Fantasy Award winning writer talks about the new JESSICA JONES project with Serial Box and also becoming the first blind person to write Matt Murdock in the series.
Kuljit Mithra: Hi, nice to get this chance to speak with you. When this JESSICA JONES Serial Box project was announced earlier this year, I read about your involvement on Twitter. I also read your excitement to write Matt Murdock in the series. Since I run a Daredevil website, I have to ask... was it a case of you being a fan of Daredevil, or was it you rubbing your hands together with glee to finally depict a more accurate portrayal of a blind character?
Elsa Sjunneson: Nice to talk with you too! It's definitely a mix of column A and column B. When you're a disabled person like I am and you have few characters you can look at and say "that's like me!" you take what you can get. Of course I'm a Daredevil fan. (I also like Deaf Hawkeye, and Oracle a whole lot!). But of course, representation is important, and any chance to bring my lived experience to the table with a known character is a privilege. I'd call it less rubbing my hands together with glee, and more an honor and a privilege to bring something to the table.
Mithra: This is the first time I've read a Serial Box series, and I've gone through the first three episodes so far. I like it a lot, how you can choose to either read or listen. I'm wondering how something like this is organized? I see that this JESSICA JONES project has a non-binary and female writing team including Lauren Beukes, Vita Ayala, Sam Beckbessinger, Zoe Quinn and yourself, and it's narrated by Fryda Wolff. Was there someone like a showrunner, who created a vision of what the story should be and then coordinated this team? Can you briefly describe the origins and how you got involved?
Sjunneson: Lauren Beukes was our lead writer, she came in with an initial outline that we worked with. Lauren, Vita, Zoe and I met last year in NYC to have a weekend writers room conference. We spent three days together, drinking tea, cooing at my guide dog, and jointly creating an outline that we could all agree on. We fixed plot holes in record time, and really found a story we wanted to tell collectively. It's a remarkable process and I'd love to do it again.
Mithra: Sixteen episodes are planned. Was the complete story mapped out and then divided up among the writers to hit story points? How does the collaboration work for the team?
Sjunneson: When we were in the aforementioned writers room we all kind of got to address what we wanted to write. We all got at least one section that we were particularly excited to write - I suspect you'll see why I wanted Episode 5 when you get there, for example. I think one of the major advantages of this kind of work is that you can give people the bits they're good at - and lean on your fellow writers when you struggle. For example, I helped my fellow authors out when it came to blind representation, and my collaborators helped me write my first ever driving scene - because as you might imagine, the blind author Does Not Drive.
Mithra: Jessica Jones has mostly been a character who is reluctant to let anyone close. She has dealt with this mostly by being cold, and self-destructive by hitting the bottle in her desk. But in this series, she seems open to changing her ways, going to therapy and trying to show some empathy. Trouble seems to find her anyway, but I wondered what kind of discussion the writing team had about this characteristic of Jessica's?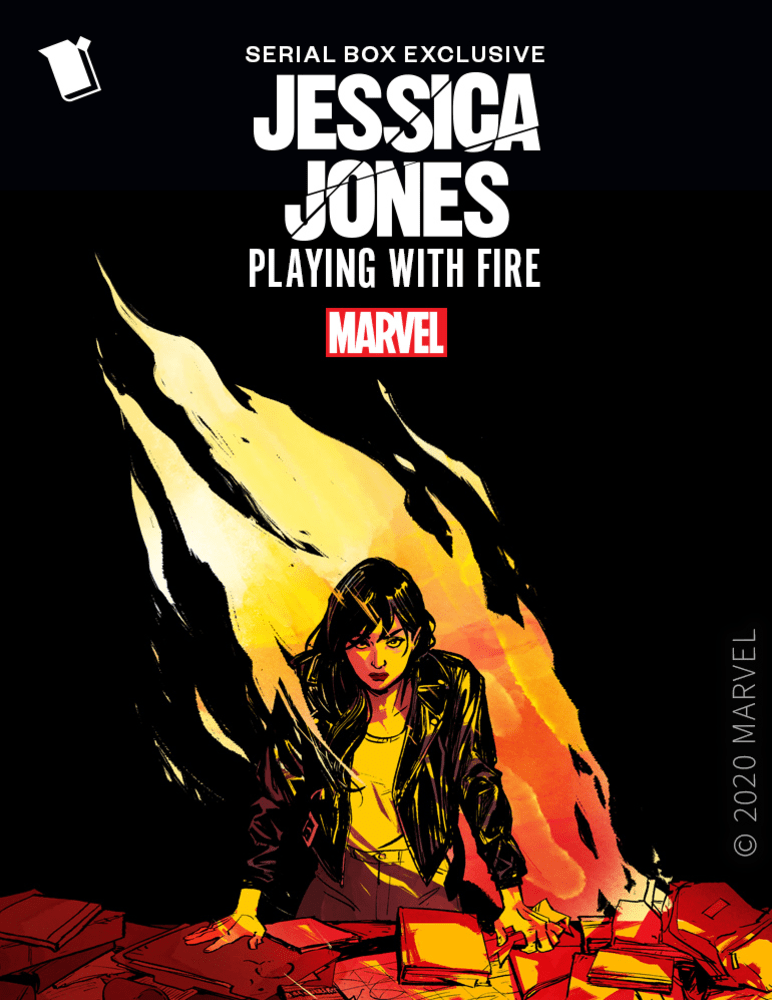 Sjunneson: Something that we talked about is that trauma (much like life) finds a way. Jessica has been through a lot of trauma - and its something that is a big part of her characterisation. But people change. And people with PTSD end up hitting walls. They find themselves trapped in their own mental hellscapes. At some point, everybody with PTSD has the moment where the trauma is going to swallow them. So I know I was interested in seeing Jessica tackle her trauma, and try, just a little bit, to be a person who owns it rather than is owned by it. It is a long process, and giving her the chance to change even a little bit is an interesting character development.
Mithra: Another thing that is a strong element in these first few episodes is representation and a sense of community that goes along with it. Is this story a journey for Jessica to find a community that will accept her?
Sjunneson: Not quite… I think it's more about Jessica learning that perhaps, she herself wants a community.
Mithra: I know I've been asked this when I've mentioned this series online... this story is set in the comics continuity, not the TV show continuity, correct? Malcolm is a big part of it, but we've got the Hellfire Club and other comics references.
Sjunneson: Yes, we're in the comics continuity!
Mithra: When you're writing for a project like this, are you being more descriptive than your usual writing, because you know it will be read aloud? And did you try something different when describing Matt Murdock's "world", with description and sound effects?
Sjunneson: I didn't change too much about my style - and since it isn't in Matt's PoV (which uh, I'd LOVE to write) so we don't get that shift.
Mithra: Thank you very much for your time. I am really looking forward to the rest of the episodes and I hope DD and JJ fans check it out. How has the current world situation affected your professional work? Did it affect this series at all? Thanks again.
Sjunneson: I was at home before, and I'm home now? Ha. To be serious for a moment though - while the pandemic didn't affect my work on this project, it certain has been distracting. The world is changing, and I can't let the change happen without being a part of it. So I'm trying to keep an eye on the world even as I tell stories about different ones. And for DD fans - if you're interested in learning about what it's like to be a real blind person (even one who plays with swords and martial arts!) my memoir Alone in the Light comes out in 2021.
Read or listen to JESSICA JONES: PLAYING WITH FIRE on Serial Box
--------------------------------------------------------------------------------------------
(c) 2020 Kuljit Mithra & Elsa Sjunneson
Daredevil:The Man Without Fear
http://www.manwithoutfear.com
--------------------------------------------------------------------------------------------

---
Read more interviews!