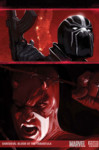 Written by ED BRUBAKER & ANDE PARKS
Penciled by CHRIS SAMNEE
Cover by MARKO DJURDJEVIC
"Blood of the Tarantula" Carlos LaMuerto, a.k.a. Black Tarantula, is finally doing something good with his life. Well, at least it ain't all bad. Lying low after getting out of prison and wiping out an entire gang, Carlos has become a low-key Robin Hood -- cleaning up the neighborhood he used to run as a gang lord. But he's about to discover that leaving his past behind isn't as simple as a change of attitude.as ghosts from his former life haunt him, Carlos turns to his friend/adversary, Matt Murdock. Now Black Tarantula and Daredevil must work together to save the streets of Hell's Kitchen from a powerful new gang from Carlos' homeland.
48 PGS./Rated T+ $3.99