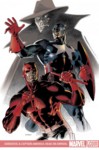 Written by TITO FARACI
Penciled by CLAUDIO VILLA
Cover by CLAUDIO VILLA
Presented for the first time in North America: an amazing tale by two of Europe's top creators, starring two of the world's most popular super heroes! A series of bizarre murders suggests that a long-dead villain has returned from the grave. The desperate New York police turn to the Man Without Fear, Daredevil, to solve the case. Daredevil, however, is unaware that Captain America is also investigating...
Related Link: Interview with Tito Faraci