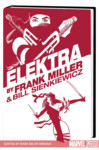 Written by FRANK MILLER
Penciled by FRANK MILLER & BILL SIENKIEWICZ
Covers by FRANK MILLER & BILL SIENKIEWICZ
Good ninjas never die, let alone the baddest one of all! Fan-favorite Frank Miller ushers his awesome assassin through good and evil and life and death and rebirth and more! Who is the otherworldly entity in pursuit of the presidency? When has Elektra met her greatest triumphs and tragedies? Why did she die, and how did she return? Where do smarmy cyborgs and killer dwarves come from? And What If all this had never happened at all? Guest-starring Daredevil! Collecting ELEKTRA: ASSASSIN #1-8, ELEKTRA LIVES AGAIN, BIZARRE ADVENTURES #28 and WHAT IF? #35.
384 PGS./Explicit Content $74.99
ISBN: 978-0-7851-2777-2
Trim size: oversized