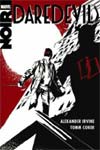 COVER BY: Dennis Calero
WRITER: Alexander Irvine
PENCILS: Tom Coker
The latest addition to Marvel's red-hot Noir line offers a unique spin on the Man Without Fear! Prohibition-era Hell's Kitchen is Kingpin territory, and until now, his only problem has been the masked vigilante known as Daredevil. When gangster Orville Halloran arrives on the scene, fresh from a stretch in Sing Sing and eager to stretch his wings, Hell's about to get hotter. For P.I. Foggy Nelson and his loyal assistant Matt Murdock, it all starts when a desperate woman comes to their office with an irresistible story about her and Halloran. To Foggy, she's a client -- to Murdock, she's enough to make Halloran Daredevil's next target. But Murdock is about to find out that half-truths are poison truths, and that the Kitchen is full of history that will put him on a collision course with both the old Kingpin and the man who wants to replace him.
Related Link: Interview with Alex Irvine and Tomm Coker