DAREDEVIL SEASON 3 NEWS
Click on the links to display article!
12/20 - Peter Halpin Interview
It's been a busy year for interviews, and just in time for the holidays is a new interview with Theo Nelson himself, actor Peter Halpin.
We talked about working with the extended Nelson family and he also commented on the recent cancellation of the show.
Many thanks to him for the opportunity.
Peter Halpin Interview
---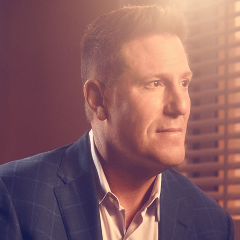 12/19 - Disney's Kevin Mayer talks Streaming Services
Disney's chairman of direct-to-consumer and international, Kevin Mayer, spoke with Hollywood Reporter about the FOX deal and what is coming from the Disney+ service.
But for Daredevil fans, there was one question that will be of interest...
Q: Would you consider reviving the Marvel shows that Netflix canceled?

A: They are very high-quality shows. We haven't yet discussed that, but I would say that's a possibility
---
12/14 - Latest DAREDEVIL Show News
MARVEL WAS SURPRISED WHEN NETFLIX CANCELED DAREDEVIL, AMY RUTBERG SAYS
---
DON'T EXPECT THE DEFENDERS ON DISNEY SERVICE ANYTIME SOON
---
SAG AWARDS NOMINATION
---
HOW TO READ BETWEEN THE LINES OF A PRESS RELEASE
---
NETFLIX MARVEL SHOWS POST-MORTEM
---
---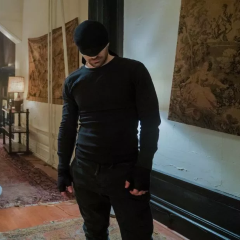 12/10 - Marvel/Netflix Selling Show Wardrobes
Today I learned from a source in the NYC film industry that Marvel/Netflix is selling clothing from DAREDEVIL, LUKE CAGE and IRON FIST.
It appears to be an industry only sale, advertising "coats, dresses, shoes, you name it" from all three shows.
There are $1, $5, $10 and $15 racks (and the racks are on sale too), and only credit/debit is accepted.
The sale started today and continues until Friday at a location in Brooklyn.
It isn't clear if this sale also includes costumes, but it does mention "uniforms", which leads me to believe this includes things like FBI jackets and maybe ninja outfits?
Nevertheless, for fans hoping that a Season 4 could be salvaged, this doesn't look good.
It also isn't clear who is selling the clothing... is it Netflix or Marvel?
---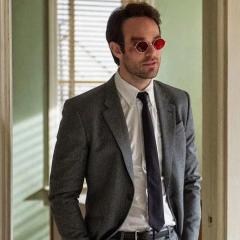 12/06 - Charlie Cox Discusses DAREDEVIL Cancellation
DAREDEVIL was cancelled a week ago and we had yet to hear any comments from Charlie Cox... until now. Entertainment Weekly discussed the cancellation with the actor, and Cox had some very personal takes on what has happened...
"...these characters mean a lot to people. It's weird to think there's a chance I won't be playing Matt Murdock ever again. That's a bizarre feeling, because that character has been such a huge part of my life for the last four and a half years."
Entertainment Weekly
---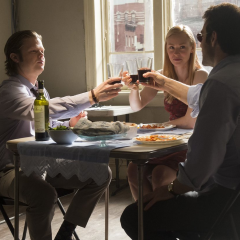 12/04 - DAREDEVIL Cancellation Articles
So, how's everybody dealing with the cancellation? Going through all the stages of grief?
---
#SAVEDAREDEVIL
---
"I THOUGHT IT WAS TOO BIG TO FAIL"
---
WE DON'T DESERVE DAREDEVIL
---
MARVEL SHOWS ON NETFLIX DESERVED BETTER
---
THE REAL REASON NETFLIX IS CANCELING THEIR MARVEL SHOWS
---
DAREDEVIL DESERVES TO LIVE ON AT DISNEY
---
NETFLIX TURNED A BLIND EYE TO VIEWER DEMAND
---
---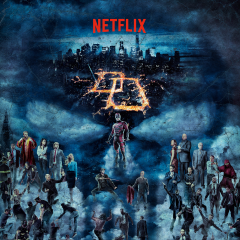 11/30 - DAREDEVIL Cast and Crew Reactions
It's a day later, and several members of the cast and crew of DAREDEVIL took to Twitter to say a few words about the cancellation.
Sam Ernst (co-EP on DAREDEVIL)
---
Full Marvel Statement
"Marvel is extremely grateful to the huge audience that loved Marvel's Daredevil. From the moment of young Matt's first act of heroism to the birth of Page, Murdock, & Nelson, it has been a unbelievable journey. We are incredibly proud of the amazing showrunners and writers starting with Drew Goddard and Steven DeKnight, Marco Ramirez and Doug Petrie and Erik Oleson, Charlie Cox, Deborah Ann Woll, Elden Henson, Vincent D'Onofrio and our casts who brought our characters to life with such excellence, and every one of the fantastic crews in NYC. We look forward to more adventures with the Man without Fear in the future."
---
Deadline Article
---
Deborah Ann Woll
---
Erik Oleson
---
Chris Brewster
---
Vincent D'Onofrio
---
Sunita Deshpande
---
Geoffrey Cantor
---
Jay Ali
---
Amy Rutberg
---
Danny Johnson
---
Loren Weeks
---
Peter Halpin
---
Gideon Emery
---
Rob Morgan
---
---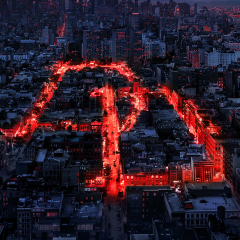 11/29 - Netflix Cancels DAREDEVIL
DEADLINE has reported news that Daredevil fans don't want to hear... DAREDEVIL has been cancelled on Netflix. It joins IRON FIST and LUKE CAGE, and it certainly doesn't look good for the next seasons of JESSICA JONES and PUNISHER.
"Marvel's Daredevil will not return for a fourth season on Netflix," the streamer said in a statement tonight to Deadline. "We are tremendously proud of the show's last and final season and although it's painful for the fans, we feel it best to close this chapter on a high note.""We're thankful to our partners at Marvel, showrunner Erik Oleson, the show's writers, stellar crew and incredible cast including Charlie Cox as Daredevil himself, and we're grateful to the fans who have supported the show over the years," Netflix added just a month after the third season of the series launched on the service.
But there was a curious addition to the statement from Netflix:
"While the series on Netflix has ended, the three existing seasons will remain on the service for years to come, while the Daredevil character will live on in future projects for Marvel," Netflix said also.
The Daredevil account on Twitter tweeted this shortly after the news broke:
So... is DD moving to Hulu, or Disney+? A movie? What are these future projects they are talking about?
Deadline
---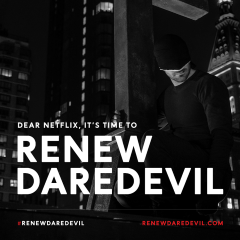 11/27 - Renew Daredevil!
Daredevil fans, Netflix has not renewed the show for Season 4 (yet). With IRON FIST and LUKE CAGE cancelled, fans are worried that DAREDEVIL may suffer the same fate.
A new fan initiative has begun, as RENEW DAREDEVIL has launched!
Please visit the site and help convince Netflix to renew the show. Every Friday, post on Twitter to support the show and hopefully get Netflix's attention.
RenewDaredevil.com
---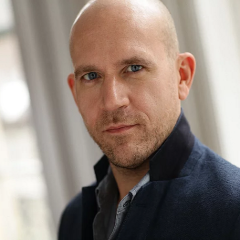 11/26 - Matthew McCurdy Interview
I've posted a new interview with actor Matthew McCurdy, who played Agent Wellers in the latest season of DAREDEVIL. Here we talk about the role, and working as an FBI agent, and also with Deborah Ann Woll & Vincent D'Onofrio. Many thanks!
Matthew McCurdy Interview
---
Click on links to display articles below...
2018-11-21-Interview-with-Don-Castro
---
2018-11-17-Weekend-DAREDEVIL-Season-3-News
---
2018-11-15-Thursday-DAREDEVIL-Season-3-News
---
2018-11-13-Tuesday-DAREDEVIL-Season-3-News
---
2018-11-12-Interview-with-Karina-Casiano
---
2018-11-11-Latest-DAREDEVIL-Season-3-News
---
2018-11-06-Interview-with-Sunita-Deshpande
---
2018-11-03-Interview-with-Matt-Deangelis
---
2018-11-02-Friday-DAREDEVIL-Season-3-News
---
2018-11-01-Interview-with-Kate-Udall
---
2018-10-30-Tuesday-DAREDEVIL-Season-3-News
---
2018-10-29-Weekend-DAREDEVIL-Season-3-News
---
2018-10-25-Thursday-DAREDEVIL-Season-3-News
---
2018-10-24-Wednesday-DAREDEVIL-Season-3-News
---
2018-10-24-Interview-With-Charlie-Cox
---
2018-10-23-Tuesday-DAREDEVIL-Season-3-News
---
2018-10-22-Monday-DAREDEVIL-Season-3-News
---
2018-10-21-Weekend-DAREDEVIL-Season-3-News
---
2018-10-21-Latest-DAREDEVIL-Season-3-Promo-Pics
---
2018-10-19-DAREDEVIL-Season-3-Now-Streaming
---
2018-10-18-Thursday-DAREDEVIL-Season-3-News
---
2018-10-17-Wednesday-DAREDEVIL-Season-3-News
---
2018-10-16-Tuesday-DAREDEVIL-Season-3-News
---
2018-10-15-Monday-DAREDEVIL-Season-3-News
---
2018-10-12-DAREDEVIL-Season-3-Review
---
2018-10-11-Thursday-DAREDEVIL-Season-3-News
---
2018-10-09-Latest-DAREDEVIL-Season-3-News
---
2018-10-06-DAREDEVIL-At-New-York-Comic-Con-2018
---
2018-10-05-DAREDEVIL-Season-3-Press-Tour
---
2018-10-04-More-DAREDEVIL-Season-3-Promo-Pics
---
2018-10-04-DAREDEVIL-Season-3-Trailer
---
2018-10-02-More-DAREDEVIL-Season-3-Set-Reports
---
2018-10-01-More-DAREDEVIL-Season-3-Promo-Pics
---
2018-10-01-Lesley-Ann-Warren-DAREDEVIL-Season-3
---
2018-10-01-DAREDEVIL-Season-3-Set-Reports
---
2018-09-29-DAREDEVIL-Season-3-NYCC-Poster
---
2018-09-28-Fisk-Teaser-DAREDEVIL-Season-3
---
2018-09-26-DAREDEVIL-Season-3-Teaser-and-Promo-Pics
---
2018-09-21-Entertainment-Weekly-DAREDEVIL-Season-3
---
2018-09-20-DAREDEVIL-Season-3-Teaser
---
2018-09-20-DAREDEVIL-Season-3-Poster
---
2018-09-19-DAREDEVIL-Season-3-Poster
---
2018-09-11-DAREDEVIL-Season-3-Release-Date
---
2018-09-07-DAREDEVIL-Season-3-Teaser
---
2018-09-06-DAREDEVIL-Season-3-Promo
---
2018-09-05-DAREDEVIL-Season-3-at-NYCC
---
2018-05-19-Donofrio-Zurer-DAREDEVIL-S3-Updates
---
2018-05-16-Is-Wilson-Bethel-Bullseye
---
2018-05-15-DAREDEVIL-Season-3-Set-Pics-and-Video
---
2018-03-29-DAREDEVIL-Season-3-Set-Pics
---
2018-03-21-Jay-Ali-Joins-DAREDEVIL-Season-3
---
2018-01-25-Joanne-Whalley-Joins-DAREDEVIL-Season-3
---
2018-01-03-Daredevil-Season-3-Set-Pics
---
2017-12-27-Woll-Interview-Daredevil-Season-3
---
2017-12-23-DOnofrio-Interview-Daredevil-Season-3
---
2017-11-27-Wilson-Bethel-Daredevil-Season-3
---
2017-11-08-DOnofrio-Season-3-Script-Reading
---
2017-10-26-DOnofrio-Returns-Season-3
---
2017-10-16-Daredevil-Season-3-Promo
---
2016-07-21-Season-3-Daredevil-Announced
---