2016 NEWS
---
Follow updates to NEWS on

Click on the links to display article!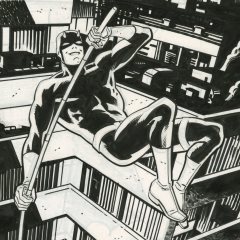 12/31 - Samnee Artist's Edition Preview
The wait is over, the Chris Samnee DAREDEVIL Artist's Edition from IDW and Marvel is coming January 4th.
13th Dimension has some exclusive preview pages over at their site.
The edition contains Samnee's artwork from issues #23-27 of DAREDEVIL V3, and also has Mark Waid's scripts as well.
If you need a reminder of what's in the Artist's Edition, here's IDW's Special Projects Director Scott Dunbier talking about it:
Here's the link to 13th Dimension, where they have 13 pages previewed!
13th Dimension
---
12/20 - DAREDEVIL March 2017 Solicits
March 2017 solicits are now on the site, and we've got DAREDEVIL #18, ELEKTRA #2, BULLSEYE #2, KINGPIN #2, STAR-LORD #4 and more!
DAREDEVIL March 2017 Solicits
---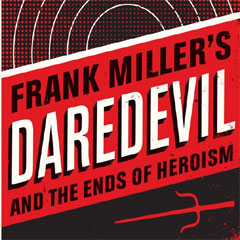 12/14 - Paul Young Interview
New interview with author Paul Young, where we talk about his book FRANK MILLER'S DAREDEVIL AND THE ENDS OF HEROISM, an analysis of Miller's work on the title, and also an account of his personal history with collecting Miller comics. Many thanks to him for the opportunity!
Paul Young Interview
---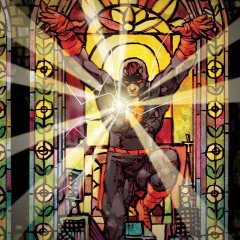 12/12 - DAREDEVIL 15 First Look
Yesterday I posted some pics of the variant covers for DAREDEVIL #15, and today we get a look at the third variant by Neal Adams in this exclusive first look now up at Newsarama.
---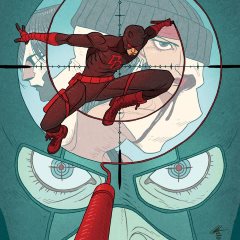 12/11 - DAREDEVIL 15 Variant Covers
In January there will be three variant covers for DAREDEVIL #15, one by Lee Bermejo, one by Afu Chan ("Story Thus Far variant) and one by Neal Adams ("Clasic" variant).
Here are two of the covers:
---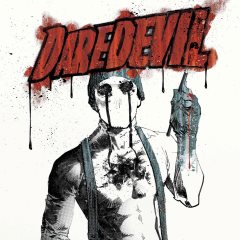 12/09 - DAREDEVIL #14 Preview
SPOILERS AHEAD!
DARK ART Part 5!
DAREDEVIL #14, by Soule, Garney and Milla ships December 14th.
DAREDEVIL #14 Preview
---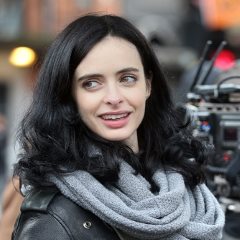 12/08 - Cox and Ritter on-set
Minor spoilers ahead, as we get the first pictures of Charlie Cox and Krysten Ritter on-set filming THE DEFENDERS.
Getty Images has a ton of pics, as the two actors film some scenes on New York streets, clearly enjoying themselves.
Marvel's The Defenders will come out in 2017.
Getty Images
---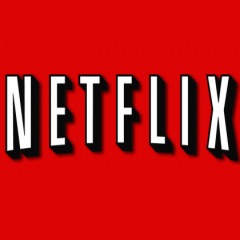 12/07 - Netflix HDR
Netflix is going to be streaming some of their shows in HDR (High Dynamic Range) starting with their Marvel shows. What is HDR? Netflix explains below:
---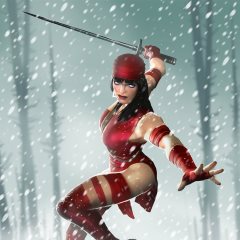 12/07 - Daredevil News Dec 7
DAREDEVIL'S BLINDNESS
---
DAREDEVIL PROMOS
---
IRON FIST PHOTOS
---
DAREDEVIL COMIC BOOK ORIGINS
---
ELEKTRA CONTEST OF CHAMPIONS
---
---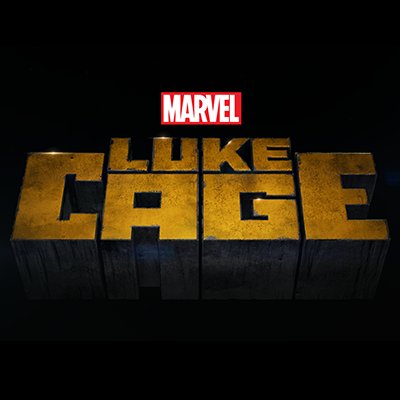 12/04 - Luke Cage Season Two
Not surprisingly, Luke Cage will return for a Season Two (well, maybe it is surprising they didn't go with a Heroes For Hire show first...), however, it's got the dreaded "coming soon" attached to it... so maybe we'll see it in 2018-ish.
---
Click on links to display articles below...
2016-12-02-Samnee-Artists-Edition
---
2016-12-01-Daredevil-Contest-of-Champions
---
2016-11-29-Daredevil-News-November-29
---
2016-11-28-Soule-talks-Daredevil-Characters
---
2016-11-26-Iron-Studios-Daredevil
---
2016-11-22-February-2017-Daredevil-Solicits
---
2016-11-14-Soule-Paniccia-Interview
---
2016-11-11-Running-With-The-Devil
---
2016-11-11-ELEKTRA-1
---
2016-11-10-BULLSEYE-1
---
2016-11-09-KINGPIN-1
---
2016-11-07-Mondo-Daredevil-Vinyl
---
2016-11-06-More-Defenders-Promos
---
2016-11-04-DAREDEVIL-13-Preview
---
2016-11-02-Defenders-Promos
---
2016-10-31-Defenders-Filming-Starts
---
2016-10-28-Daredevil-Titles-in-February
---
2016-10-28-Daredevil-News-October-28
---
2016-10-18-January-2017-Daredevil-Solicits
---
2016-10-10-Daredevil-Season-1-Finally-on-Blu-Ray
---
2016-10-09-More-From-Iron-Fist-Panel
---
2016-10-08-Iron-Fist-Panel
---
2016-10-07-DAREDEVIL-12-Preview
---
2016-10-06-Punisher-Casting-and-Release-Date
---
2016-10-06-Daredevil-News-October-6
---
2016-10-05-Iron-Fist-News
---
2016-09-29-Luke-Cage-Promos
---
2016-09-26-More-Hot-Toys-Daredevil-Pictures
---
2016-09-26-Final-Luke-Cage-Trailer
---
2016-09-21-More-Luke-Cage-Daredevil-Promos
---
2016-09-21-Daredevil-News-September-21
---
2016-09-20-December-2016-Daredevil-Solicits
---
2016-09-16-Latest-Luke-Cage-Daredevil-Promos
---
2016-09-16-Daredevil-News-September-16
---
2016-09-13-Daredevil-World-DVD-Releases
---
2016-09-12-Podcast-with-Deborah-Ann-Woll
---
2016-09-11-Daredevil-News-September-11
---
2016-09-05-Interview-with-Paul-Crilley
---
2016-09-05-Fan-Expo-Pics
---
2016-09-02-DAREDEVIL-11-Preview
---
2016-08-31-Daredevil-News-August-31
---
2016-08-23-November-2016-Daredevil-Solicits
---
2016-08-22-Daredevil-News-August-22
---
2016-08-21-Daredevil-News-August-21
---
2016-08-14-Daredevil-News-August-14
---
2016-08-09-Luke-Cage-Trailer
---
2016-08-09-Daredevil-News-August-9
---
2016-08-05-Interview-with-Jose-Guns-Alves
---
2016-08-04-DAREDEVIL-10-Preview
---
2016-08-04-CIVIL-WAR-ACCUSED-Preview
---
2016-08-03-Daredevil-News-August-3
---
2016-07-29-DAREDEVIL-ANNUAL-Preview
---
2016-07-25-October-2016-Daredevil-Solicits
---
2016-07-22-Iron-Fist-Teaser
---
2016-07-21-The-Defenders-Teaser
---
2016-07-21-Season-3-Daredevil-Announced
---
2016-07-21-Luke-Cage-Panel-SDCC
---
2016-07-20-Daredevil-Hot-Toys-Preview
---
2016-07-19-Daredevil-News-July-19
---
2016-07-15-More-Defenders-Variants-Covers
---
2016-07-15-Daredevil-Season-2-Soundtrack
---
2016-07-14-Emmy-Nominations
---
2016-07-14-Civil-War-The-Accused
---
2016-07-13-Marvel-Now-Series
---
2016-07-11-New-Daredevil-Collections-2017
---
2016-07-11-DAREDEVIL-9-Preview
---
2016-07-02-Charles-Soule-Interview
---
2016-07-01-Daredevil-S1-on-Blu-ray
---
2016-06-30-Interview-with-Ray-Iannicelli
---
2016-06-29-Interview-with-Reza-Salazar
---
2016-06-25-Daredevil-News-June-25
---
2016-06-23-Daredevil-News-June-23
---
2016-06-21-The-Defenders-Variants
---
2016-06-21-September-2016-Daredevil-Solicits
---
2016-06-20-Interview-with-Zachary-Zirlin
---
2016-06-18-Daredevil-News-June-18
---
2016-06-15-Daredevil-News-June-15
---
2016-06-12-Daredevil-News-June-12
---
2016-06-09-Interview-with-John-Pirkis
---
2016-06-06-Daredevil-News-June-6
---
2016-06-02-DAREDEVIL-8-Preview
---
2016-06-01-Daredevil-News-June-1
---
2016-05-27-Daredevil-News-May-27
---
2016-05-26-Daredevil-News-May-26
---
2016-05-25-Daredevil-News-May-25
---
2016-05-24-Interview-with-Suzanne-H-Smart
---
2016-05-19-DAREDEVIL-7-Preview
---
2016-05-18-Samnee-Artists-Edition
---
2016-05-17-Interview-with-Lauren-Mary-Kim
---
2016-05-17-August-2016-Daredevil-Solicits
---
2016-05-16-Daredevil-News-May-16
---
2016-05-14-Weekend-Daredevil-News
---
2016-05-13-DAREDEVIL-Annual
---
2016-05-10-Daredevil-News-May-10
---
2016-05-09-Interview-with-Danny-Johnson
---
2016-05-07-Daredevil-News-May-7
---
2016-05-05-DEADPOOL-13-First-Look
---
2016-05-03-Daredevil-News-May-3
---
2016-04-29-Daredevil-News-Roundup-Friday
---
2016-04-28-Daredevil-News-Roundup-Thursday
---
2016-04-27-Daredevil-News-Roundup-Wednesday
---
2016-04-26-Daredevil-News-Roundup-Tuesday
---
2016-04-24-Daredevil-News-Roundup-Weekend
---
2016-04-21-Daredevil-News-Roundup-Thursday
---
2016-04-19-July-2016-Daredevil-Solicits
---
2016-04-19-Daredevil-News-Roundup-Tuesday
---
2016-04-15-DEFENDERS-Showrunners
---
2016-04-14-Daredevil-Thursday-News
---
2016-04-13-Daredevil-Wednesday-News
---
2016-04-12-Daredevil-Tuesday-News
---
2016-04-11-Defenders-Filming-News
---
2016-04-10-Daredevil-Weekend-News
---
2016-04-08-Daredevil-End-of-Week-News
---
2016-04-06-Daredevil-Mid-Week-News
---
2016-04-03-Daredevil-Weekend-News
---
2016-04-01-Daredevil-Friday-News
---
2016-04-01-DAREDEVIL-6-First-Look
---
2016-03-31-Daredevil-Thursday-News
---
2016-03-30-Daredevil-Wednesday-News
---
2016-03-29-Daredevil-Tuesday-News
---
2016-03-28-Daredevil-Monday-News
---
2016-03-27-Daredevil-Weekend-News
---
2016-03-25-DAREDEVIL-5-Preview
---
2016-03-24-Daredevil-Thursday-News
---
2016-03-23-Daredevil-Wednesday-News
---
2016-03-22-June-2016-Daredevil-Solicits
---
2016-03-22-Daredevil-Tuesday-News
---
2016-03-21-Daredevil-Monday-News
---
2016-03-20-Deadpool-Crossover
---
2016-03-20-Daredevil-Sunday-News
---
2016-03-19-Daredevil-Saturday-News
---
2016-03-19-Daredevil-Marvel-Heroes
---
2016-03-18-Daredevil-Toronto-Screening
---
2016-03-17-Daredevil-Thursday-News
---
2016-03-16-Daredevil-Wednesday-News
---
2016-03-15-Daredevil-Tuesday-News
---
2016-03-15-Daredevil-Season-2-Final-Trailer
---
2016-03-14-Daredevil-Monday-News
---
2016-03-11-Daredevil-Friday-News
---
2016-03-10-Screening-Daredevil-NYC
---
2016-03-10-Daredevil-Thursday-News
---
2016-03-08-Daredevil-Elektra-Punisher-Costumes
---
2016-03-07-Daredevil-Screening-Paris
---
2016-03-07-Billboards-Daredevil-Toronto
---
2016-03-06-Lootcrate-SuperheroStuff
---
2016-03-04-Daredevil-Hand-Promo
---
2016-03-02-Newsarama-Ron-Garney-Interview
---
2016-03-02-Marvel-Legends-Daredevil-Figure
---
2016-03-02-Daredevil-Punisher-Infinite-Comic
---
2016-02-29-Daredevil-Season-2-Reviews
---
2016-02-27-Saturn-Awards-Nominations
---
2016-02-26-Iron-Fist-Casting
---
2016-02-25-Daredevil-S2-Trailer-Part-2
---
2016-02-24-Elektra-Promo
---
2016-02-22-Punisher-Promos
---
2016-02-19-Foggy-Karen-Promos
---
2016-02-18-More-Daredevil-Promos
---
2016-02-18-DAREDEVIL-4-Preview
---
2016-02-17-New-Daredevil-S2-Promo-Pics
---
2016-02-16-May-2016-Daredevil-Solicits
---
2016-02-15-Daredevil-S2-Trailer-Part-1
---
2016-02-14-Daredevil-Teaser
---
2016-02-12-Soule-Daredevil-Punisher-Crossover
---
2016-02-11-TV-Guide-Daredevil-Interview
---
2016-02-11-Irwin-Daredevil-Part-Five
---
2016-02-09-Daredevil-Dorbz
---
2016-02-07-Daredevil-Costume-Concept-Art
---
2016-02-07-Daredevil-Chinese-New-Year
---
2016-02-06-Daredevil-Punisher-Infinite-Comic
---
2016-02-05-Irwin-Allen-Daredevil-Part-Four
---
2016-02-04-Mezco-Daredevil-Figures
---
2016-02-02-The-Daredevil-Workout
---
2016-02-02-Daredevil-Netflix-Italy-Promo
---
2016-02-01-Loeb-Yung-Interview
---
2016-02-01-Chris-Brewster-Interview
---
2016-01-30-Scott-Glenn-Interview
---
2016-01-29-Bernthal-Interview
---
2016-01-28-Irwin-Allen-Daredevil-Part-Three
---
2016-01-27-Woll-Henson-Interview
---
2016-01-26-Lego-Avengers-Daredevil
---
2016-01-22-Irwin-Allen-Daredevil-Part-Two
---
2016-01-21-DAREDEVIL-3-Preview
---
2016-01-20-Latest-Daredevil-Merchandise
---
2016-01-20-Bernthal-Cox-Interviews
---
2016-01-20-April-2016-Daredevil-Solicits
---
2016-01-17-TCA-Daredevil-Panel
---
2016-01-17-Jon-Bernthal-Interview
---
2016-01-17-Jessica-Jones-Season-2
---
2016-01-16-Irwin-Allen-Daredevil-Part-One
---
2016-01-16-Interview-with-Peter-Shinkoda
---
2016-01-16-Interview-with-Chris-Brewster
---
2016-01-16-20-Years-of-Daredevil-Man-Without-Fear
---
2016-01-14-Daredevil-Netflix-Updates
---
2016-01-08-Daredevil-Season-2-Promo
---
2016-01-07-Daredevil-March-18-Confirmed
---
2016-01-06-Ignition-Creative
---
2016-01-06-Daredevil-Netflix-Everywhere-Teaser
---
2016-01-04-Daredevil-on-March-25th-Rumor
---