2017 NEWS
---
Follow updates to NEWS on

Click on the links to display article!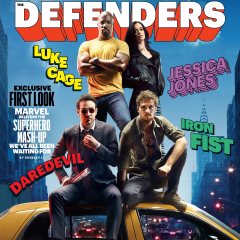 12/31 - Daredevil Year In Review
2018 is almost here, and we had lots of Daredevil-related comics and shows this year.
Here's a quick rundown...
The year in Daredevil comics:
DAREDEVIL: 16 issues - #15-28, 595, 596 by Soule, Garney, Sudzuka, Morgan, Laming, Landini, Milla et al
DEFENDERS: 8 issues - #1-8 by Bendis and Marquez
BULLSEYE: 5 issues - #1-5 by Brisson and Sanna
KINGPIN: 5 issues - #1-5 by Rosenberg and Torres
ELEKTRA: 5 issues - #1-5 by Owens and Cabal
The year in Marvel Netflix:
IRON FIST: 13 episodes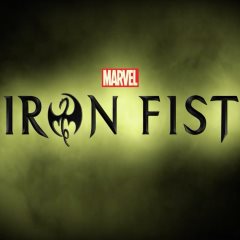 THE DEFENDERS: 8 episodes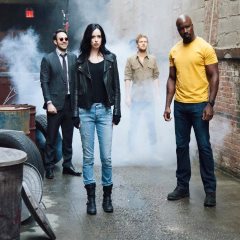 THE PUNISHER: 13 episodes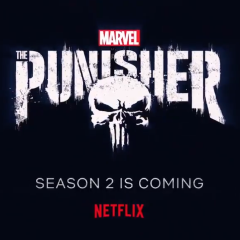 So what's coming in 2018?
We've got the milestone DAREDEVIL #600 coming, another season of JESSICA JONES, another season of LUKE CAGE, and potentially we will see DAREDEVIL Season 3 later in the year. Fingers crossed.
What was your favourite issue of 2017? Episode? Show?
---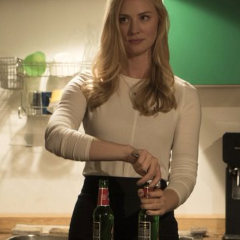 12/27 - Deborah Ann Woll Interview
Collider recently spoke with actress Deborah Ann Woll about her work on PUNISHER and also asked her a few questions about what she'd like to see for Karen Page in DAREDEVIL Season 3.
On Karen Page having agency in her own story:
"That was true, at the very beginning, and that's the kind of thing that's true with every character. In the beginning of a show, as an actor, I don't have a lot of say, in terms of storyline and what they want to do with [my character], at least in my position, in my career. So, for me, it is within the acting. How do I make every moment active and make choices that make her interesting and complex? And then, as the years have gone on and you start to know your character better than some of the writers and directors do, you get a little bit more of a world in which you can say, "I think it would be really great, if this year, her fate wasn't determined by the boys," or that kind of thing. You have to pick your battles and make sure that you've earned the right to talk about that."
On if Karen Page is a hero:
"Karen does that, too. She screws up her own life, and the lives of people around her, as well. You can't aspire to have heightened senses, whereas you can aspire to tell the truth, every single second, and you can aspire to be dogged and just never let anything be enough, never give in, and never give up. That's the kind of person that Karen is, and I think that's what makes her a valuable role model. You can actually become Karen Page. It would be very hard to become Daredevil."
Collider
---
12/23 - Vincent D'Onofrio Interview
Collider spoke with actor Vincent D'Onofrio about his new Netflix movie El Camino Christmas, and he also revealed some insights into his forthcoming Daredevil Season 3 work.
Commenting on the scripts:
"It's hard to top the first season, with Steven DeKnight's writing, but Erik Oleson (the new showrunner) is a very good writer. I've shot some pretty cool scenes, so far. It's different, but it's very Fisk. It's still very emotional. The character is evolving. His whole deal is based on emotion, so we're taking him down that role further."
On the Kingpin:
"It's very cool. I love the idea that I get to play him. I wanted to do the right thing, and I want to keep doing it. I remember the first season and how all of the Daredevil and Fisk fans were talking about it. It's a big deal to them, and that really inspired me. It really brought my enthusiasm up, a lot. Their interest and their enthusiasm helps me do the best I can. I can only say that we're doing things that are just going to blow the fans away. We've already shot some things that are just going to be neat for the fans. There's some awesome things that are very much in the history of Fisk and Daredevil, that people have been waiting for. We've already put some of that stuff in the can, and there's a lot more to do. I think they're gonna be very happy."
Collider
---
12/21 - Daredevil Psychology
Coming in May 2018 is a new book of essays analyzing the psychology of Daredevil.
Edited by Travis Langley, this unauthorized book will be available on Kindle and paperback, and will run 320 pages.
It will also have a foreword by Daredevil co-creator Stan Lee!
Here's the description:
An in-depth analysis of the psychology behind the popular character Daredevil.
In the early 1960s, Stan Lee and company revitalized the comic book market by imbuing new characters and their stories with human, emotional depth lacking in other superheroes. Among those creations was the character Daredevil. Now this superhero is the subject of 20 essays that explore different facets of his psychology, including:
The risk-taking behavior that earned Daredevil his name
The pathology of stalking, obsession, and mental manipulation
The process of "othering" in regards to disability
The question of justice versus revenge—with asides related to the assassin Elektra

Look for more details here soon, as I reach out to the authors and Langley.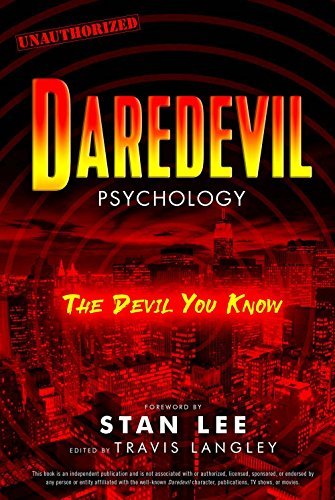 ---
12/20 - DAREDEVIL 600 Variant Ordering
If you've seen yesterday's post of March's solicits for DAREDEVIL 600, you've no doubt seen the numerous variant covers.
Thanks to my buddy Kyle, we have some info on the ratios for each and the crazy requirements for comic shops to get these variants.
Thor variant by Leinil Francis Yu if orders of DD600 exceeds DD596 by 100%
Trading card variant by John Tyler Christopher if orders of DD600 exceeds DD596 by 150%
Blank variant if orders of DD600 exceeds DD596 by 150%
Agents of SHIELD variant is 1:10
David Aja variant cover is 1:25
Alex Ross variant cover is 1:50
And get ready for these ratios...
Frank Miller variant cover is 1:500!
Frank Miller "b&w" variant cover is 1:1000!
I don't know about you, but what shop is going to order 1000 copies (let alone 500 copies) of any comic. These might become some of the rarest DAREDEVIL comics. But seriously, Marvel, there must be a better way to increase your orders rather than these kinds of artificial inflations.
---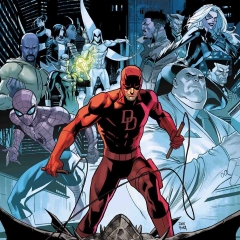 12/19 - DAREDEVIL March 2018 Solicits
March 2018 solicits are now on the site, and we've got the DAREDEVIL #600 milestone issue!
There are several variant covers, including some "remastered" covers by Frank Miller, a cover by David Aja and another by Alex Ross.
DAREDEVIL March 2018 Solicits
---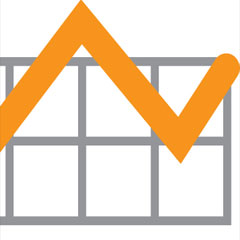 12/18 - DAREDEVIL Sales Data
Sales data for DAREDEVIL has been updated until November.
DAREDEVIL double-shipped in October just before the renumbering for Marvel Legacy in November. The boost of several variant covers more than doubled the sales, close to 60K, making it the second highest selling issue of Volume 5 so far.
Hopefully the title stays at this level, but I expect we'll see these levels again for issue #600 next year.
| | | | | |
| --- | --- | --- | --- | --- |
| 11/2017 | 18 | #595 | 58.3 | +33.6 |
| 10/2017 | 102 | #28 | 24.7 | -1.9 |
| 10/2017 | 94 | #27 | 26.6 | -3.4 |
| 09/2017 | 81 | #26 | 30.0 | +4.7 |
DAREDEVIL Sales Data
---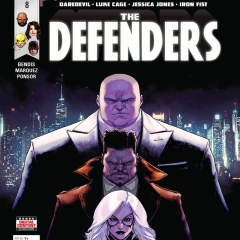 12/15 - DEFENDERS 8 Preview
BRIAN MICHAEL BENDIS (W) • DAVID MARQUEZ (A/C)
KINGPINS OF NEW YORK Part 3
• The bloody battle for the streets of New York hits a zenith, as one of the potential Kingpin crime lords has a change of heart that sends shock waves across the entire Marvel Universe.
• At the same time, Luke and Jessica's bad press has a disastrous impact on their lives!
• How does Diamondback know so much about the Defenders?
32 PGS./Rated T+ …$3.99
DEFENDERS #8 Preview
---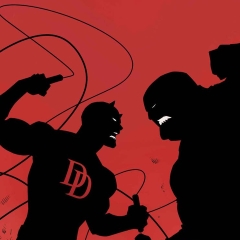 12/14 - Charles Soule Interview
If you haven't read DAREDEVIL #596 yet, the following info is a spoiler, so be warned!
So, the end of DAREDEVIL #596 has an interesting development, and Charles Soule talks to Marvel.com about Matt Murdock's new job.
A little snippet:
"I'm trying to set things up in this story as closely as I can to the way things actually work in City Hall. The truth is, there aren't a ton of checks on the power of the mayor in New York. More or less, if the mayor wants the city to shift in a certain direction, or has policies he or she wants implemented, then the city's various departments and agencies tend to go that way. So, Fisk has all the power, and Matt Murdock has very little – at least in a political sense. However, he's got his mind, and of course he's got all the abilities of Daredevil… so he's still got a fighting chance."
Marvel.com
---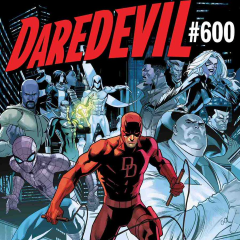 12/13 - DAREDEVIL 600 Interview
The milestone DAREDEVIL 600 is coming in March, and ComicBook.com has an exclusive first look of the cover by Dan Mora.
Writer Charles Soule had this to say:
"Well, without getting into too many specifics, it certainly features the biggest villain in Daredevil's career as a crimefighter – the Kingpin of Crime, Wilson Fisk," Soule says. "As we move into #600, we've been dealing with a huge story in which Fisk managed to get himself elected as Mayor of New York. This has made Matt Murdock's life hell in a hundred different ways – among other things, there's a warrant out for Daredevil's arrest, his work with the DA's office is getting tons of pressure from Fisk, and even more than that, he just doesn't feel like the city is his anymore. So, Daredevil #600 has Matt Murdock fighting his greatest enemy literally for the fate of the city he loves, in multiple arenas. Doesn't get much bigger."
ComicBook.com
---
Click on links to display articles below...
2017-12-12-PUNISHER-Season-2
---
2017-12-10-DAREDEVIL-Ace-Comic-Con-Panel
---
2017-12-09-JESSICA-JONES-Season-2-Teaser
---
2017-12-08-DAREDEVIL-597-Variants
---
2017-12-07-DAREDEVIL-596-Preview
---
2017-12-06-DAREDEVIL-2018-Collections
---
2017-11-30-Daredevil-Legal-Moral-Vigilante
---
2017-11-27-Wilson-Bethel-Daredevil-Season-3
---
2017-11-26-DAREDEVIL-595-Stan-Lee-Variant
---
2017-11-21-February-2018-Daredevil-Solicits
---
2017-11-15-New-Fan-Films
---
2017-11-11-DAREDEVIL-S3-Character-Breakdown
---
2017-11-10-DEFENDERS-7-Preview
---
2017-11-09-DAREDEVIL-595-2nd-Printing
---
2017-11-08-Soule-Landini-Mayor-Fisk-Interview
---
2017-11-08-DOnofrio-Season-3-Script-Reading
---
2017-11-02-DAREDEVIL-595-Preview
---
2017-10-26-DOnofrio-Returns-Season-3
---
2017-10-25-DAREDEVIL-28-Preview
---
2017-10-24-Josh-Turi-Interview
---
2017-10-17-January-2018-Daredevil-Solicits
---
2017-10-17-DAREDEVIL-595-Shalvey-Variant
---
2017-10-16-Daredevil-Season-3-Promo
---
2017-10-14-Soule-Mayor-Fisk-Interview
---
2017-10-13-Daredevil-Primer-Pages
---
2017-10-12-Mayor-Fisk-Soule-Interview
---
2017-10-12-DAREDEVIL-595-First-Look
---
2017-10-11-DAREDEVIL-27-Preview
---
2017-10-10-Mayor-Fisk-Daredevil-Sketchbook
---
2017-10-10-DEFENDERS-6-Preview
---
2017-10-09-DAREDEVIL-595-Variants
---
2017-10-06-Daredevil-News-Roundup
---
2017-10-04-Daredevil-News-Roundup
---
2017-10-02-Daredevil-News-Roundup
---
2017-09-30-Daredevil-News-From-The-Week
---
2017-09-29-Kotobukiya-Defenders
---
2017-09-27-Diamond-Select-PVC-Figures
---
2017-09-25-Chloe-Levine-Interview
---
2017-09-21-Marvel-Select-Daredevil-Pics
---
2017-09-19-December-2017-Daredevil-Solicits
---
2017-09-19-Daredevil-News-From-The-Week
---
2017-09-16-DAREDEVIL-Sales-Data
---
2017-09-14-J-Mallory-McCree-Interview
---
2017-09-10-DEFENDERS-5-Preview
---
2017-09-09-Daredevil-News-From-The-Week
---
2017-09-08-Marvel-101
---
2017-09-06-Jordan-White-New-Editor
---
2017-09-04-Fan-Expo-Daredevil-Pics
---
2017-09-01-DAREDEVIL-26-Preview
---
2017-08-30-Daredevil-News-Roundup
---
2017-08-25-Hot-Toys-Final-Product-Pics
---
2017-08-25-Chris-Brewster-Defenders-Interview
---
2017-08-24-Marvel-Heroes-Defenders
---
2017-08-24-Daredevil-News-Roundup
---
2017-08-23-Nikolai-Nikolaeff-Interview
---
2017-08-22-November-2017-Daredevil-Solicits
---
2017-08-21-Monday-DEFENDERS-News
---
2017-08-20-DEFENDERS-Intro
---
2017-08-19-DEFENDERS-Released-On-Netflix
---
2017-08-18-DAREDEVIL-25-Preview
---
2017-08-17-Thursday-DEFENDERS-News-Part-2
---
2017-08-17-Thursday-DEFENDERS-News-Part-1
---
2017-08-16-Wednesday-DEFENDERS-News
---
2017-08-16-DAREDEVIL-26-Venomized-Variant
---
2017-08-15-Tuesday-DEFENDERS-News
---
2017-08-15-DAREDEVIL-595-Info
---
2017-08-14-Monday-DEFENDERS-News
---
2017-08-13-DEFENDERS-Trailer
---
2017-08-11-DEFENDERS-News
---
2017-08-09-DEFENDERS-Interviews
---
2017-08-09-DEFENDERS-4-Preview
---
2017-08-08-Disney-Leaving-Netflix
---
2017-08-01-DEFENDERS-More-Promo-Pictures
---
2017-08-01-DAREDEVIL-Zdarsky-Variant
---
2017-07-31-THE-DEFENDERS-News
---
2017-07-31-Premiere-DEFENDERS-NYC
---
2017-07-31-Netflix-Marvel-Projects
---
2017-07-31-Loot-Crate-Marvel-Knights
---
2017-07-30-DAREDEVIL-Sales-Data
---
2017-07-25-DEFENDERS-Press-Reviews
---
2017-07-23-Sunday-San-Diego
---
2017-07-22-More-From-San-Diego
---
2017-07-22-DEFENDERS-Panel-More-Interviews
---
2017-07-21-DEFENDERS-Trailer-2
---
2017-07-21-DEFENDERS-Press-Interviews
---
2017-07-20-Stan-Lee-Defenders-Teaser
---
2017-07-20-DEFENDERS-Interviews
---
2017-07-20-DEFENDERS-Advertising
---
2017-07-20-Ben-Torres-Interview
---
2017-07-19-October-2017-Daredevil-Solicits
---
2017-07-18-SFX-Defenders-Magazine
---
2017-07-15-D23-Defenders-Vinyl
---
2017-07-14-DEFENDERS-PUNISHER-SDCC-Posters
---
2017-07-14-DAREDEVIL-24-Preview
---
2017-07-13-DAREDEVIL-595-Variant
---
2017-07-12-DEFENDERS-Empire-Feature
---
2017-07-09-DEFENDERS-3-Preview
---
2017-07-03-2018-DAREDEVIL-Collections
---
2017-06-30-DEFENDERS-at-SDCC-2017
---
2017-06-30-DAREDEVIL-Renumbering
---
2017-06-30-DAREDEVIL-23-Preview
---
2017-06-25-Interview-with-George-Papadimatos
---
2017-06-22-DEFENDERS-2nd-Printing
---
2017-06-21-Latest-DEFENDERS-Promos
---
2017-06-20-September-2017-Daredevil-Solicits
---
2017-06-16-DAREDEVIL-Sales-Data
---
2017-06-15-DAREDEVIL-22-Preview
---
2017-06-14-Marvel-Legends-Marvel-Knights
---
2017-06-11-Marvel-Kremer-Johnson-Photos
---
2017-06-10-Matt-Gerald-Daredevil-Interview
---
2017-06-10-DEFENDERS-1-Preview
---
2017-06-09-Daredevil-Appearances-Covers
---
2017-06-08-KINGPIN-5-Preview
---
2017-06-01-Daredevil-Q-Fig
---
2017-06-01-DAREDEVIL-21-Preview
---
2017-06-01-BULLSEYE-5-Preview
---
2017-05-29-Jessica-Jones-Set-Pics
---
2017-05-26-LA-Times-Defenders-Interview
---
2017-05-24-Scott-Glenn-Interview
---
2017-05-23-Marvel-Heroes-Daredevil
---
2017-05-23-August-2017-Daredevil-Solicits
---
2017-05-21-DEFENDERS-1-Covers
---
2017-05-20-ELEKTRA-4-Preview
---
2017-05-17-DEFENDERS-Empire-Magazine
---
2017-05-16-Daredevil-Marvel-Legends-New-Pics
---
2017-05-11-More-DEFENDERS-Motion-Posters
---
2017-05-11-KINGPIN-4-Preview
---
2017-05-11-DAREDEVIL-20-Preview
---
2017-05-10-Defenders-Hip-Hop-Cover
---
2017-05-10-Defenders-Best-Offence
---
2017-05-09-DEFENDERS-Motion-Posters
---
2017-05-04-DEFENDERS-Promo-Pics
---
2017-05-03-DEFENDERS-Trailer
---
2017-05-02-DEFENDERS-Elektra-Teaser
---
2017-05-02-Bendis-Marquez-Defenders-Interview
---
2017-05-01-Susan-Varon-Interview
---
2017-05-01-Daredevil-Marvel-Legends-SDCC
---
2017-04-30-Daredevil-Manga-Realization
---
2017-04-28-BULLSEYE-4-Preview
---
2017-04-23-Marvel-Legacy
---
2017-04-22-ELEKTRA-3-Preview
---
2017-04-20-Latest-Daredevil-Merchandise
---
2017-04-18-July-2017-Daredevil-Solicits
---
2017-04-17-Marko-Zaror-DEFENDERS-Role
---
2017-04-16-DAREDEVIL-Sales-Data
---
2017-04-14-DAREDEVIL-19-Preview
---
2017-04-12-HeroClix-Avengers-Defenders-War
---
2017-04-11-Daredevil-Jessica-Jones-Loot-Crate
---
2017-04-07-Daredevil-on-DEFENDERS-Set
---
2017-04-06-KINGPIN-3-Preview
---
2017-04-04-DEFENDERS-Release-Date
---
2017-04-03-Charlie-Cox-Interview
---
2017-03-31-BULLSEYE-3-Preview
---
2017-03-28-DEFENDERS-Set-Pics
---
2017-03-24-Soule-talks-DAREDEVIL-Supreme
---
2017-03-23-Soule-talks-Foggy-Friendship
---
2017-03-22-June-2017-Daredevil-Solicits
---
2017-03-22-DEFENDERS-Poster
---
2017-03-20-Daredevil-Season-2-Steelbook
---
2017-03-18-KINGPIN-3-First-Look
---
2017-03-17-ELEKTRA-2-Preview
---
2017-03-16-IRON-FIST-Premiere-Screening
---
2017-03-15-DEFENDERS-Set-Videos
---
2017-03-09-DAREDEVIL-18-Preview
---
2017-03-09-Charles-Soule-Interview-EJ-Scott
---
2017-03-07-KINGPIN-2-Preview
---
2017-03-02-Big-Apple-Con-Daredevil-Guests
---
2017-02-25-DEFENDERS-Comics-Previews
---
2017-02-24-BULLSEYE-2-Preview
---
2017-02-22-May-2017-Daredevil-Solicits
---
2017-02-20-Daredevil-at-Toy-Fair
---
2017-02-16-Collector-Corps-Daredevil-Bullseye
---
2017-02-15-Sideshow-Daredevil-Sixth-Scale-Daredevil
---
2017-02-10-ELEKTRA-J-Scott-Campbell-Covers
---
2017-02-09-Mezco-Toyz-Netflix-Daredevil
---
2017-02-09-DAREDEVIL-17-Preview
---
2017-02-09-Big-Apple-Con-Discount
---
2017-02-07-IRON-FIST-Trailer
---
2017-02-03-DEFENDERS-Set-Pics
---
2017-01-25-ELEKTRA-1-First-Look
---
2017-01-25-CBR-Soule-Interview
---
2017-01-24-Daredevil-S2-Pop-Vinyl
---
2017-01-24-April-2017-Daredevil-Solicits
---
2017-01-23-DAREDEVIL-17-First-Look
---
2017-01-20-DAREDEVIL-Sales-Data
---
2017-01-19-Hot-Toys-Bobble-Heads
---
2017-01-19-DAREDEVIL-16-Preview
---
2017-01-18-Complete-DEFENDERS-Entertainment-Weekly
---
2017-01-17-Newsarama-Soule-Interview-Bullseye
---
2017-01-15-Even-More-DEFENDERS-Entertainment-Weekly
---
2017-01-13-More-DEFENDERS-Entertainment-Weekly
---
2017-01-12-KINGPIN-1-First-Look
---
2017-01-12-DEFENDERS-Entertainment-Weekly
---
2017-01-11-THE-DEFENDERS-Bendis-Marquez
---
2017-01-06-DAREDEVIL-15-Preview
---
2017-01-05-BULLSEYE-1-First-Look
---
2017-01-04-New-Variants
---