2022 NEWS
---
Follow updates to NEWS on

Click on the links to display article!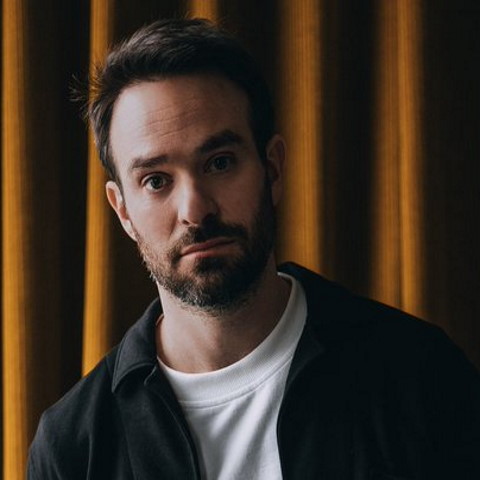 12/27 - More Charlie Cox Interviews
Some more Charlie Cox interviews from his Treason promo tour, but some Daredevil talk in here...
You asked. Charlie Cox answered.
---
Charlie Cox, getting back on the Marvel saddle
"And yes, as you say, doing something like Daredevil means that it can take over your life a little bit, and there's less opportunity to do other stuff. But I'm so grateful for the work, and I have such a good time doing it, I'm genuinely so grateful that still after twenty years I get to participate in this industry so much and so regularly that I can't see it through a lens of negativity, as it were."
GQ
---
Fade to Black Podcast
---
Charlie Cox puts strong case forward for She-Hulk's Tatiana Maslany to return in new Daredevil series
"I thought she was amazing as Jennifer Walters, and I would be a huge… certainly an advocate of her showing up in our show if she's free and available and willing and all of those things. So I would love for that to happen. I have no idea if that is possible."
Metro
---
Charlie Cox on Treason, Daredevil: Born Again and his rebellious streak
"I don't think it's a different character. I just think it's maybe a different period of his life. I don't think my interpretation will change – they hired the same actor. We're saying this is a whole new… era, or variant?"
INews
---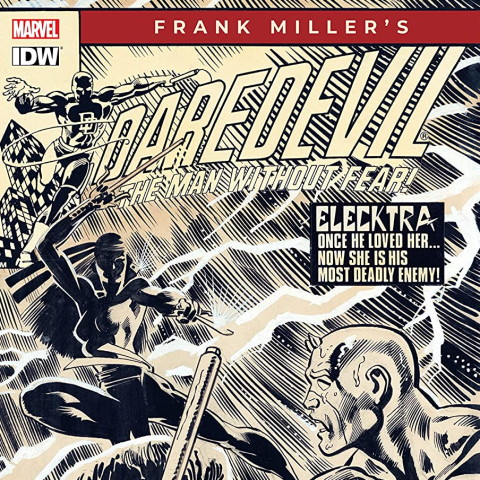 12/25 - Miller Reprint and Guardian Devil Gallery Edition
Some Daredevil collection news for next year...
If you missed it the first time, the Frank Miller Daredevil Artist's Edition (formally known as the "Artifact Edition") will be reprinted in August 2023 for $150.
More details soon, as the solicit has just appeared on PRH and Amazon.
Near Mint Condition has revealed that DAREDEVIL: GUARDIAN DEVIL will be printed in a Gallery Edition in September as well...
---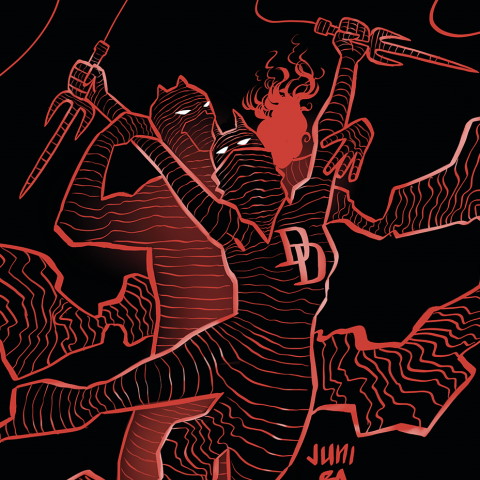 ---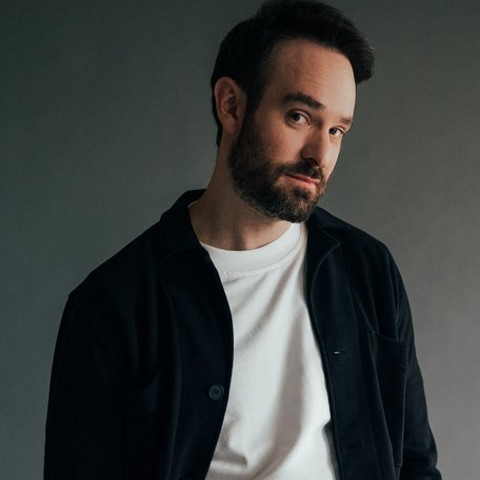 12/22 - Charlie Cox Interviews
Charlie Cox has been doing some promotion for his new Netflix series TREASON, and of course he's been asked some Daredevil-related questions as well...
Here are some of the interviews and major quotes...
---
Charlie Cox: "If the 'Daredevil' reboot doesn't hit the spot, then that might be it"
"My opinion is this character works best when he's geared towards a slightly more mature audience. My instinct is that on Disney+ it will be dark but it probably won't be as gory."
"They said to me, 'We're going to be shooting in 2023'," says Cox. "I said, 'Great, when?' They said, 'All 2023'. I start shooting in February and finish in December."
NME
---
Charlie Cox Shares 'Daredevil: Born Again' Update and Says He 'Can't Wait'
"What it's going to be like on Disney+ I have no idea, I'm very excited to discover what things we will have in common with the show that we made before and what things will be different and, yeah, I just can't wait to get started actually."
"Like, I thought that the show and certainly my portrayal of that character had kind of ended, and a number of years had passed, and suddenly we were kind of thrust back into the MCU, or thrust into the MCU for the first time and we're going to kind of start over again and have those experience all over again. "I feel unbelievably grateful, I can't believe that I get to keep playing this character. It's been, obviously, one of the one of the great honors of my life and my career."
Newsweek
---
No, Charlie Cox's Daredevil won't be in Marvel's Deadpool 3
"Oh god, what did I say again?" Cox asked when TechRadar brought up Daredevil's potential appearance in Deadpool 3. After reminding him about his Roster Con answer, he added: "Oh yeah, I said that in Germany, didn't I? I can tell you now, I'm definitely not in Deadpool 3."
Techrader
---
Daredevil's Charlie Cox on Netflix's Treason, spying and using his own accent for the first time in 10 years
"I'm not concerned at all about me. I love doing it," he says. As far as audiences go, "it's not really my job to wonder. Maybe this will change one day, we'll wake up and it'll be a very different landscape, but I feel like what we're learning is that the appetite for this kind of stuff is pretty much insatiable. People absolutely love it."
Yahoo
---
Daredevil's Charlie Cox defends viral 'Walk of Shame' scene in She-Hulk
"And then there's stuff like the walk of shame, where you're like, 'I don't know. This could go two ways. This could be something that the fans really enjoy, and it could be something that feels like it goes against the nature of what they love about the character and the tone of the piece'.

"The good thing about doing it on something like She-Hulk is, it's not Daredevil's show. It was my job as the actor to come onto another person's show and embrace the tone, whilst staying as true to the character as I possibly could."
Digital Spy
---
12/18 - You Don't Know Daredevil
Marvel has produced a video going over the history of Daredevil. It's cool to see the major storylines condensed into four minutes. Have a look, have a listen, and there may be things you may have forgotten.
---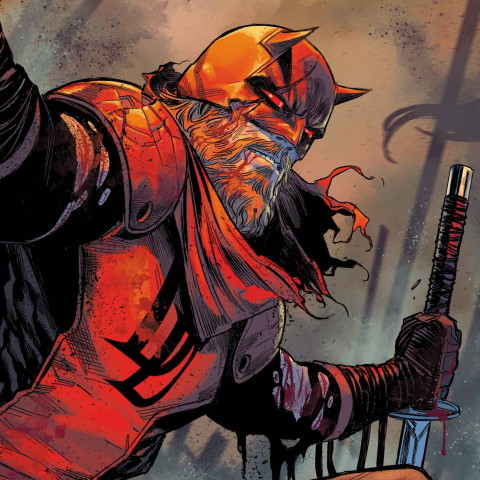 12/16 - DAREDEVIL #9 Early Solicit
Marvel released half of their solicits for March, and DAREDEVIL #9 is included in this batch.
Here's the early solicit for DAREDEVIL #9...
DAREDEVIL #9
CHIP ZDARSKY (W) • MANUEL GARCIA (A) • COVER BY MARCO CHECCHETTO
VARIANT COVER BY JUNI BA • TIMELESS ELEKTRA VIRGIN VARIANT COVER BY ALEX ROSS
TIMELESS ELEKTRA VIRGIN SKETCH VARIANT COVER BY ALEX ROSS
For over three years, Daredevil's life has been a living hell – between the Stromwyns, the Hand and his time incarcerated and exposed to ReCID. Now all of those dangerous forces are coming together and threatening everything Matt Murdock holds dear!
32 PGS./Rated T+ …$3.99
---
12/11 - Daredevil Socks
In November you may have seen the Daredevil socks from Rock 'Em Socks... well, there's a new design available...
Here were the other designs...
Rock 'Em Socks
---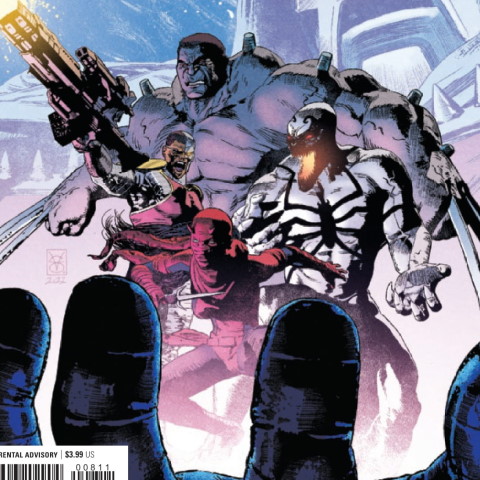 12/09 - SAVAGE AVENGERS #8 Preview
DAVID PEPOSE (W) • CARLOS MAGNO (A)
Cover by VALERIO GIANGIORDANO
Variant cover by TBA
NOTHING CAN SURVIVE THE IRON FRONT!
In the year 2099, Ultron has subjugated the future with Deathlok technology. Yet nowhere is resistance fiercer than the shattered kingdom of Latveria, as DOOM 2099 and his ramshackle army of Doombots wage endless war against the Machine Empire! With 2099's most powerful champion on their side, can Jake Gallows and the Savage Avengers find salvation within the rubble of Tiger Wylde's fortress? Or will our heroes finally fall before Ultron's irresistible might? Don't miss the shocking twist that will leave Marvel fans on the edge of their seats!
32 PGS./Parental Advisory …$3.99
---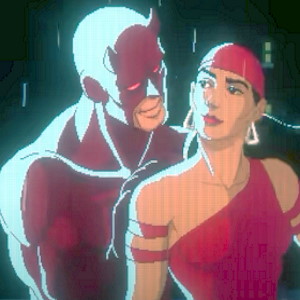 12/08 - Marvel Snap Hero
Marvel Snap, the mobile card game, has turned to Martin Garrix & JVKE for a special song "Hero" to explore the iconic relationships across the Marvel universe.
Making an appearance in this special video promo is Daredevil and Elektra!
---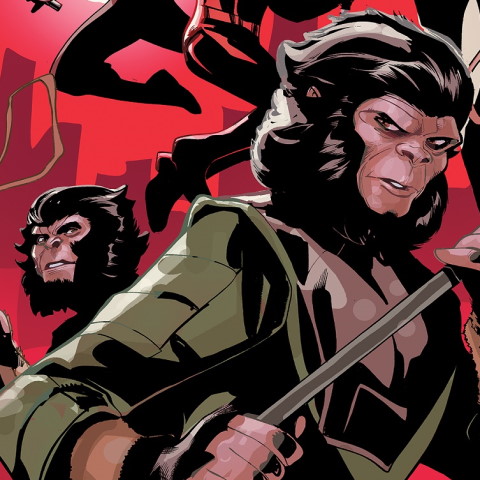 ---
Click on links to display articles below...
2022/12/07/Hot-Toys-Daredevil-Sneak
---
2022/12/05/Sandrine-Holt-Margarita-Levieva-Daredevil-Born-Again
---
2022/12/04/German-Comic-Con-Daredevil-Panel
---
2022/12/03/DAREDEVIL-7-Kirkham-Variants
---
2022/12/03/Bait-Daredevil-Collection
---
2022/12/02/DAREDEVIL-6-Preview
---
2022/12/01/Michael-Gandolfini-Daredevil-Born-Again
---
2022/11/30/Daredevil-Necklace
---
2022/11/25/SAVAGE-AVENGERS-9-Hotz-Variant
---
2022/11/17/February-2023-Daredevil-Solicitations
---
2022/11/16/Hot-Toys-Daredevil-She-Hulk
---
2022/11/15/Daredevil-Half-Scale-Bust
---
2022/11/14/Daredevil-Pins
---
2022/11/14/DAREDEVIL-8-Casagrande-Variant
---
2022/11/12/Daredevil-Megamoji
---
2022/11/08/Daredevil-She-Hulk-Socks
---
2022/11/06/Daredevil-Weekly-Shipping-Update
---
2022/11/04/DAREDEVIL-5-Preview
---
2022/11/01/SAVAGE-AVENGERS-8-Checchetto-Variant
---
2022/10/28/SAVAGE-AVENGERS-7-Preview
---
2022/10/28/PUNISHER-7-Preview
---
2022/10/26/DAREDEVIL-5-and-6-Ngu-Variant
---
2022/10/25/DAREDEVIL-6-Checchetto-Variant
---
2022/10/20/January-2023-Daredevil-Solicitations
---
2022/10/18/DAREDEVIL-7-Cho-Variant
---
2022/10/17/She-Hulk-Interviews
---
2022/10/13/Daredevil-Kuricha-Plush
---
2022/10/12/Daredevil-Mini-Bust-2023
---
2022/10/07/She-Hulk-Daredevil-Posters
---
2022/10/07/DAREDEVIL-4-Preview
---
2022/10/06/Daredevil-Infinity-Comic
---
2022/10/06/Daredevil-Appearance-in-SHE-HULK
---
2022/10/05/She-Hulk-Episode-8
---
2022/10/05/New-2023-Collections
---
2022/10/03/DAREDEVIL-5-Design-Variant
---
2022/10/02/New-Daredevil-Variants
---
2022/09/30/SAVAGE-AVENGERS-6-Preview
---
2022/09/30/Marvel-Legends-Daredevil-3-Pack
---
2022/09/22/DAREDEVIL-4-Ngu-Variant
---
2022/09/20/DAREDEVIL-7-Variant
---
2022/09/20/DAREDEVIL-7-Sneak-Peek
---
2022/09/15/Sideshow-Elektra-Daredevil-Print
---
2022/09/15/She-Hulk-Episode-5
---
2022/09/15/December-2022-Daredevil-Solicitations
---
2022/09/12/Marvel-Unlimited-Plus-Daredevil
---
2022/09/12/DAREDEVIL-5-X-Treme-Williams-Variant
---
2022/09/11/Avengers-Campus-Daredevil
---
2022/09/10/D23-Daredevil-Echo
---
2022/09/09/SPIDER-PUNK-5-Preview
---
2022/09/09/SAVAGE-AVENGERS-5-Preview
---
2022/09/09/Daredevil-Matt-Murdock-She-Hulk
---
2022/09/09/DAREDEVIL-3-Preview
---
2022/09/08/DAREDEVIL-4-Turning-Point
---
2022/09/02/DAREDEVIL-4-Luke-Cage-Anniversary-Variants
---
2022/08/31/DAREDEVIL-2-2nd-Printing
---
2022/08/30/Elektra-Variants
---
2022/08/28/2023-Daredevil-Collections
---
2022/08/23/She-Hulk-Interview-TV-Spot
---
2022/08/22/No-Way-Home-Poster
---
2022/08/18/November-2022-Daredevil-Solicitations
---
2022/08/13/DAREDEVIL-3-Variants
---
2022/08/12/SAVAGE-AVENGERS-4-Preview
---
2022/08/12/DAREDEVIL-2-Preview
---
2022/08/11/Daredevil-Lunch-Box
---
2022/08/06/DAREDEVIL-3-Ngu-Variant
---
2022/08/02/DAREDEVIL-1-Maer-Variant
---
2022/07/28/DAREDEVIL-1-2nd-Printing
---
2022/07/24/She-Hulk-Trailer
---
2022/07/24/Daredevil-Born-Again-Spring-2024-Disney-Plus
---
2022/07/23/FORTNITE-X-MARVEL-ZERO-WAR-4-Ngu-Variant
---
2022/07/23/DAREDEVIL-6-Momoko-Variant
---
2022/07/22/THE-VARIANTS-2-Preview
---
2022/07/22/Charlie-Cox-Daredevil-in-Spider-Man-Freshman-Year
---
2022/07/21/October-2022-Daredevil-Solicitations
---
2022/07/20/DAREDEVIL-1-Quah-Variant-Now-Available
---
2022/07/19/DAREDEVIL-1-SDCC-Variant
---
2022/07/15/Nocenti-Romita-Jr-Join-DAREDEVIL-650
---
2022/07/14/DAREDEVIL-650-Artists-Revealed
---
2022/07/11/DAREDEVIL-2-Woods-Variant
---
2022/07/09/DAREDEVIL-2-Ngu-Variant
---
2022/07/08/SPIDER-PUNK-3-Preview
---
2022/07/08/SAVAGE-AVENGERS-3-Preview
---
2022/07/08/DAREDEVIL-1-Preview
---
2022/07/07/Cox-DOnofrio-Confirmed-For-ECHO
---
2022/07/07/Chip-Zdarsky-Interview-Red-Fist-Saga
---
2022/07/04/Forthcoming-Daredevil-Collections
---
2022/07/02/DAREDEVIL-1-Daniel-Variant
---
2022/06/29/Marvel-Disney-Promo-Posters
---
2022/06/24/THE-VARIANTS-1-Preview
---
2022/06/21/Elektra-Daredevil-PVC-Statue
---
2022/06/20/DAREDEVIL-1-Frank-Variant
---
2022/06/17/September-2022-Daredevil-Solicitations
---
2022/06/16/DAREDEVIL-1-Yoon-Variant
---
2022/06/13/DAREDEVIL-4-Miracleman-Variant
---
2022/06/10/DAREDEVIL-1-Dellotto-Variant
---
2022/06/08/Two-Devils-Are-Better-Than-One
---
2022/06/08/DAREDEVIL-1-Chip-Zdarsky-Interview
---
2022/06/03/SAVAGE-AVENGERS-2-Preview
---
2022/06/02/DAREDEVIL-1-Quesada-Variant
---
2022/06/02/DAREDEVIL-1-Panosian-Variant
---
2022/06/02/DAREDEVIL-1-Nakayama-Variant
---
2022/06/02/DAREDEVIL-1-Momoko-Variant
---
2022/06/01/DAREDEVIL-1-Ngu-Variant
---
2022/06/01/DAREDEVIL-1-Gist-Variant
---
2022/06/01/DAREDEVIL-1-Fleecs-Variant
---
2022/05/31/DAREDEVIL-1-Hotz-Variant
---
2022/05/28/DAREDEVIL-1-Mack-Variant
---
2022/05/20/DEVILS-REIGN-OMEGA-Preview
---
2022/05/19/DAREDEVIL-Disney-Plus
---
2022/05/19/August-2022-Daredevil-Solicitations
---
2022/05/17/Echo-First-Look
---
2022/05/13/SAVAGE-AVENGERS-1-Preview
---
2022/05/13/ELEKTRA-BLACK-WHITE-AND-BLOOD-4-Preview
---
2022/05/11/DAREDEVIL-1-Quah-Variant
---
2022/05/05/Marvel-Pop-Comic-Cover-Elektra
---
2022/05/02/DAREDEVIL-2-Predator-Variant
---
2022/04/28/Daredevil-Pewter-Collectible
---
2022/04/27/DEVILS-REIGN-OMEGA-Virgin-Variant
---
2022/04/25/Charlie-Cox-Disney-Plus-Promo
---
2022/04/22/DEVILS-REIGN-OMEGA-First-Look
---
2022/04/21/July-2022-Daredevil-Solicitations
---
2022/04/20/DEVILS-REIGN-OMEGA-Luke-Cage-Variant
---
2022/04/15/THE-VARIANTS-First-Look
---
2022/04/15/ELEKTRA-Legacy-Numbering
---
2022/04/14/Shipping-Delays
---
2022/04/12/DEVILS-REIGN-OMEGA-Variants
---
2022/04/08/ELEKTRA-100-Preview
---
2022/04/06/DEVILS-REIGN-6-Panosian-Variant
---
2022/04/04/New-DAREDEVIL-TPB-in-December
---
2022/04/01/DEVILS-REIGN-6-Preview
---
2022/03/31/Oscar-Isaac-Wanted-To-Be-Daredevil-in-2008
---
2022/03/26/New-Printings-for-Daredevil-TPBs
---
2022/03/22/ELEKTRA-B-W-BLOOD-4-Eastman-Variant
---
2022/03/18/ELEKTRA-BLACK-WHITE-AND-BLOOD-3-Preview
---
2022/03/18/DEVILS-REIGN-X-MEN-3-Preview
---
2022/03/18/DEVILS-REIGN-VILLAINS-FOR-HIRE-3-Preview
---
2022/03/17/June-2022-Daredevil-Solicitations
---
2022/03/17/Daredevil-Marvel-Animation
---
2022/03/16/Marvel-Shows-on-Disney-Plus
---
2022/03/14/Full-Matt-Murdock-Scene
---
2022/03/13/Unmatched-Hells-Kitchen-Game
---
2022/03/12/ELEKTRA-100-Exclusive-Variants
---
2022/03/11/The-Variants-coming-in-June
---
2022/03/08/Daredevil-MCU-Project
---
2022/03/07/Charlie-Cox-Middle-East-Film-Comic-Con-Panel
---
2022/03/06/DEVILS-REIGN-SUPERIOR-FOUR-3-Preview
---
2022/03/06/DEVILS-REIGN-MOON-KNIGHT-1-Preview
---
2022/03/06/DEVILS-REIGN-6-Cover
---
2022/03/06/DEVILS-REIGN-5-Preview
---
2022/03/03/DEVILS-REIGN-6-Siquiera-Variant
---
2022/03/02/Woman-Without-Fear-spoils-Devils-Reign
---
2022/03/02/ELEKTRA-B-W-BLOOD-4-Momoko-Variant
---
2022/03/01/ELEKTRA-100-Lopez-Variant
---
2022/03/01/ELEKTRA-100-Bartel-Variant
---
2022/03/01/Defenders-on-Disney-Plus-March-16
---
2022/02/25/DEVILS-REIGN-X-MEN-2-Preview
---
2022/02/25/DEVILS-REIGN-SPIDER-MAN-1-Preview
---
2022/02/25/DAREDEVIL-WOMAN-WITHOUT-FEAR-3-Preview
---
2022/02/24/Even-More-Charlie-Cox-Interviews
---
2022/02/23/Marvel-Netflix-on-Disney-Plus-Star-March-16-Canada
---
2022/02/20/ELEKTRA-B-W-BLOOD-3-Smallwood-Variant
---
2022/02/18/ELEKTRA-BLACK-WHITE-AND-BLOOD-2-Preview
---
2022/02/18/DEVILS-REIGN-VILLAINS-FOR-HIRE-2-Preview
---
2022/02/17/SAVAGE-AVENGERS
---
2022/02/17/May-2022-Daredevil-Solicitations
---
2022/02/11/Marvel-Shows-Leaving-Netflix
---
2022/02/11/DEVILS-REIGN-SUPERIOR-FOUR-2-Preview
---
2022/02/10/More-Charlie-Cox-Interviews
---
2022/02/10/ELEKTRA-B-W-BLOOD-2-Exclusive
---
2022/02/08/Charlie-Cox-Daredevil-Interviews
---
2022/02/07/DEVILS-REIGN-Lim-Variant
---
2022/02/06/ELEKTRA-B-W-BLOOD-3-Bagley-Variant
---
2022/02/04/MOON-KNIGHT-8-Preview
---
2022/02/04/DEVILS-REIGN-4-Preview
---
2022/02/03/SAVAGE-AVENGERS
---
2022/02/01/Devils-Reign-2nd-Printings
---
2022/01/29/Ryan-Stegman-DAREDEVIL-1-Variant
---
2022/01/28/SPIDER-WOMAN-19-Preview
---
2022/01/28/DAREDEVIL-WOMAN-WITHOUT-FEAR-2-Preview
---
2022/01/25/DAREDEVIL-1-Promos
---
2022/01/25/DAREDEVIL-1-June-2022-by-Zdarsky-Checchetto
---
2022/01/24/DAREDEVIL-WOMAN-WITHOUT-FEAR-3-Carnero-Variant
---
2022/01/21/DEVILS-REIGN-WINTER-SOLDIER-1-Preview
---
2022/01/21/DEVILS-REIGN-OMEGA
---
2022/01/21/DEVILS-REIGN-3-Preview
---
2022/01/20/Netflix-Daredevil-in-Neilsen-Top-10
---
2022/01/20/April-2022-Daredevil-Solicitations
---
2022/01/19/ELEKTRA-100
---
2022/01/16/26-Years-of-Man-Without-Fear
---
2022/01/14/DEVILS-REIGN-X-MEN-1-Preview
---
2022/01/14/DEVILS-REIGN-VILLAINS-FOR-HIRE-1-Preview
---
2022/01/14/DEVILS-REIGN-4-Yu-Variant
---
2022/01/13/DEVILS-REIGN-2nd-Printing
---
2022/01/11/Shadowland-Marvel-Crisis-Protocol
---
2022/01/07/SPIDER-WOMAN-18-Preview
---
2022/01/07/DEVILS-REIGN-SUPERIOR-FOUR-1-Preview
---
2022/01/07/DAREDEVIL-WOMAN-WITHOUT-FEAR-1-Preview
---
2022/01/03/Mark-Chilcott-Daredevil-Prints-Bottleneck
---