Interview with Alex Huynh
(April 2018)
The actor and stunt performer talks about his early career and his work on all the Marvel Netflix shows.
Many thanks to Mr. Huynh for this great discussion!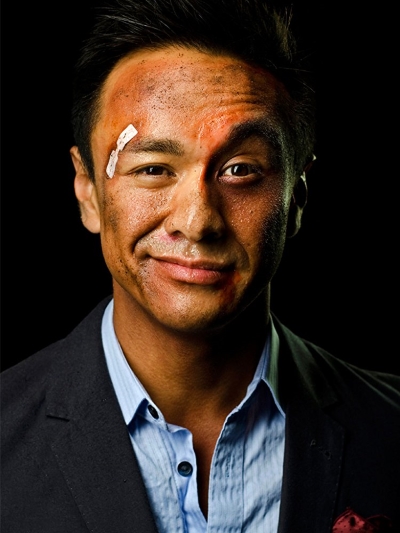 Kuljit Mithra: I read on your web site that you knew when you were five that you wanted to be in the entertainment industry. Performing "shows" for your family, or something more?
Alex Huynh: My sister and I moved to a small town in southern Virginia to be raised by our grandparents when we were very young. We were the new kids on the block. Moreover, we had just lost our mother to cancer, so there was a hole in our hearts that needed filling. My sister, always the strong and selfless person she is, took the initiative to help her baby brother cope and played to the one thing she new he enjoyed: storytelling. We built stories together, imagined up a bunch of diverse characters, and even built a mini stage to play out the stories. Heeding the advice of our family, we invited the neighborhood kids to come over to our front porch to watch a show one afternoon. Our family helped us fill tin boxes with freshly baked cookies for our audience while my sister and I made puppets for the small-scaled theater production we were to put on. It couldn't have been cooler. We played out the puppet show on our grandparents' green patio. The neighborhood kids laughed and cheered. At the end of the show, we popped up from behind the makeshift stage to an audience of raucous applause. I grabbed one of the tins and started making my way around the crowd, handing out cookies to our new friends. In that very moment - at five years old - I knew with all my heart that this is what I wanted to do with my life: bring people together, entertain audiences, and give something back.
Mithra: What got you interested in martial arts and what motivated you to compete at a high level?
Huynh: My family is comprised of several martial artists. As a child, I was a total wimp who could barely take a fall on the playground. To toughen me up, my family enrolled me at the Shaolin Dragons Martial Arts Academy where I studied traditional Kung Fu. It was a lot of fun, but I really got hooked when I competed at my first tournament and won first place. Doing something fun, performing for a crowd, and then winning a shiny trophy while people clapped for me? I hammed it up! From then on I caught the bug and competed more and more. I wanted to win top prize every time. But as fate would have it, being first wasn't always in the cards and I was humbled really quick. This developed within me what I call the 'kid in the basement' work ethic: no matter where you are, there's someone out there who is training harder to win that top spot.
I had to be that kid in the basement if I wanted to move ahead of the pack, and so I would need to train harder. I roped a phone book to a tree and punched it repeatedly (totally stole that idea from Jet Li's "Shaolin Temple"). I took a rice bag, filled it with sand, and practiced kicking it every day. I wore ankle weights and would throw 100 tornado kicks on both sides over a string I attached from the bushes to a clothesline where we hung up our wet laundry. Little by little, the phone book fell apart and I was punching the tree. The sand in the rice bag hardened from the weather and I was pretty much kicking a brick. And once the ankle weights came off, I raised the string a couple feet to where I was no longer just throwing kicks over it but actually flipping. I didn't want to just be the best; I wanted to be better. It became less of a competition against others and more one with myself.
From tournament to tournament, I would meet so many great people (many who are still good friends to this day). I remember watching Jon Valera just rock it at a national competition and that opened my eyes so wide. He and I grew up in the same town of Roanoke, Virginia, so seeing his trajectory gave me a glimpse at the possibilities. I then began competing more on the national stage when a coach came up to ask me if I was interested in trying out for the U.S. Wushu Team to challenge the international stage. Umm, heeeeeck yeah! I trained with Coach Zhang Gui Feng at the U.S. Wushu Academy. The only thing was that it was a two hour commute from where I was living, so every Friday afternoon I would drive up to the Washington, DC area from Richmond, VA to train and then back down afterwards late at night. The training certainly paid off as I became a member of the U.S. Wushu Team and won three gold medals for the United States.
Mithra: How did you get your first break in the stunt world? Had you done stunt training on your own because of your martial arts background?
Huynh: My friends and I were studying for exams at a Barnes & Nobles bookstore when I (who really was just studying the pages of magazines) saw an advertisement for Cirque Du Soleil auditions in New York City. I thought, "I've always loved performing on stage," and so I submitted a video to the casting department and they asked me to come try out. It was the longest audition I've ever done! Hour after hour we were tested on so many skill sets. Martial arts was my strong suit but there was so much more. Thankfully I had a background in theater from the acting classes I took throughout high school and university, dance skills that I picked up from bboying in a college crew honed my musicality and rhythm, and the college roommate who used to professionally dance for Boston Ballet (whom I used to mimic around our apartment) instilled the graceful movements I needed to tackle each level of the audition. Finally, after around six hours, there were about seven of us to whom Cirque congratulated.
However, when they asked my availability, I couldn't confirm because I was in my last semester of college. Had it been four months later I would have completely been on board, but something bigger was at play. Cirque invited me to go see a show they were performing in Los Angeles. I flew out to California to visit family and watch the show, and on my return flight to finish out my college career I made a decision: after graduation I would move to Los Angeles to pursue my dream of entertaining audiences through the Hollywood film and television industry.
Upon arrival I set plans to achieve my goals. But as life would have it, plans are a fine idea as guideposts but almost always change. Nonetheless, I needed to keep up my training regimen as I was still preparing for the Pan-American Wushu Games. I would work out at open gyms and signed up at a wushu school to stay sharp.
Here and there people at the open gyms would recruit those of us training to help out with fight scenes. On one such occasion James Lew asked if he could shoot video of me doing some Wushu and acrobatics. Later he would break the news to me that it was for a video game, The Matrix: Path of Neo. James took me under his wing and he and his best friend Simon Rhee mentored me into the industry. At the wushu school I befriended two other recent transplants to Los Angeles, Fernando Chien and Sam Hargrave. Bonding as brothers, we were joined by Thayr Harris and Holland Diaz and started shooting our own short films and fight scenes, which laid the groundwork for the ReelKick Stunt Team.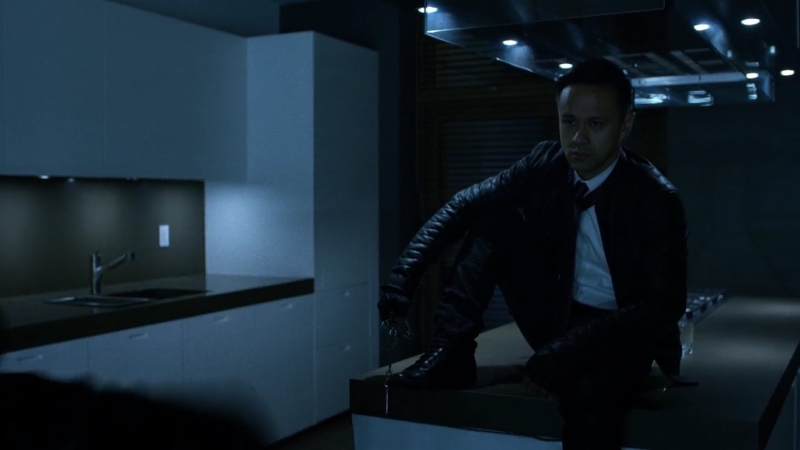 Mithra: You've got quite an impressive resume, and you've done a lot of work on the Marvel Netflix shows. I'm sure I've spotted you in DAREDEVIL, IRON FIST, DEFENDERS, PUNISHER and I'm just learning now that you were also in LUKE CAGE and JESSICA JONES. How'd you first get involved? Did you know DDS1 stunt coordinator Philip Silvera, or did you have to audition? What was that process like?
Huynh: Thanks for the kind words, I'm still a work in progress! I've been blessed to be a part of the Marvel Netflix family for some time now. Relocating from Los Angeles to New York City in 2013, I reconnected with several great stunt performers here on the East Coast whom I'd worked with before on other projects. Philip Silvera, Roberto Gutierrez, and Jared Burke were some of the guys I performed stunts with on The Last Airbender (which despite reviews was actually one of the most fun sets to work on!). The three of them brought me onto the first season of Daredevil. The awesome crews of these shows along with the genuinely charming and lovable cast members (seriously, they play tough-as-steel characters AND have hearts made of gold) magnetized me to these shows and I'm grateful that I get to be a part of the fun!
Mithra: There are many examples to choose from, but I wanted to get an idea of what preparation you and the stunt team did for the scene in Elektra's apartment, where DD and Elektra team up against the Yakuza. I like how your character takes his time joining the fight, sitting on the counter for a while. For a scene like this, that is only a few minutes long, how many days or weeks did it really take for design and training with Lauren Mary Kim and Chris Brewster and the team?
Huynh: Each episode plays like a feature film but works on the schedule of episodic television, so time is one of the most pressing challenges. Whereas we may get weeks to prepare an action sequence on a film these shows can only afford us a few short days for concepting, design, and rehearsal. Fortunately, Lauren Kim and Chris Brewster are seasoned professionals and friends I've been graced to fight alongside with for over a decade now. Add in the impressive Ng brothers - Jim and Jason - and the talented Jean Tree and you can liken the chemistry to a jazz band: every person brings their skills to the table and collaborates to create an exciting symphony of kickass action.
Originally all of us were supposed to jump straight into the explosion of the fight, but I think during a break at rehearsal I propped myself up on that counter while cracking jokes with Jason Ng. The stunt team looked at the dynamic and decided it was a cool aesthetic. The Yakuza gang would work symbiotically, playing off of each other almost like it was a game to us... only played very seriously. The first two of the gang would square off with Daredevil and Elektra initially, and as the fight intensifies we would release a different plan of attack. Then when Elodie Yung and Charlie Cox had thoroughly beaten up the leather-clad crew I would come swinging my chain hoping it would be our saving grace. (Spoiler alert: it didn't work. They whooped us. Big time.)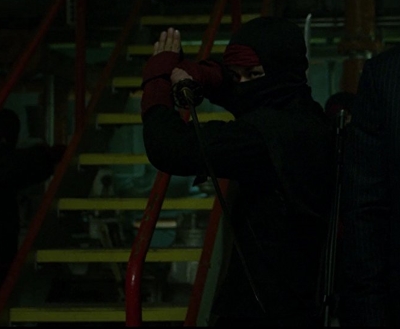 Mithra: Were you also one of the many Hand ninjas? How difficult was that to do with the face covering and sword work?
Huynh: If I told you I was a ninja I'd be a pretty bad ninja, wouldn't I? ;)
Yes, I was among the team of Hand ninjas slashing away at the Devil of Hell's Kitchen. Sometimes wardrobes can be restrictive but the Costume Department of Daredevil Season 2 really worked wonders to accommodate. They made sure we could perform at our best with as little complication as possible. My only complaint: why do ninjas fight with split toe shoes? Fashionably it's creepy since you have to wear individually isolating toe socks. Plus when you're hiding in dark trees for hours it'd help to have better arch support. Just my two cents, but I think Nike could develop a pretty lucrative ninja sneaker collection. (Get it? Ninjas…sneakers? #DadJokes #AllDay)
Mithra: Being involved with all these shows and the many stunt coordinators... what can a person bring to a show to make it more exciting and more than just a job for you?
Huynh: I really believe that connecting with others genuinely matters first and foremost - be it on or off the set. In an industry where talent and skill abound, the most valuable thing you can contribute is your personal humility and a passion to create something special with others. The best way to showcase these qualities is to communicate honestly, radiantly, and with openness.
It may be a bit deep, but I really love what I do; I share something from my heart every time I go to work; I pour love into each project. I get the opportunity to work with amazing people who are dedicating their time and talents to build with me this thing I'm loving. In a sense, when I'm creating entertainment, I'm in love. If that love translates into the work, the audience will see something special that's been captured on camera in the movies. Therein lies that "movie magic" and that's where we as audiences get whisked away into our imaginations.
Every job is more than a professional opportunity…they're experiences you get to be a part of that build your life's great story. So be kind, give it all you got, and have fun!
Mithra: Obviously you can't tell me if you're involved with any of the Marvel shows coming up, but what have you recently been working on and can you reveal any other projects on the way?
Huynh: Of course my lips are sealed tightly on anything Marvel-related, but there are some fun things coming up! I was the Stunt Coordinator on a hilarious movie with Martin Freeman called Ode to Joy, will be an assassin with an affinity for knives on NBC's Blindspot (which I believe airs this Friday April 20), and I have a small acting role on the new season of ABC's Quantico. Stay tuned!
--------------------------------------------------------------------------------------------
(c) 2018 Kuljit Mithra & Alex Huynh
Daredevil:The Man Without Fear
http://www.manwithoutfear.com
--------------------------------------------------------------------------------------------

---
Read more interviews!