Interview with Lalit Kumar Sharma
(July 2019)
The current artist on DAREDEVIL talks about his comics background and working at Marvel for the first time. Many thanks for the interview!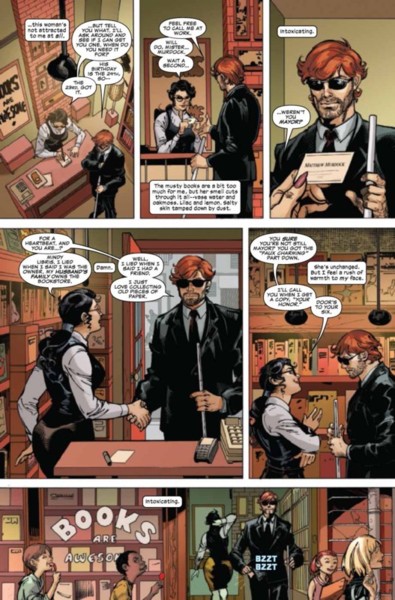 Kuljit Mithra: DAREDEVIL #8 came out last week, so we're three issues into your "No Devils, Only God" arc with writer Chip Zdarsky, inker Jay Leisten and colourist Java Tartaglia. Before we talk about your DD work, I wanted to get a better idea of your background in comics. From what I've read you are based in India... my knowledge of Indian comics is based on old Amar Chitra Katha retellings of religious history that my mamaji would send to me here in Canada. What is the comics industry really like in India? Is there a heavy Western influence now, or is it still like how I'm remembering from decades ago?
Lalit Kumar Sharma: Indian Comics has a wide variety of genres. There are books on mythology, moral/cultural education and folk tales, light/ funny cartoon books and Super Heroes. Mythology and educational stuff has been around since the very early days of Indian Comics, Super Hero material got its firm footing in 1980's. Indian Comics have their own unique appearance with a lot of variety in art and writing style and there are books which have influence from Western comics. One thing about comics in India was that people of all ages read all types of comics. It wasn't considered exclusively kids' books.
Mithra: Tell me a little about yourself, did you always want to be an artist? Who have been some of your influences from comics and outside of comics?
Sharma: I was born and brought up in New Delhi. I always had an interest in art and started drawing comics at the age of 9. Drew around 35 comic books as a hobbyist before getting my first professional work. There have been many influences and first one is Anupam Sinha. I copied his drawings a lot during school days to learn to draw. Then came Frank Miller, Mark Bagley, Jim Lee, John Buscema, Joe Kubert...the list is long. Outside comics are Andrew Loomis, Frank Frazetta, Boris, Robert Mcginnis and many more! I am very curious by nature and like to read all sorts of stuff. My interest in science, psychology and evolutionary biology influences my art a lot.
Mithra: I see you've done quite a bit of work for various comics companies in India and the US, so what has it been like getting a chance to work on titles overseas?
Sharma: American Comics have readers all around the globe so that means you have a better chance to reach more readers. It is very exciting to see people from different parts of the world are reading your books. It's a great feeling to get a chance to take the responsibility of characters which were successfully handled by legendary creators for so many decades.
Mithra: How did the DAREDEVIL job come about? Did the DAREDEVIL editors reach out to you, or had you been submitting queries to Marvel?
Sharma: I had submitted my work to Marvel through my agent Joaquin Garcia Marina, and I was offered Daredevil from the editors.
Mithra: This arc is more about Matt Murdock rather than Daredevil, so I was wondering how you approached designing your pages in terms of layouts? Are you in constant contact with Chip Zdarsky about how you're interpreting his descriptions and dialogue?
Sharma: Ha ha. Yes! We have seen Matt Murdock a lot in these books. Since the tone of the story was more relaxed and calm camera angles are very easy on eyes and even the bystanders in backgrounds are having good time or doing mundane stuff. Chip provided many suggestions that played integral part in these books and some of his inputs were really invaluable.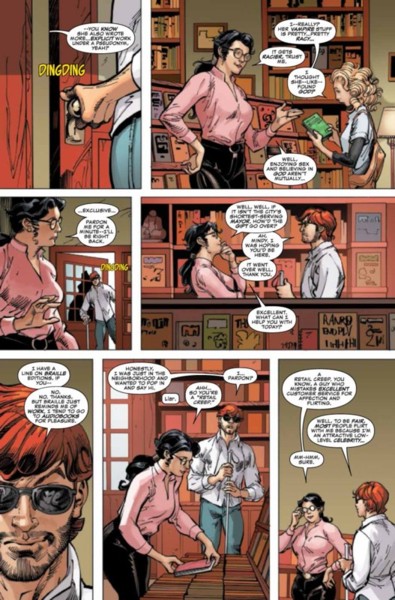 Mithra: Are you working closely with the rest of the team (Leisten and Tartaglia), or is it a case of them taking your penciled pages once you've sent them through to the editors? Do you have much experience with inking and colouring your work?
Sharma: We all worked as a team. Leisten and Tartaglia shared all the work with us before it went to print. Chip, Devin [Lewis] and Danny [Khazem] did a great job of making sure that the book read and looked good. I have inked a lot of my own work but most of the time I worked in a team and ink and coloring work was done by specialists.
Mithra: I know we can't talk much about what's to come in this arc, so let's talk about a new character that was introduced, Mindy. There's more to her story, but can you briefly describe how you designed her look?
Sharma:Ah! Mindy! I am already in love with that character! The character is beautifully written and I was delighted that she was to look very different from regular comic book girls. One thing which was in my mind while designing Mindy was 'Good Hugger'.
Mithra: It was nice to chat with you. There are a couple of more issues remaining in the arc, so I'm guessing you have already completed them. How was the experience for you professionally and personally? Can you talk about any forthcoming projects?
Sharma: This was my first Marvel work. So this series is always going to be very special. I thank all the readers for spending their time on my work and giving their valuable feedback. Everyone at Marvel was very co-operative and helpful. I really enjoyed working on these books. At the moment I can't comment about my forthcoming projects but you will learn about them soon. The pleasure was all mine!
--------------------------------------------------------------------------------------------
(c) 2019 Kuljit Mithra & Lalit Kumar Sharma
Daredevil:The Man Without Fear
http://www.manwithoutfear.com
--------------------------------------------------------------------------------------------

---
Read more interviews!