Interview with Chip Zdarsky (December 2021)
The writer of DAREDEVIL discusses how Matt Murdock, Wilson Fisk, Elektra and other characters will be affected by the events of DEVIL'S REIGN, and what readers can expect over the coming months.
SPOILERS if you have not read DAREDEVIL #36 and DEVIL'S REIGN #1
Kuljit Mithra: With the current volume of DAREDEVIL coming to a close this month (or a pause, depending on what Marvel is deciding), and with DEVIL'S REIGN getting underway, I wanted to first get your thoughts on how you've felt the run has been for you creatively. What keeps you interested in the character?
Chip Zdarsky: Creatively, it's been extremely freeing! There's no other title quite like Daredevil at Marvel, where you can take the reins (horns?) and just do what you want. I mean, there was no one in a Daredevil costume for, like, fifteen issues! I don't think I'd get away with that on Spider-Man.
I'm pretty happy with how things have gone. Matt Murdock is endlessly fascinating to me, along with Wilson Fisk, and I'm glad we got to expand things with Elektra with these recent volumes. She was a surprise to me. I didn't think I'd enjoy writing her as much as I have.
Mithra: So over these years, you've had a chance to really get into the minds of several characters, namely Matt Murdock, Wilson Fisk and Elektra Natchios. They each have their own distinct views... and sometimes they surprise themselves with their own actions in situations. In issue #36, Matt raises a question of "what's right?". Is he doubting his actions in his vigilante career as Daredevil, or is he doubting others who can't see what is the "right" decision, no matter what? And how would Wilson Fisk and Elektra answer this question, and do you think they would ever pose this question to themselves?
Zdarsky: I think on the other end of his prison stay Matt is more clear-headed over what he thinks "right" is. Wilson doesn't much care what's right, it's about what's right for him. And Elektra is slowly but surely adjusting her outlook to what "right" is.
I love having different perspectives on the nature of right and wrong. I think that's what makes stories interesting.
Mithra: Also in the issue, Matt has this revelation that over the course of his history with Fisk, no matter what he's thrown at him, nothing has changed. They themselves have not changed. And now he's going to try something different, he's just going to let Fisk be happy. If they leave each other alone, they won't have to engage in a battle no one ever wins. This doesn't last long, as Fisk figures out that something has happened "with his mind" concerning the files he has on Daredevil's identity. Of course, we can't have all these characters being happy all the time, we need the conflict for the stories. Can these characters be "happy" without hurting others? And does Matt's vision of "what's right" trump the happiness?
Zdarsky: Big questions! I think that they can be happy without hurting others if the story breaks that way, for sure. It's rare, because we do need that conflict. And Matt would, for the most part, say that "what's right" trumps happiness. Because happiness isn't a real thing to him, not really. Happiness is a privilege in a world full of trauma and suffering. If him doing the right thing means you're not going to be happy, well, too bad. Because for him the right thing is to stop that trauma and suffering, whether it's through the law or through his actions as Daredevil. The most Matt can hope for, for himself, is contentment.
Mithra: With DEVIL'S REIGN #1 now out, we have seen some of the things Fisk will do to get his mind at ease about the missing information, and using Matt's "guilt" as a weakness. Was DEVIL'S REIGN always going to be about the Purple Children's mind-wipe of DD's secret identity? Was this always going to be something you had wanted to write about from the previous run by Charles Soule, Ron Garney et al and as you wrote it became evident it was becoming a bigger story? Were all the storylines with Butch, Mike Murdock, with Elektra becoming DD, all leading to this? And if yes, when during your run did you figure out this story needed to go in this direction?
Zdarsky: I can't recall when it all "clicked," but it was pretty early on. Before issue one came out I knew most of the beats leading up to issue 20, which felt like the first chapter. I knew Matt would be going to prison and Elektra would be trying to tempt him to help her, but the idea of her taking the mantle didn't land until I was maybe an arc or two in. Butch was always intended to rise to be Kingpin from his first panel. I knew I wanted Mike Murdock in there somewhere, but I found it hard to introduce him while referring to his Inhuman-based not-a-real-boy origin, so I eventually landed on cleaning up that origin a bit with the Norn Stone Annual, at least so we could just refer to him as Matt's brother without all the caveats.
With Fisk, I wanted him to settle into happiness with Mary and pull the rug out. I didn't land on the memory beat until around issue 20, I think.
So, yeah, almost everything was planned out early on. And the upcoming year was pitched a year ago, so we've got a lot of story beats locked in. I know a lot of writers are a bit looser and shorter-term with their outlines (and for good reason since nobody knows when they're getting cancelled!), but I wanted to make this a full story right from the start and pray we didn't get cancelled.
Mithra: With Marco Checchetto, Marcio Menyz and Clayton Cowles continuing on the limited series from the main title, what creativity have you seen from them so far that this kind of different story has presented to them?
Zdarsky: I mean, it's just a joy to see Marco drawing the Marvel Universe, y'know? Every time he draws a new character it becomes my favourite version of that character, the standout being Doc Ock. Like, he keeps him true to the character but also manages to make him look cool and terrifying!
Also, it was important to me to have the DD team on this. Those guys bust their ass on the main title and they deserve way more eyeballs on their work.
Mithra: And for yourself, is it challenging to present all these different voices, and also keep the story easy to understand for people who may not have been reading DAREDEVIL before? I'm thinking of how you even try to explain Butch and Mike, and what they are up to. And how difficult was it to navigate the continuity of some of these characters, who you could use, who couldn't be used?
Zdarsky: Sure, there's a bit of extra exposition required to catch people up, but isn't there always with continuity comics? The trick is to make sure we actually do it, which I feel like we've done. And there are choices to be made. Nobody needs to know that Mike wasn't a real boy here, they just need to know that he's Matt's brother pretending to be Matt.
Continuity has been relatively easy. Some characters were in the outline who had to be pulled, which is always unfortunate, but it freed up some space which was nice!
Mithra: There are a lot of tie-ins, with the majority of them starting in January. Is the Daredevil editorial team overseeing them, or was there a meeting where you had to pitch and then it was decided some characters could/should get their own mini?
Zdarsky: I believe they're all under the DD team, except for maybe the X-Men one, which I've been coordinating closely with Gerry Duggan. Most of these stemmed from writers wanting to play along, which is nice! I'm sure Marvel has some sort of algorithm for minimum number of tie-ins needed to make some sort of financial threshold, but thankfully I'm not a part of those discussions, I just get to read the pitches and comics.
Mithra: One of the minis is DAREDEVIL: WOMAN WITHOUT FEAR, which you are writing, with art by Rafael De Latorre, and covers by Chris Bachalo. I'm suspecting more will be revealed after DEVIL'S REIGN #2 this month, but what can we expect from this story? Was this something that originally was going to be in the main DAREDEVIL title, and now you've been given more room to expand on it? Will we learn more about the Red Fist?
Zdarsky: At some point, I realized that Elektra's story in Devil's Reign was too big to be in the main event series. Plus it was a lot more focused on Daredevil and Elektra lore and what's to come in our Daredevil run. So, in Devil's Reign she goes off and has this adventure. You'll learn more about The Hand and about some major players coming up in the Red Fist storyline.
Also, I should say, Rafael has been amazing on this. He really feels at home with these characters and we're doing what we can to have him rotate with Marco on the main title when it comes back. I think people will dig his stuff.
Mithra: You worked on the DEVIL'S REIGN logo design with Jay Bowen. Wondering if you could describe the process, the font choice, the interlocking D and R, and the flame design. I like the main book's red borders, but also how the variant covers have had the larger font incorporated.
Zdarsky: Yeah! Glad you like it! It was really a back-and forth with Jay. Originally I sent him this mock-up: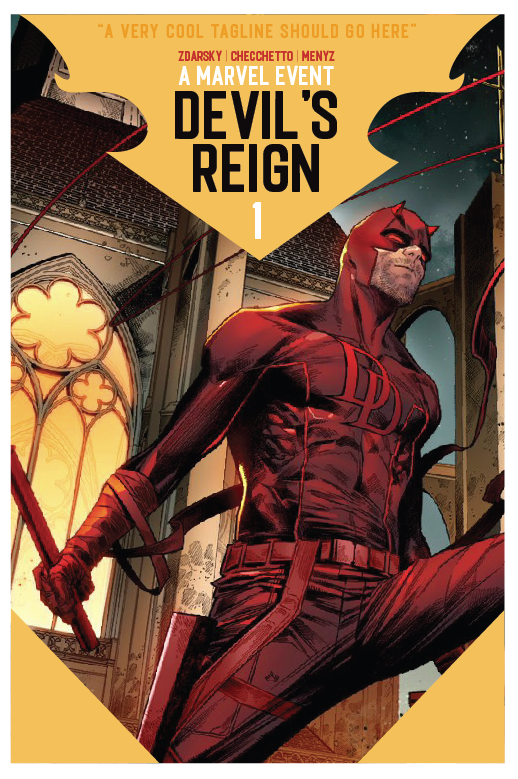 It was Jay who came up with the interlocking D and R, which was brilliant. I tweaked the triangular design when Marco sent in his cover to issue one and I realized it would have completely covered Jessica Jones! The border I did up worked well so we went with that.
Getting to do any design work on these books is always fun. And Jay is amazing.
Mithra: Thanks for the interview. My last question is about your own variant cover for DEVIL'S REIGN #1. I got a lot of Bill Sienkiewicz vibes from it, and also Romita Jr. from MAN WITHOUT FEAR where Fisk crushes Rigoletto's head. Did you have any other designs you were thinking of?
Zdarsky: Ha! That was my only design! I felt pretty free since I was the artist AND the customer, since I was ordering all of these for my Substack! I approved my own illustration!
I love getting to illustrate covers. It's getting harder to find the time, and I'm all over the map with style choices, but it's extremely satisfying.
[If you'd like to learn more about Devil's Reign, all the tie-ins, covers, variant covers and more, please visit the section of the site here.]
--------------------------------------------------------------------------------------------
(c) 2021 Kuljit Mithra & Chip Zdarsky
Daredevil: The Man Without Fear
http://www.manwithoutfear.com
--------------------------------------------------------------------------------------------
---
Read more interviews!