Interview with Reza Salazar
(June 2016)
Actor Reza Salazar appeared in the first episode "Bang" of Daredevil Season 2 and here we talk about his brief role on the show. Thanks to him for the interview, and also thanks to Carolyn Anthony.
Spoilers for Season 2 if you haven't watched it yet...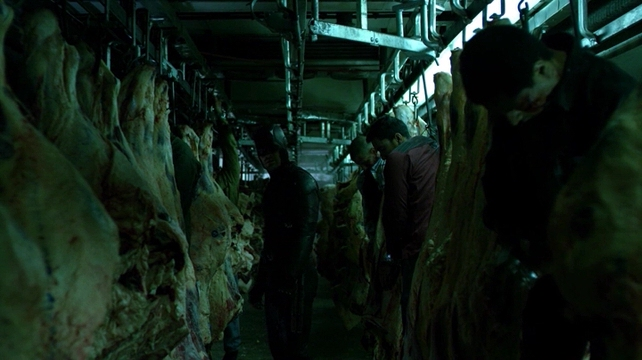 Kuljit Mithra: While your role in Daredevil Season 2 is small, it's a really important one, as you let Daredevil know about the Punisher. I've talked with a few other actors who have worked on the show, and they've talked about the secrecy during auditions... did you know much about what show or even the role beforehand? What was that process like?
Reza Salazar: Yes. The secrecy is real. I had no idea what the role or scene was really about or the show was. All I knew was that the character and the scene I was going for was probably going to change. The day of the audition I decided to ride my bike and I got caught in the rain, but not just a rain -- The biggest rain storm of the summer! It was pouring so hard I had to stop and look for shelter. Audition nightmare, and I knew I was going to be late, a professional no no but the rain wasn't stopping, so I had to pedal as fast as I could to make it. Luckily I had brought another shirt in my back pack and I changed right before I went in to a freezing air conditioned office in midtown Manhattan. My shorts and shoes were soaked, but luckily no one noticed. Unbeknownst to me it prepared me for the real scene in the show I was about to book.
Mithra: Once you got the job, was it a shock to see what was going to happen to your character, and also the grisly set? You must have some interesting stories about filming in that location and being pulled off a meat hook.
Salazar: Remember when I mentioned the cold casting office for the audition? When they first took me into the FREEZING meat locker I was like; "Wow it's really cold in here and... those cows look real, thank God I am a vegetarian" Well guess what? They were real. That was real meat, and real blood and we were there for hours. And yes I am still a vegetarian. The meat hooks were also real which I was about to be hanging from because I had no stunt double. Underneath my clothes I was wearing a harness which was a little bit uncomfortable at first but not terrible, I could deal with it until they lifted me up and hooked me onto the meat hook , I nearly passed out (not sure how the stunt people do this every day), with the two extras next to me and in front of me (the dead cows) the freezing cold, the blood and me being a vegetarian, I gotta say it was pretty crazy, but that helped me so much with the scene because there was no one in the world I wanted to see at that moment more than the Daredevil to come in, put me down on the ground so I could just bleed out and die in peace [smiles]. Charlie Cox was so great to work with. There were a lot of technical elements to figure out in the scene, but we managed to stay focused and I didn't pass out. [laughs]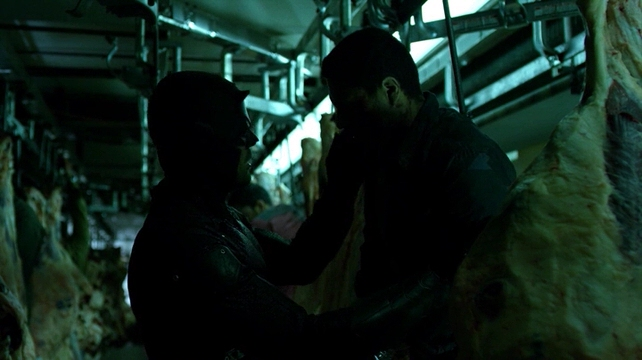 Mithra: I think you're credited as "Cartel Member Cop"... was something rewritten? Was there more to your character we didn't see?
Salazar: Yeah I am not sure about that. I was definitely a member of some local drug cartel but the cop part we are still scratching our heads over that one. However I do dig the long title though.
Mithra: I've read you have a theatre background, and you've written a play "Incognito". Coincidentally, Charlie Cox is now appearing in a play also called "Incognito". What is it about theatre that excites you, and how has it helped you with acting?
Salazar: Hey thanks for asking. I just finished performing a new Lynn Nottage Play called SWEAT at Arena Stage in Wash D.C. and yes I wrote a play called Incognito and it was directed by my friend David Rey. Theater is immediate, there is no cuts, no editing. Theater is unity. If the audience was moved, if the story was felt and communicated it means that all the components that makes for good theater including the audience in one common space shared, received, gave, exchanged and turned their phones off came together!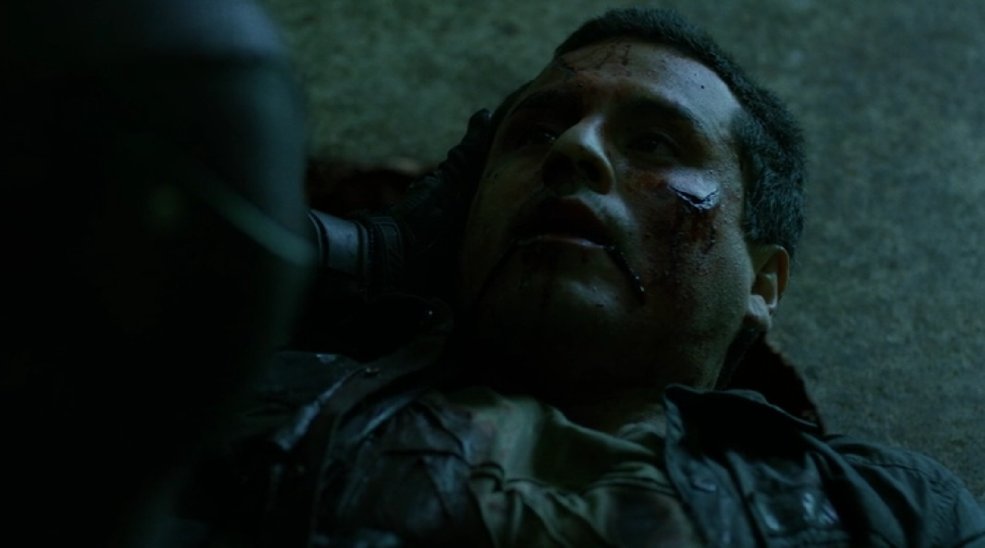 Mithra: And last question, can you talk a bit about some of your upcoming projects, be it TV or theatre? Thanks for your time.
Salazar: I volunteer with the Junior Youth Spiritual Development Program in New York City. We are preparing for a Spoken Word workshop for kids that I am going to be teaching in the fall with Uptown Stories. I also Host regular Open mics, "The Hang" with partner in crime Laura Sisskin Fernandez and "Uplifting Conversations" in my house literally. If you are a fan of The Umbreakable Kimmy Schmidt then you saw the season 2 premiere with me as the Verizon/Fios Guy, and Carol Kane. She is just one amazingly funny and gifted human. I am also working on my second play and collaborating on a couple of new plays. Thanks so much for including me in your website. Peace.
--------------------------------------------------------------------------------------------
(c) 2016 Kuljit Mithra & Reza Salazar
Daredevil:The Man Without Fear
http://www.manwithoutfear.com
--------------------------------------------------------------------------------------------

---
Read more interviews!