Interview with Ray Iannicelli
(June 2016)
Actor Ray Iannicelli has appeared in over 100 projects over his 30 year career, and in Daredevil season 2 he portrayed "Jerry", the building landlord who encounters Frank Castle on his rooftop. We talked about that scene and more in this brief interview. Many thanks to Mr. Iannicelli and to Carolyn Anthony for her help.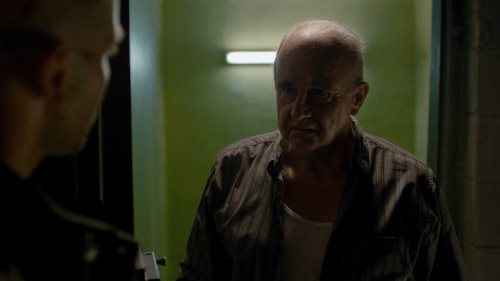 Kuljit Mithra: One of the things I've enjoyed about Daredevil is the casting... there's a good mix of familiar faces and newcomers. Having done some reading on your background, I've realized I know more about your work than I did about Charlie Cox! You've been a part of some really great projects, so I wanted to get your comments about this show.. how does it compare to some of your film or other TV work, since it's only available on Netflix?
Ray Iannicelli
: Thanks Kuljit, for including me. It's always a pleasure to talk about something I love. The casting was amazing, hats off to Julie Schubert and Laray Mayfield. They really found such interesting actors to tell the story. And thanks, yes I'm pretty proud of the work I've done and the people I've had the pleasure to work with. To answer your question I think Netflix is breaking new ground. I thought the production values, writing and directing was very on par with my other projects. Work is work. My process as an actor is always the same. The only difference is the way the show is ultimately delivered. Unlike episodic where you wait each week to see a new episode once Daredevil airs you get the whole kit & caboodle. No waiting.
Mithra: Your scene with Jon Bernthal at the door to the rooftop was really tense and great. You really have no idea which way it's going to go. How was it working with Bernthal? I felt there was some great chemistry there, like you were both playing off each other.
Iannicelli
: Jon is a wonderful giving actor and we were totally playing off each other. I have a great empathy for war veterans and I think that came across in the scene.
Mithra: I've read you were in the military when you were younger, so how much of your experience there helped for preparation for dealing with Frank Castle? How well do you think the show portrayed the military experience?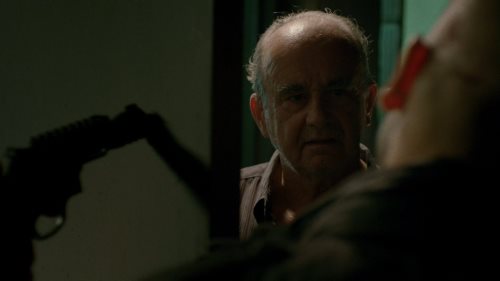 Iannicelli
: I was. I was a Fuel Electrical Systems Repairman on Tank Diesel Engines. 834thOrdinance and first stationed at Aberdeen Proving Grounds, Maryland. When the Scene begins, Jerry was nervous and wary of this interloper but when Jerry discovers that he is a war vet who served in Afghanistan and Iraq because of my personal respect for soldiers I was able to translate that through my acting in the scene and I immediately connected with Frank. I think outside of the fact that Frank Castle suffered from major PTSD this show is Fantasy and any semblance to real life military is not really rooted in reality nor is it meant to be.
Mithra: Another scene you were a part of, albeit for a few seconds, is the start of the stairway fight with the biker gang. Were you on set for most of that filming? What was that like to watch, with all the stunt work involved?
Iannicelli
: Ah yes, the fight scene. I did my own stunts which I'm very proud of. This very"short" scene actually took 8 Hours to shoot because of all the stunt choreography and the desire to keep everyone safe. There was a lot going on. I was in the middle of it. They were all mean looking dudes. You don't really get to watch what is happening in the scene because you are so very focused on hitting your mark and doing your action and praying to g-d you don't get hurt [Laughs].
Mithra: Were you originally supposed to come back in the final episode, or were you called back? Judging from what I've heard, there was lots of secrecy about scripts, and actors didn't even know what was happening to their character until they read the script the day of shooting. It was nice to see you again, although, it was unfortunate your character died defending Karen Page's honor.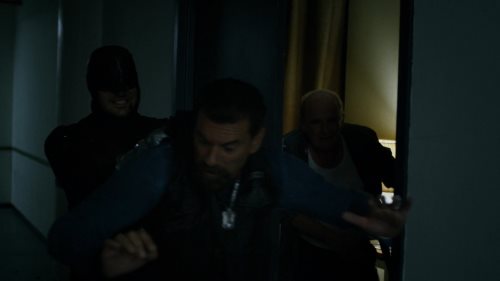 Iannicelli
: Total surprise. I had no idea I would be back. There was so much secrecy about the storyline, you are so right we only knew based on our sides what we were doing that day but never knew what the bigger story was. We were not allowed to disclose any information and no photos were allowed to be taken on set. They had a very strict policy about this. So I really only knew my moments and not the larger tale. But I do have to say I would give my life any day of the week to defend Karen Page's honor (smiles)
Mithra: Finally, can you talk about some of the teaching work you are doing, and also what are some projects coming soon that we should look out for? Thanks for the interview!
Iannicelli: I own a company called Professional Actors Training & Helping. We do patient simulation projects for different medical institutions including Albert Einstein College of Medicine in the Bronx, NY and Columbia Medical School in New York City. I have a few upcoming projects. Had the pleasure of working with Robert DeNiro in the HBO film "The Wizard of Lies", Humor Me with Elliott Gould (funny guy), Patti Cake$ directed by up and comer Geremy Jasper and A Standup Guy with Bob Saget and Michael Rappaport. It was a real pleasure to share my Daredevil experience with you. Thanks for listening.
--------------------------------------------------------------------------------------------
(c) 2016 Kuljit Mithra & Ray Iannicelli
Daredevil:The Man Without Fear
http://www.manwithoutfear.com
--------------------------------------------------------------------------------------------

---
Read more interviews!











COMICS:
Volume 1
|
Volume 2
|
Volume 3
|
Volume 4
|
Volume 5
|
Volume 6
|
Annuals
|
Appearances
|
Costumes
|
Digital Comics
|
Hardcovers
|
Key Issues
|
Logos
|
Origin
|
Price Guide
|
Recommended
|
Reviews
|
Secret Identity
|
Sales Data
|
Titles
|
Trades
|
Untold Tales
CREATORS:
Cover Artists
|
Inkers
|
Pencillers
|
Writers
MEDIA:
Actors
|
Books
|
Cartoons
|
Computer Fun!
|
Movies
|
Music
|
Pictures
|
Sightings
|
Sketches
|
Video Games
|
Wallpapers
FANS:
Fan Art
|
Fan Costumes
|
Fan Custom Figures
|
Fan Fiction
|
Fan Films
|
Fan Guitars
|
Fan Tattoos

Daredevil (and other related characters appearing) and the distinctive likenesses are Trademarks of Marvel Characters, Inc. and are used WITHOUT permission.
Copyright &copy 2023 Marvel Characters, Inc. All Rights Reserved. Visit Marvel.com.
www.manwithoutfear.com is owned and operated by Kuljit Mithra. Web site is © Kuljit Mithra 1996-2023.
Keep up to the date with your trusted Daredevil source ManWithoutFear.com on
and