Interview With Manny Mederos
(March 2014)
Manny Mederos works in the Production department at Marvel and designs many titles including DAREDEVIL. Here we talk about his work on the book and the new logo for Volume 4. Many thanks to Mr. Mederos!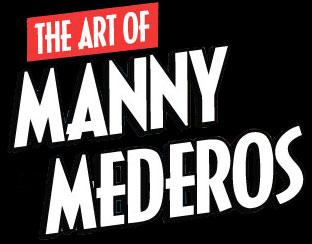 Kuljit Mithra: We've chatted before in the past, so I know your background is illustration and designing... how did you eventually get to work for Marvel in the production department?
Manny Mederos: While I was in college I did an internship with Marvel for school credit, I was working with the Creative Services department assisting with product designs and making art for their various style guides. About a year after I graduated from school I received a phone call from the head of the production department saying that there was an open position in the Bullpen and that my Supervisor from when I was an intern had put in a good recommendation for me.
Mithra: Now I know you design logos, but what else does a production artist do at Marvel? Do you create the overall look of the hardcovers and things like that?
Mederos: So as a production artist in the bullpen, we primarily work on the monthly books. Hardcovers and trade collections fall under the Trades department. We deal with all kinds of things from mocking up all the covers to designing interior pages such as recaps, letters, title pages and the occasional ad. We also do a lot of art corrections, so lets say an artist drew Cap's shield with the wrong amount of stripes; we're the ones who can make the change before it goes on to the printer. Or lets just say an artist forgets to draw storm with a mohawk, an Editor will ask us to make those types of changes if the artist is too busy or can't be reached in time.
We also do things like scan original art and size the art pages before passing them on to the colorist to make sure they all follow the right specs. The logo design tends to fall more under an Editor's request so some may be an in house request or it can be assigned to freelance designers as well.
Mithra: Does Marvel have a digital library of all the logos, and is it difficult to make changes if you don't have the originals in a usable format?
Mederos: We have a logo library. It's a server where all the original files to most of our logos are stored. We also have filing cabinets filled with thousands of old cover stats, so if you don't find the logo your looking for, it's possible it could be in one of those cabinets.
Mithra: I also know that you are a big Daredevil fan... what are some of your favourite stories and who are your favourite creators who've worked on the title?
Mederos: Well my ABSOLUTE favorite DD story is Born Again, the combination of Frank Miller's words and David Mazzucchelli's art is a masterpiece, there isn't a whole lot that could top that collection in my opinion. I must have at least four different copies of that series. Lee Weeks later followed that with Last Rites which was the fall of Kingpin, what another gorgeous run. Mark Waid and Chris Samnee are doing a SPECTACULAR job on DD right now, it's by far my favorite book that's currently running, and I'm not just saying that because I'm a Daredevil fan, that team really knows how to deliver a great story with eye dropping art.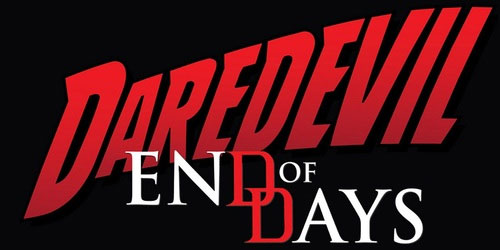 Mithra: Of course, I wanted to ask you about some of the Daredevil work you've done... let's start with the END OF DAYS logo. When I first saw it, I thought that was a pretty clever way to get the "DD"'s work like that. When you're first approached to come up with these logos, do you just do a brainstorm and try out many ideas, or are you told by editors that it has to follow a certain look etc.
Mederos: Daredevil END OF DAYS was a fun logo. I remember Klaus Janson who not only is a genius in the comics industry but also one of my mentors, had a lot of input into that logo. If I can remember correctly, Klaus had left me a little post-it on my desk with a few sketches and ideas of END OF DAYS sitting on top of the DAREDEVIL logo in various ways. I played around a bit with the placement of the text, some of the quick mock ups had the tag line following the curvature of the Daredevil logo on one line and a few other drafts that I never showed any one. I noticed END and DAYS both ended and began with D so I worked the text around so that the the two D's could match the symbol on his chest. Everyone was on board with it, including Senior Editor Steve Wacker. I was just so thrilled to get the opportunity to work with Klaus.
Mithra: What kind of tools are you using for the graphic design?
Mederos: As far as tools go, I still like to take out pencil and paper to workout a few ideas first. For me it's best to draw them all out quickly before I forget. Then the basic tools are Adobe Illustrator and Photoshop.
Mithra: With DD's 50th anniversary, you've made some badges to help celebrate. Can you describe some of the ideas you had here and why you ultimately came up with the badge with the Quesada illustration (for example)?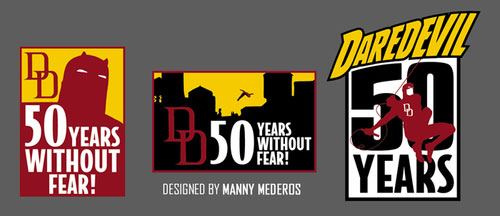 Mederos: With the anniversary badges they tend to stay pretty formulaic (something closer to the third DD badge I made). The standard is a large number with "years" underneath and the logo attached to it. With DD I wanted to make something different, I wanted the image to say it all. First thing I thought of was the color scheme. I wanted to incorporate yellow as a little reminder to the original DD costume and then started to look up some iconic images of Daredevil. Joe's stood out to me as did Michael Lark's. When designing these badges you have to keep in mind that they are going to be placed on the covers, so they can't occupy too much space, so I think thats what also led to the Joe DD badge. I wanted to add a little tag line too so I came up with 50 YEARS WITHOUT FEAR. It's a little cheesy, but I thought it said a lot about Matt Murdock and was a nice way to bring up the tag line MAN WITHOUT FEAR.
Mithra: For the new series, there's a slight change in the curvature (if that's the correct term) and you've added little horns to the second "D". What were some of the other ideas you had for this change, and when was the final logo determined? Seems like it was recent change, as previous previews for DD#1 had the old logo.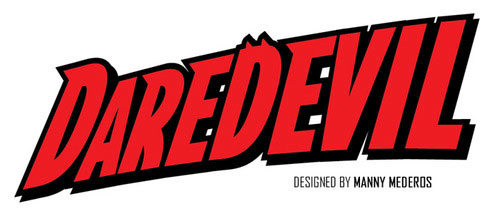 Mederos: I work on all the Daredevil covers so originally I had mocked up the All-New Marvel Now DD #1 cover with the original logo and thats the one they went with for previews. I wasn't aware they were going to design a new logo for the All-New Marvel Now series and was told a new logo had been placed in the logo library and that another designer had made it. It was basically the original Daredevil logo, but with the "V" extending out. I think if you backtrack you me be able to find it in one of our ads in the comics. When I saw it, immediately I questioned the design, because the V was so intrusive, I felt like it was reading as DaredEVIL. Normally I don't like to step in on another designer's choices, but because this was Daredevil and I really love working with the team, I asked my editor if I could take a stab at it since we still had some time before it went to print.
So first I asked what the idea was behind the "V" being so large, the reason was they wanted it to have that devil horns look. I didn't think this was the right way to approach it, plus this was a #1, a new start for DD and we were still using the same Daredevil logo all the way from the Bendis run. I wanted this logo to scream Waid and Samnee, they were really bringing something new to the Daredevil series and it was only fair to give them their own logo. Anyways, it is called ALL-NEW! So I started playing with new text treatments. I still wanted to keep the vibe of the Older Daredevil logo so that's why I kept the curved arch. And the pointed D,R, and E's made their way in, but the letters now had bounce to it. Just like Samnee's lines. And a boldness to it, just like Waid's stories. Since the original idea was to have horns in the logo, I placed them right in the center D to balance it all out. The editors were really pleased with my version and said go for it!
Mithra: Last question... what other titles have you worked on at Marvel and what have been some of the most difficult to design?
Mederos: In the bullpen we are assigned Editors to work with, since I've been at Marvel my team has been Tom Brevoort so that includes most of the Avengers titles, Mighty Avengers, New Avengers, Uncanny Avengers, Captain America, Fantastic Four (the last run), and many of the Marvel Big events like Avengers vs. X-Men, Infinity, and coming up soon Original Sin. I'm also teamed up with the Spidey Office which used to be Steve Wacker and now is Nick Loweand those books include most of the Spider-man books, Superior Spider-man, Daredevil, Guardians of the Galaxy, Nova, Fearless Defenders, Black Widow and a few more.
Hmmm... it's a little tough to pick out the most difficult design, it varies because some you can get on the very first try and others can be a process of going back and forth until you get it right.
--------------------------------------------------------------------------------------------
(c) 2014 Kuljit Mithra & Manny Mederos
Daredevil:The Man Without Fear
http://www.manwithoutfear.com
--------------------------------------------------------------------------------------------

---
Read more interviews!