Interview with Chloë Levine
(September 2017)
Actress Chloë Levine portrayed Lexi Raymond in Marvel's THE DEFENDERS, and here we discuss her role and working with Krysten Ritter and Charlie Cox.
Many thanks to her for the interview, and also thanks to Carolyn Anthony for her help.
[SPOILERS FOR DEFENDERS BELOW!]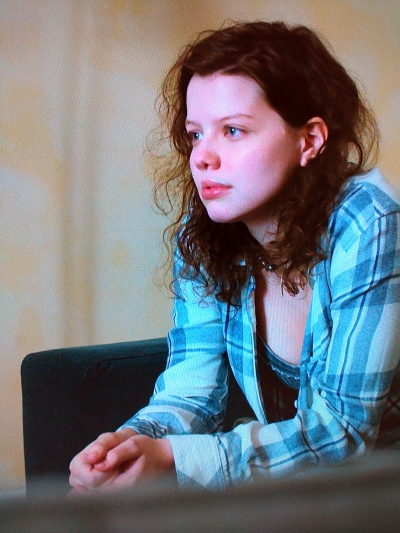 Kuljit Mithra: Thank you for this opportunity. When I first saw you in THE DEFENDERS, I knew I had seen you before, and I realized it was from the trailer for THE TRANSFIGURATION. I was hoping to see the movie on Netflix, but it looks like it's not on Netflix Canada yet. Aside from the promotion for the movie, how has your year been so far with all these TV and movie projects?
Chloë Levine: Thank you for having me! This year has been a dream so far. A bunch of things that I've been working on have been coming out recently and it is so exciting to watch projects come together like that.
Mithra: Can you briefly talk about your background and how you got into acting?
Levine: I come from a family of artists. My older sister was acting way before me, she's eight years older than me, and I would always be in her managers office when I was little. When I was about six I walked into the manager's office and asked her when it would be my turn! So, that's where it all started!
Mithra: Something I always ask actors who have appeared on the Netflix & Marvel shows is the secrecy behind the auditions... can you describe what that experience was like for you to get the role as Lexi Raymond?
Levine: Yeah, for Lexi it was super-secret. I remember I got the sides a few days before and the character name was different, and It was just a few lines of dialogue, no real description or anything. So, when you audition for something like that you know it's something really cool. When I found out I got the part, I was really overjoyed. I've been a big fan of Marvel since I was a little kid and it was absolutely awesome to think that I was going to be part of the Marvel saga.
Mithra: A lot of your scenes are with Michelle Federer, Krysten Ritter, and later on with Charlie Cox. What was the most valuable thing you learned from working with them?
Levine: I was super lucky to be working with such pros like, Michelle Federer, Krysten Ritter, and Charlie Cox. They are all such dreams to work with, and it was a real blast.
Mithra: One of things I felt for your character was that Lexi saw aspects of herself in Jessica Jones, and vice versa. You agree with that?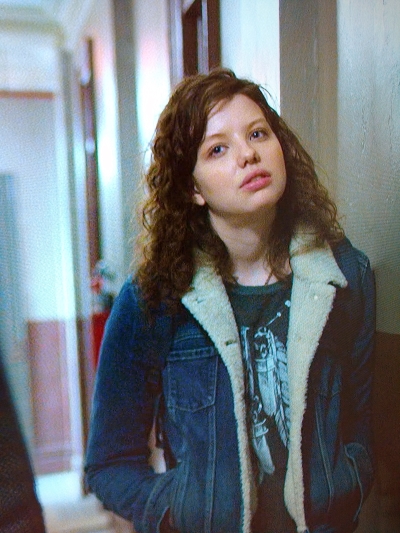 Levine: Definitely! I think that one of the things that makes Lexi so interesting is the parallels between her and Jessica Jones.
Mithra: Had you watched any of the other Marvel shows? Have you had a chance to watch all of DEFENDERS yet?
Levine: I did! I was very into all of the Marvel shows when they came out. And yes, when The Defenders came out I binged watched it will my Mom and Grandma, it was pretty great. :)
Mithra: Obviously you can't tell me if you'll be back for any potential future Netflix Marvel shows, but would you be interested in exploring Lexi's character further? Seems like they could do some things to show Jessica Jones has a heart sometimes. :)
Levine: I would love to explore Lexi's character further, I think that her situation is not only really interesting to watch but that she's relatable to a lot of people, in similar ways that Jessica Jones is. Haha yes, for that matter, I think that Lexi would be a really incredible way to show a softer side of Jessica Jones that isn't normally shown.
Mithra: And final question... seems like 2017 has been busy for you, and as an actor, busy is good... what are you working on for the rest of the year that you can talk about, and what's ahead for 2018? Thanks for your time, I appreciate it.
Levine: Aw you're so Welcome. Right now, I am working on a movie called "Adam", we just started filming and I am really excited to be a part of it. I have an episode of "High Maintenance" for HBO airing soon, which was incredible to work on (especially because I am such a fan of the show); and a few months ago, I finished up filming a horror movie called "The Ranger" which was really dear to my heart, and I think will be something very special. I also just wrapped on a film called "Ask for Jane" which is based around a true organization in the 1970's that helped women secretly get abortions, and last year I shot "Savage Youth" which is also based on a true story about an obscene murder that happened in a small town outside of Chicago and a film called "No Alternative" that deals with mental issues. These should be coming out soon, and I'm so excited to share them!
--------------------------------------------------------------------------------------------
(c) 2017 Kuljit Mithra & Chloë Levine
Daredevil:The Man Without Fear
http://www.manwithoutfear.com
--------------------------------------------------------------------------------------------

---
Read more interviews!