Interview with Susan Varon
(May 2017)
Actress Susan Varon has appeared in the first two seasons of Marvel's Daredevil on Netflix as Josie, the owner of Josie's Bar. Here we talk about working on the series and filming in the real location in Brooklyn. Many thanks to Ms. Varon for this opportunity.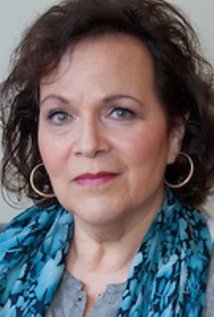 Kuljit Mithra: You've got an impressive resume of work, from network shows like EVERYBODY LOVES RAYMOND, HBO shows like BOARDWALK EMPIRE, movies (GOODFELLAS), and of course, DAREDEVIL on Netflix. With such a wide range of projects, in your mind is a Netflix show different for you in any way in terms of production, scheduling, etc.?
Susan Varon: Every job is different and besides doing the role-- of course whether it's a Network, Cable or one of all the new frontiers-- of which Netflix is the forerunner-- have an impact on how you may feel. I was excited to be doing a Netflix show as well as the obvious honor of being a part of Marvel's DAREDEVIL. The filming was as unique as the subject matter-- the vision of the creative team was absolute.
Mithra: Coincidentally, I've interviewed another "Josie", namely Josie DiVincenzo who played the character in the 2003 movie with Ben Affleck. She mentioned for her casting call that they were looking for a "tough, no-nonsense" woman, and she had to wear lots of leather, as her bar in the movie was mostly filled with bikers. What was the Netflix show looking for, as "your" bar was not as seedy as the movie bar, and the clientele was definitely not as dangerous (maybe the water was dangerous)?
Varon: Ha-- you never know what may ultimately be dangerous... They were looking for a tough, seen it all woman and they had an image in mind.
Mithra: How was the whole audition process? Did you even know you were auditioning for DAREDEVIL at first? Did you even know who Josie was from the comics?
Varon: I did NOT know, at first, what I was being considered for-- there was very strict confidentiality. I have always been a huge comic book fan, I'd steal all my older brother's comics & I knew them by heart. I certainly knew the Daredevil character & the comic. I knew of Josie & Josie's Bar. I love inhabiting the character Marvel lovingly handed to me. Her look is very specific and was created by a great team.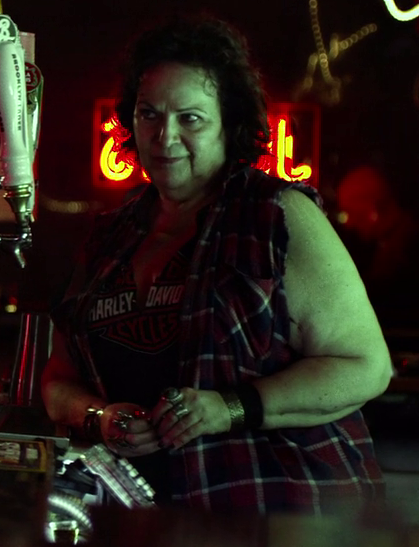 Mithra: I believe "Josie's Bar" is a place called Turkey's Nest Tavern in Brooklyn. Tell me about filming there, the owners etc. I really enjoyed how they filmed scenes there with you and the rest of the cast... it really felt like that was your place and that was a home away from home for Nelson and Murdock (and Page).
Varon: The bar we film at is real and it's everything you'd think of in an old neighborhood bar. Dark, sticky, eccentric. Yes, it is a home away from home-- some of the extra's new to the set usually think I'm not an actress and am the bartender-- it's hard to tell what's real or not & it's part of the atmosphere which I love. Fun fact-- inexplicably--it torrentially pours almost every time we've ended up shooting.
Mithra: The reason I brought up how I felt like it was your bar, is because that one scene in Season 2 where Nelson and Murdock close their tab... I can see the sadness while also acting like you're not bothered by it. My compliments to you. How about for you, did it feel like your chapter on this show was also ending (hopefully you are back in coming seasons!).
Varon: Thank you for that-- you described perfectly what we were going for. I personally felt very sad-- I felt like we were just at the tip of the iceberg-- hopefully there'll be lots more visits to the bar. But I don't know anything at all about future filming plans.
Mithra: One thing I've noticed from talking with other actors and people involved on this show, is how much they enjoyed it and working with their peers. How was it working with Charlie Cox, Elden Henson, Deborah Ann Woll and the other actors who ventured into Josie's Bar?
Varon: It continues to be a deep, real pleasure to work with the three of them. Watching them rehearse is like taking a master class in acting. And they are pros who care about their characters & the show. They really set the bar high-- and everyone wants to do as good a job as they can. The other "regulars" in the bar are like old friends-- it's hard work & great fun at the same time.
Mithra: Last question... aside from me hoping you are back for more seasons, what are some of your upcoming projects that you can talk about? Thank you for taking the time to speak with me, I appreciate it.
Varon: Future projects-- I'm working on some singing, a one woman show & there are a few things I'm waiting to hear about. More tv & film work, I certainly hope! All the best to you!
--------------------------------------------------------------------------------------------
(c) 2017 Kuljit Mithra & Susan Varon
Daredevil:The Man Without Fear
http://www.manwithoutfear.com
--------------------------------------------------------------------------------------------

---
Read more interviews!