Interview With Lauren Mary Kim
(May 2016)
(Some spoilers ahead if you haven't watched Daredevil Season 2!)
Lauren Mary Kim is an actor and stunt artist who doubled for Elodie Yung in the second season of Daredevil on Netflix. Here we talk about her background and working on the show. Make sure to check out her brand-new demo reel that showcases all her work as Elektra, at the end of the interview. Many thanks for this opportunity!
Photo credits from Lauren Mary Kim's IMDB and Instagram.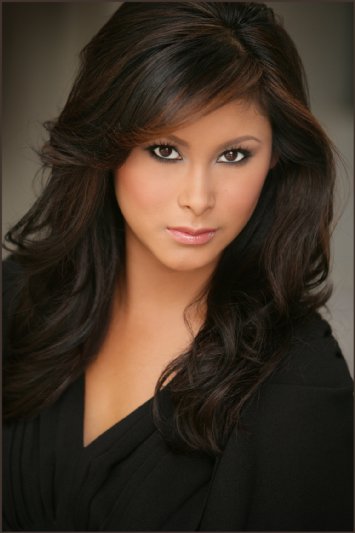 Kuljit Mithra: I was reading on your background in dance and how you eventually found your way into the "stunt world" and martial arts. I've got two kids who are into dance and Taekwondo (respectively), but you've made me realize there is a commonality between them that people might not expect. I was wondering if you'd briefly talk about how your interest in dance eventually morphed to all your current professional and personal interests.
Lauren Mary Kim: My parents enrolled me in dance & acrobatic lessons as a child and then I danced professionally in college; former Laker girl and danced for several different artists. Being in the dance industry at a young age, I realized I didn't quite fit in and it ultimately didn't make me happy. So I transitioned into stunts and trained in martial arts. Because of my dance background I was able to learn fight choreo and forms faster and I already had the flexibility from dance. Fights are like a dance and you feed off your fight partner(s) energy, just like in dance, but you feed off the people you are dancing with or next to. The rhythm and beats are important and very similar. There are full beats and half beats and you can play with different rhythms, kinda like music. Dance can also help with the flow of a fight scene. So it helps to have a dance background for sure, but being a martial artist is definitely a key in looking powerful and realistic in fights.
Mithra: Can you describe what an audition process is like for a stunt double? I expect it is much different than an actor, who reads lines for a casting director... do you perform routines for the stunt coordinator, or is it more based on your previous experience with that coordinator, or a demo reel? How was this process for Daredevil Season 2?
Kim: Landing the job as a stunt double varies from job to job or stunt coordinator to coordinator. Some people book jobs by having previous relationships with certain stunt coordinators, and some is based on your work reputation, and some is based on a reel or specific skill set. For Daredevil season 2, I had already worked for Philip Silvera and Robert Gutierrez but I still had to submit a submission video. I also got recommended by Chris Brewster, who is the Daredevil Stunt double. I had 1-2 weeks to submit a video and once I found out I booked the job I was flown out to NYC in 4-5 days. So it all happened pretty quick.
Mithra: In preparation for the role, Elodie Yung has mentioned she read many of Elektra's comics, including the classic ELEKTRA: ASSASSIN. Were you familiar with Elektra beforehand, and have you read any of the comics for research?
Kim: I read some of the Elektra comic books while training and shooting. It was constant research while in NYC. And it was fun research! I ended up getting hooked on a lot of Marvel comic books. Just finished reading the Immortal Iron Fist!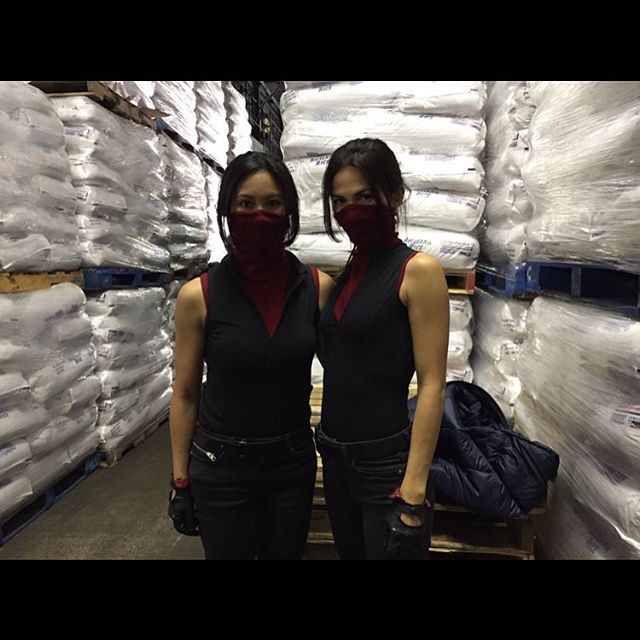 Mithra: Aside from the comics research, was there anything you had to research in terms of fight style, or even working with the sais? Is there even a "fight style" for Elektra?
Kim: Elektra is well rounded in several martial arts. So it was fun to incorporate lots of different styles for her. I have a TaeKwonDo, wushu, silat, fma, jkd background and starting to dabble in capoeira. I researched YouTube videos on different ways to use the sai's and learned some hand and finger rolls. I looked up some silat tekpi techniques as well.
Mithra: Yung is a black belt in karate, which I assume helped with many of the fight sequences... does it help you at all when the actor you are doubling for has experience like this... I don't want to say it's "easier" for you, but does it make the flow easier, and does it push you and the team to try different moves and sequences because she can do it as well?
Kim: Teaching Elodie the choreo was easy because she gets things faster than most actors because of her martial arts background. She is very good and dedicated so it was a blessing to work with her. She not only does the moves correctly but she also has the emotion that comes along with the character. Elodie really embodies Elektra.
Mithra: Was that mask uncomfortable to wear? Seems like it would be really difficult to breathe, especially while doing so many demanding stunts.
Kim: It was kinda like a oxygen deprivation mask. [laughs] At times it was difficult to breath in but over time I actually got used to it and it helped cover my face for shots so I liked that! Night shots with the mask on actually kept me warmer... I guess breathing in your own air keeps you warm... I don't know if that's true.
Mithra: Marvel is known for its secrecy surrounding the shows and movies... so what was it like keeping the costumes a secret and some of the filming... for example, the rooftop ninja fight had some grainy images leaked onto the internet, but for the most part a lot of surprises remained a surprise unless you really went looking for paparazzi pics. Could you even tell people you were working on the show?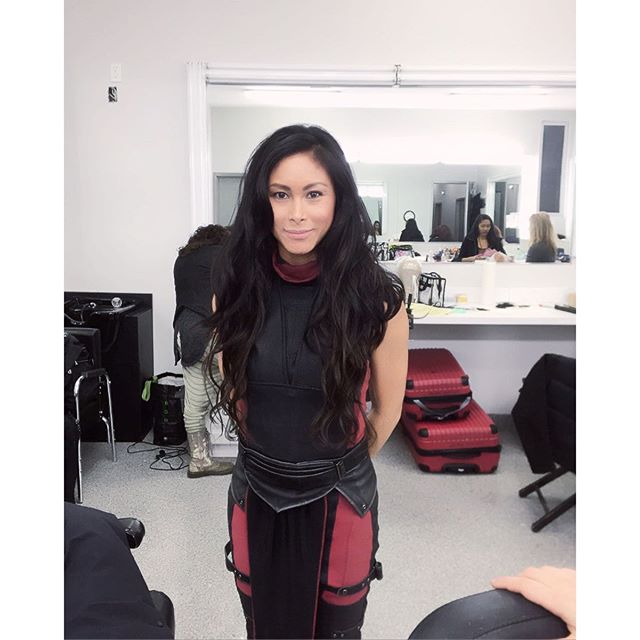 Kim: When we were in phase 2 of the Elektra costume I just wore a regular coat when I went to set because phase 2 was just black jeans with boots so it looked like normal clothes that anyone would wear. Heck I wear black jeans and boots almost everyday in my normal life. Phase 3 was more secretive as production bought me a long coat to hide everything. While working on DD, I would never post anything on social media regarding the project. I actually still haven't seen those paparazzi pics they took while we shot on the roof. Luckily for us my outfit is black and hard to see far away.
Mithra: I believe you've worked with Chris Brewster before so just wanted to get your comments on working with him again, and how it was working with Phil Silvera and the stunt team on the show. Just something I've noticed is how much everyone on this show seemed to have really enjoyed their experience... was it really so different than other projects you've worked on?
Kim: Yes, I have worked with Brewster many times and he has been a friend for over 10 years now. It was like old times working with Brew. He likes to mess with me on set a lot like a brother. But he always helps with great suggestions and tips so he was a lifesaver at times. The whole stunt team worked so hard and every one on the team really cared about the show, the cause, and the result. Marvel/Netflix expected the fights to be better than first season and to be feature film quality scenes... I believed we delivered but we delivered in a quarter of the time a feature film fight would take, sometimes we did it in 2-5 days versus a 1-2 months that feature films gets. We hit the ground running from eps1-13, it was non stop!
Mithra: Last question... I assume if/when Elektra comes back in whatever show down the line, you'll be involved, but what shows/movies are coming up for you (that you can talk about, of course) and do any of them involve you learning a new weapon or technique? Thanks for the interview!
Kim
: I also double Jadyn Wong on Scorpion so I worked on some of those episodes when I wasn't on DD. I also had the pleasure of doubling Ming-Na Wen for a couple episodes on Agents of Shield even though I am not her normal double. There are a couple features coming up where I have acting/stunt roles but not sure if we can release some info yet. Sorry I can't give more info... but stay up to date with me and follow me on
Instagram
and
Twitter
@laurenmarykim
Here's a brand new demo reel from Lauren Mary Kim! It showcases all her stunt work on Daredevil Season 2 while doubling for Elodie Yung as Elektra!
--------------------------------------------------------------------------------------------
(c) 2016 Kuljit Mithra & Lauren Mary Kim
Daredevil:The Man Without Fear
http://www.manwithoutfear.com
--------------------------------------------------------------------------------------------

---
Read more interviews!