Interview with Chip Zdarsky
(November 2019)
The current writer of DAREDEVIL talks about his initial plan on the title, what Matt Murdock and Wilson Fisk have in common, and how far he's planned out his story. Many thanks to him for the interview and hope you all enjoy it!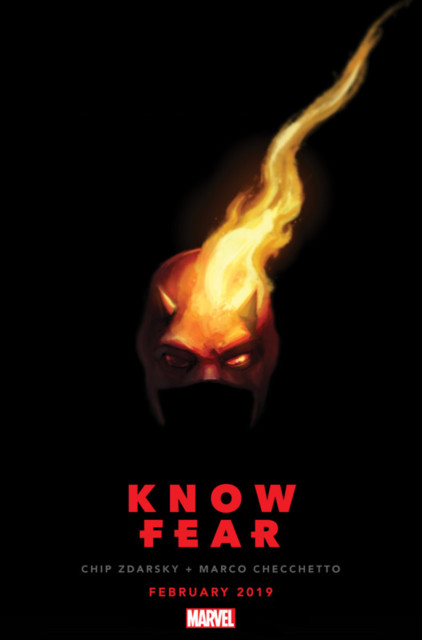 Kuljit Mithra: We're closing in on just about a year (November 2018) since you, Marco Checchetto and Sunny Gho were announced as the next team on the new volume of DAREDEVIL. At the time, the MAN WITHOUT FEAR series by Jed MacKay had also just been announced and Charles Soule & Phil Noto's "Death of Daredevil" was coming to an end. Can you briefly talk about the timeline of your new assignment, the coordination of where Soule was leaving the character, what MacKay's series would do to bridge to yours, and what you wanted to do with the new series?
Chip Zdarsky: A bit of it is pretty fuzzy now, but I got the call from CB around … March? April of 2018? He said Charles was planning the end of his run and that editorial knew I loved Daredevil, so was I interested in taking over? I tentatively said yes, because I wanted to make sure the idea I had for the book was good enough. Then I went off and re-read a ton of issues, formulating a plan. I really wanted to give as realistic a take as I could to the character, showing the repercussions of his choices. Once I had a proper outline, it got passed around for approval. In the meantime, I went to New York and met with my editors, Devin and Lauren, and Charles, so we could tell each other our plans and see how we could make Charles' end and my beginning the best they could be.
I got approval and pitched it to the room at a Marvel retreat. I don't normally get nervous, but when you're pitching Daredevil to Joe Quesada, Mark Waid and Charles Soule, it's a little surreal. As I talked it through, I could tell everyone was a little surprised that I went so dark and gritty. There were debates over some of my choices, and that's kind of when I knew I was on the right track because everyone seemed interested and engaged.
After that, I started writing. Marvel had sent me maybe a dozen choices for artist, but none of them felt right for where I wanted to take the book. Once Marco's name came up, I knew he was the perfect artist for it. Things happened fast after that. Marvel let me design the logo and credits page, and we announced with the simple poster image I made up.
Jed was brought in to tackle the MAN WITHOUT FEAR mini, which still gave readers some Daredevil while we were ramping up for our launch. I was super impressed with the title, considering all the restrictions Jed had to write around! And now he's writing the best-selling BLACK CAT book and tossing gold coins at me from his throne.
I was incredibly excited for issue one of our run to come out. Marco and Sunny were amazing and I was over the moon with the final product. As our deadline got closer, we had an unexpected but amazing wrinkle. Our page count went from 20 to 30 pages. Since the issue was already drawn, I was able to expand the story through flashback scenes, which ended up being my favourite parts of the issue. Those took up six pages, so we were left with four more. I volunteered to write and illustrate a backup, which is where "Sense of Self" came from.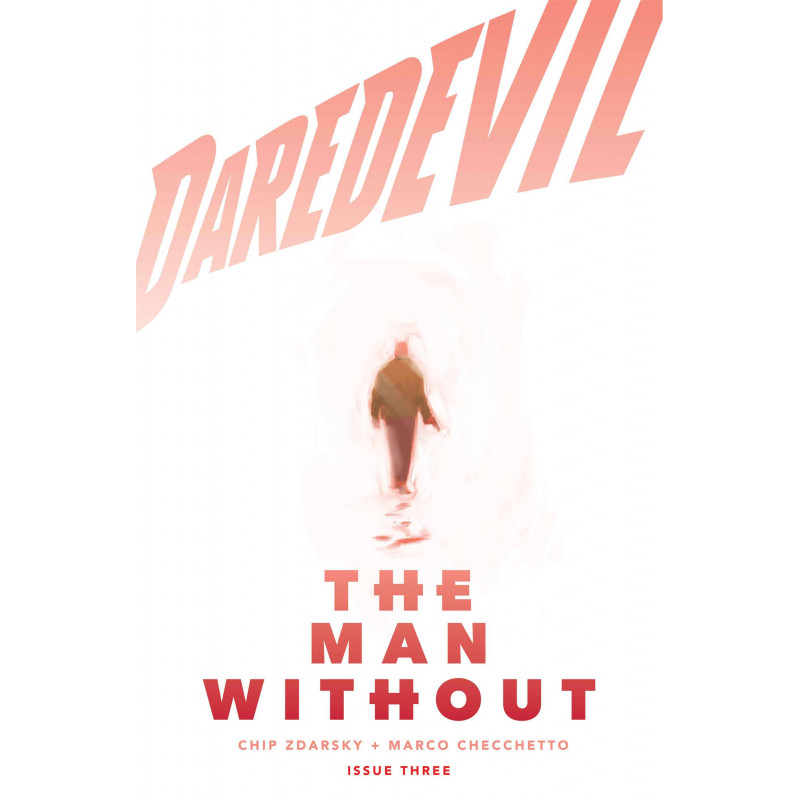 Mithra: Because of the nature of Previews and solicitations months in advance, a lot of the early issues were just described as "Classified" and even the covers by Julian Tedesco Totino were not shown. You did some design work on promotions and even changed up the logo... do you still wish Marvel would have continued this way, because I get the impression you wanted readers to go into the series without knowing what to expect?
Zdarsky: Yeah, I'm not a fan of solicitation copy or previews. They either give too much away, or falsely hype a thing. And funny enough, I actually didn't mean for Marvel to "classify" the covers! I just wanted the text to be hidden. But I think there were crossed wires and the first three issues ran in previews with no text and no covers. I would be wildly happy if we just ran the covers and a story title, but that's just me.
Mithra: Matt Murdock has had to do some healing... physically because of his injuries, but mentally he's realizing the pain he's caused himself and others, and the violence that seems to follow him as Daredevil. He became a "man with fear". The famous line from Born Again is "...that a man without hope is a man without fear"... so, does Matt Murdock have "hope" now?
Zdarsky: I don't know about "hope," but he's on the path toward understanding, which can lead to hope. Knowing yourself, knowing others, knowing your role in life. His faith is a big part of that, finding some degree of certainty in God's plan for him.
Mithra: Do you consider Matt Murdock and Daredevil to be two "characters"?
Zdarsky: No. I think there's a core to Matt that runs through his life as Matt Murdock and as Daredevil. But a mask can be freeing in good ways and terrible ways. History shows that. So, if anything, the Daredevil persona allows Matt to be maybe a darker version of himself, a release of his id. And he needs to be vigilant in order to not allow that darker version to take over.
Mithra: One thing I've enjoyed about this run is the parallel of Matt and Fisk... both are trying to be different (good, even), trying to be accepted, but ultimately "you can't change who you are"... you agree with my take on that? Especially with what just happened in issue #12 with Fisk, it really showed this for me.
Zdarsky: I think both of their paths are about recognizing that you can change, but are you willing to put in the work to make that happen? We all have so much damage and scar tissue and pieces that need unravelling before we can move on, y'know? The jury's not out yet on Matt and Fisk's journeys toward change.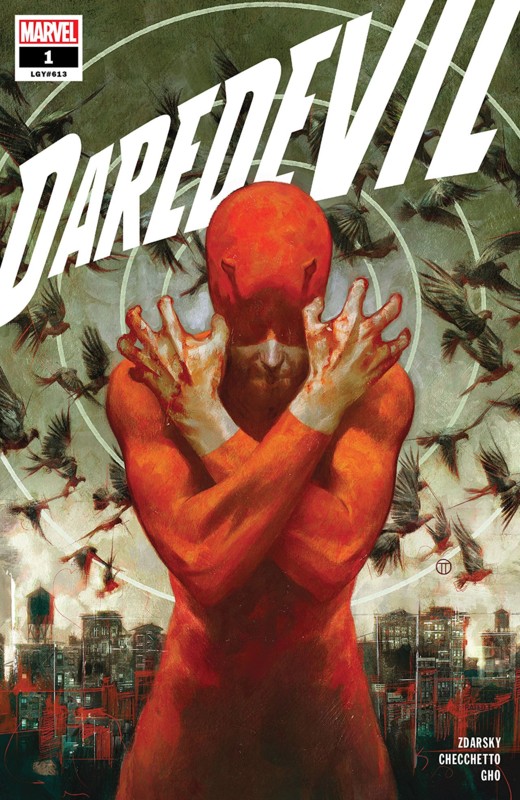 Mithra: Cole North is one of the new characters you've introduced in this run, and I was thinking how he also could be included in what we discussed in the last question. However, he doesn't want to change his ways but is being forced to change. Agree with that?
Zdarsky: Deep down I'm sure Cole knows his outlook isn't healthy, and some small part of him knows he needs to change. But, yeah, outside forces are bringing all that to the fore.
Matt, Fisk and Cole are all variations of men who're trapped in their patterns.
Mithra: There's quite a bit of influence from the DAREDEVIL show in the comic (especially the use of the black costume)... what did you think of the show? Was it always planned to use this "year one" costume or was it a happy choice to make once you saw where your story was going?
Zdarsky: Weirdly, none of it has been conscious! But I do love the show, so I'm certain it's seeped into my subconscious. My only real rule with taking over a book is to make it as new reader friendly as I can, so that meant it starting a little more "back-to-basics," which is also how the show operates, so that helped with similarities.
I enjoyed the show a lot! And, honestly, once I knew I'd have Matt dipping his toes back into vigilanteism while not being Daredevil, it was kind of hard to avoid the MWOF costume!
Mithra: You've got to work with some talented artists like Marco Checchetto, Sunny Gho, Lalit Kumar Sharma, Jay Leisten, Jorge Fornes, Jordie Bellaire, Nolan Woodard... Do you have much contact with them for the collaborations?
Zdarsky: Yeah! I'm, uh, not the easiest to work with. I'll be the first to admit that! I think because I have an art background I tend to give more notes than most writers when the art comes in. It always comes from a good place, to make the book as great as it can be! But I imagine when an artist's email chimes and they see the name "Chip Zdarsky," they enact a heavy sigh before opening it.
Mithra: Finally, obviously I can't ask you any spoiler-filled questions about what's coming up, so can you say what issue of DD you are currently writing and how far ahead you have outlined? Thanks for your time, I appreciate it.
Zdarsky: I'm writing issue 15 and 18 right now. Fifteen for Marco and eighteen for Jorge! Right now I have a tight structure until issue 20, which is just bonkers, and I have a rough outline for 20-25, with an even rougher outline for 25-30! All I can say is that we're going to a place that we have to go.
--------------------------------------------------------------------------------------------
(c) 2019 Kuljit Mithra & Chip Zdarsky
Daredevil:The Man Without Fear
http://www.manwithoutfear.com
--------------------------------------------------------------------------------------------

Previews of the DAREDEVIL issues so far in Volume 6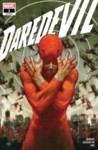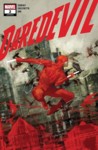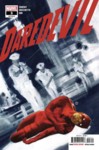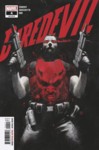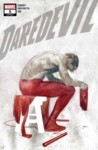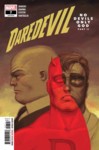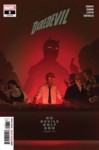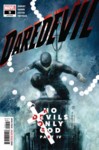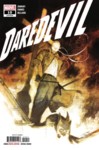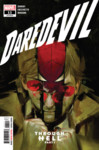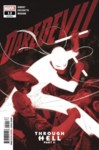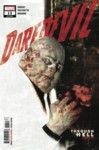 ---
Read more interviews!