Daredevil #82

| | |
| --- | --- |
| Title : | "The Devil in Cell-Block D: Part One" |
| Writer: | Ed Brubaker |
| Penciler: | Michael Lark |
| Inker: | Michael Lark |
| Cover: | Tommy Lee Edwards/Steve McNiven |
| Colours: | Frank D'Armata |
| Letters: | Virtual Calligraphy's Cory Petit |
| Editor: | Warren Simons |
| Assistant Editor: | None |
| Date: | Apr.2006 |
| Cover Price: | 2.99,4.25 |

Characters

Becky Blake
Ben Urich
Black Tarantula
Corrections Officer Gruber
Corrections Officer McHenry
Dakota North
Daredevil
FBI Director Leland Drummond
Foggy Nelson
Hammerhead
Kingpin
Matt Murdock
Warden Cole


| | |
| --- | --- |
| Daredevil #81 | Daredevil #83 |

Steve McNiven
Volume 1 - None
Volume 2 - 82
Volume 3 - None
Volume 4 - None
Volume 5 - None
Volume 6 - None


Tommy Lee Edwards
Volume 1 - 375
Volume 2 - 82 83 84 85
Volume 3 - None
Volume 4 - None
Volume 5 - None
Volume 6 - None

Issue Summary
Summary by Sam Johnson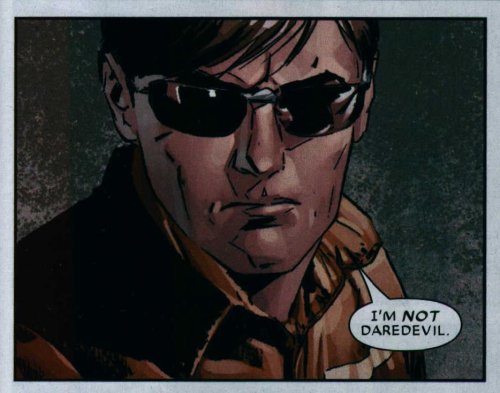 The first issue of the post Bendis/Maleev/Marvel Knights era begins in traditional style, with Daredevil chasing down some Hell's Kitchen hoods. Just as two local kids capture the fight on film we cut to Matt Murdock in his Protected Custody cell in Rykers, as he receives news of the faux-Daredevil from the Daily Bugle brought to him by CO Gruber.
In the Nelson & Murdock law offices, Ben Urich questions Foggy's involvement in the appearance of this new DD. Foggy swears his innocence, but the two part on less-than-friendly terms.
But as soon as Ben leaves, Foggy is met on the offices' roof by the faux-Daredevil. He seems to want to talk, but Foggy stops him: "I do not want to hear, okay? I don't advocate your activities and I am not affiliated with you."
The next morning Rykers' Warden Cole meets the FBI director responsible for Matt's incarceration at JFK International Airport. The FBI demands Matt be placed in the same cell as Wilson Fisk, the Kingpin, clearly in the hope of getting them both off their hands. Warden Cole's protestations are cut short when the director is called by Senator Engel.
Foggy is woken by his assistant lawyer Becky Blake and new Private Investigator Dakota North after sleeping overnight in the office. Dakota informs him the Bureau is challenging Matt's right to Protected Custody, and Foggy decides: "We've got to get in to see Matt."
Meanwhile, Matt meets the prison gang leader Carlos LaMuerto, the Black Tarantula, in the prison's infirmary. LaMuerto gives Matt his first "job offer", his skills being too valuable to waste with a prison riot inevitable with Daredevil and Kingpin both locked up. Matt declines: "You, the papers and the feds have all got it wrong...I'm just a lawyer."
But instead of being led back to his cell, Matt is taken on a detour by CO McHenry, to a stand-off with Hammerhead's gang. As McHenry is taken out, Hammerhead orders his gang to attack.
Matt manages to defeat the gang, and despite claiming McHenry walked him into a gang fight is placed in solitary confinement. As Matt wonders whether that was Hammerhead's plan, Foggy arrives. Their visit ends as Foggy tells Matt: "I swear to you, right now, I will do whatever I have to. I will not let them do this to you."
Back in his solitary cell, Matt senses something has changed. A note left in his cell points to one person - Foggy.
Foggy and Dakota North are led the wrong way through prison. As their guard slams a door shut, prisoners attack and stab Foggy. Stuck in his cell Matt focuses his hearing on the assault, appealing with no avail to CO Gruber. As Matt desperately listens to Foggy's heartbeat, the Kingpin begins to laugh...