Daredevil #90

| | |
| --- | --- |
| Title : | "The Devil Takes a Ride: Part Two" |
| Writer: | Ed Brubaker |
| Penciler: | Michael Lark/Stefano Gaudiano |
| Inker: | Michael Lark/Stefano Gaudiano |
| Cover: | Lee Bermejo |
| Colours: | Matt Hollingsworth |
| Letters: | Virtual Calligraphy's Cory Petit |
| Editor: | Warren Simons |
| Assistant Editor: | None |
| Date: | Dec.2006 |
| Cover Price: | 2.99,3.75 |

Characters

Alton Lennox
Daredevil
Foggy Nelson
Lily Lucca
Matador II
Matt Murdock
Pierre
Tombstone


| | |
| --- | --- |
| Daredevil #89 | Daredevil #91 |

Lee Bermejo
Volume 1 - None
Volume 2 - 88 89 90 91 92 93 100 114
Volume 3 - 8
Volume 4 - None
Volume 5 - 15
Volume 6 - None

Issue Summary
Summary by Samuel Johnson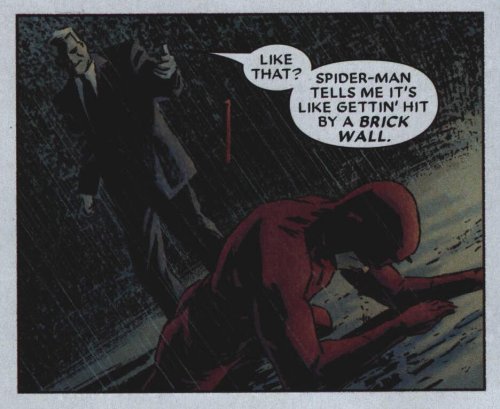 Sleeping fitfully on his train to Paris, Matt dreams of Lily, and thinks back to what happened yesterday in Sintra, Portugal, where Dakota North had traced Alton Lennox and Lily for him. Gaining entry to Tybold Lucca's mansion, Daredevil finds the place deserted -- save for Lennox's corpse, laying in his ransacked bedroom. Above the stench of death, DD notices Lily's scent on a cloth left in the room -- and also in the car driving away below.
Diving from the balcony, Daredevil dodges the car, only for Tombstone to emerge, attacking him.
"Someone paid you to kill Lennox, didn't they?!" shouts Daredevil.
"You're even stupider than you look," replies Tombstone, knocking Lily, who has dived out of the car to defend DD, aside and head butting Daredevil to the ground. Leaving DD, Tombstone drives off with Lily: "Lucky they want you alive, girl..."
Now in Paris, Daredevil goes about tracking down Tombstone and Lily through local bars and lowlifes. He finally gets a lead through an arms dealer, who is scheduled to meet Tombstone with a new gun tomorrow. Daredevil can tell he is lying about one detail, though - the meeting was arranged by the woman Tombstone is working for...
In their hotel room, Lily warns Tombstone not to manhandle her again, and to be ready when Murdock shows up. She enters her bedroom with the Matador. Kissing, the Matador is amazed that Lily's perfume reminds him of his mother.
"Easy with the questions, tiger," Lily replies. "A woman has to have her secrets, doesn't she?".