Daredevil #95

| | |
| --- | --- |
| Title : | "To The Devil, His Due: Part One" |
| Writer: | Ed Brubaker |
| Penciler: | Michael Lark/Stefano Gaudiano |
| Inker: | Michael Lark/Stefano Gaudiano |
| Cover: | Marko Djurdjevic |
| Colours: | Matt Hollingsworth |
| Letters: | Virtual Calligraphy's Chris Eliopoulos |
| Editor: | Warren Simons |
| Assistant Editor: | Alejandro Arbona |
| Date: | May 2007 |
| Cover Price: | 2.99,3.75 |

Characters

Becky Blake
Daredevil
Foggy Nelson
Gladiator I
Gus
Matt Murdock
Melvin Potter
Milla Donovan


| | |
| --- | --- |
| Daredevil #94 | Daredevil #96 |
Issue Summary
Summary by Samuel Johnson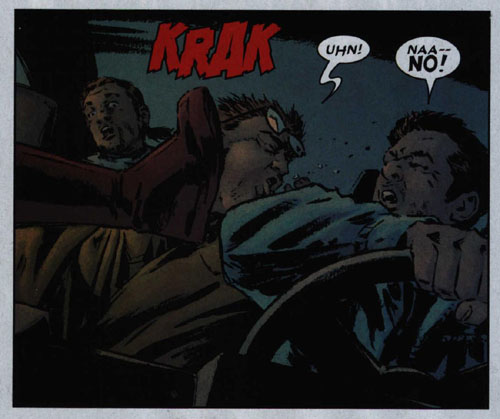 At Ryker's Island, Melvin Potter - the Gladiator - is found in the machine room with two murdered men. Meanwhile, Daredevil has returned to the streets of Hell's Kitchen to find them in chaos. Someone is pulling off a series of synchronised crimes, using a minor but noisy crime as a distraction. DD apprehends the perpetrators of the true crime, but the getaway driver kills himself and his compatriots rather than face DD or prison.
Matt is reluctant to represent Potter as he wants to avoid links with Daredevil, but Becky agrees to represent him as a favour to a law school friend and manages to persuade Matt and Foggy. They visit Potter at the criminally insane unit of Bellevue Hospital and although he admits the two victims bullied him, the former super-villain swears he is innocent, saying he believes someone knocked him out and framed him. From the evidence of his hyper-senses Matt believes him, and in the past Potter has always confessed to his inner "Gladiator's" crimes.
Meanwhile, Milla is followed to her first meeting with her new psychiatrist by a man reporting back to his boss...
Tormented while being led to his cell by a fellow inmate, Melvin snaps, attacking both the guard and inmate. Another guard enters and accosts Melvin, who says: "I didn't. I didn't do it."