Daredevil #88

| | |
| --- | --- |
| Title : | "The Secret Life of Foggy Nelson" |
| Writer: | Ed Brubaker |
| Penciler: | David Aja |
| Inker: | David Aja |
| Cover: | Lee Bermejo |
| Colours: | Frank D'Armata |
| Letters: | Virtual Calligraphy's Cory Petit |
| Editor: | Warren Simons |
| Assistant Editor: | None |
| Date: | Oct.2006 |
| Cover Price: | 2.99,3.75 |

Characters

Ben Urich
Bullseye
Dakota North
Daredevil
Elektra
FBI
Foggy Nelson
Karen Page
Mafia
Special Agent Pullman
Stilt-Man
The Hand
Unnamed Special Agent


| | |
| --- | --- |
| Daredevil #87 | Daredevil #89 |

David Aja
Volume 1 - None
Volume 2 - 88 111 116 500
Volume 3 - None
Volume 4 - None
Volume 5 - 600
Volume 6 - None


Lee Bermejo
Volume 1 - None
Volume 2 - 88 89 90 91 92 93 100 114
Volume 3 - 8
Volume 4 - None
Volume 5 - 15
Volume 6 - None

Issue Summary
Summary by Sam Johnson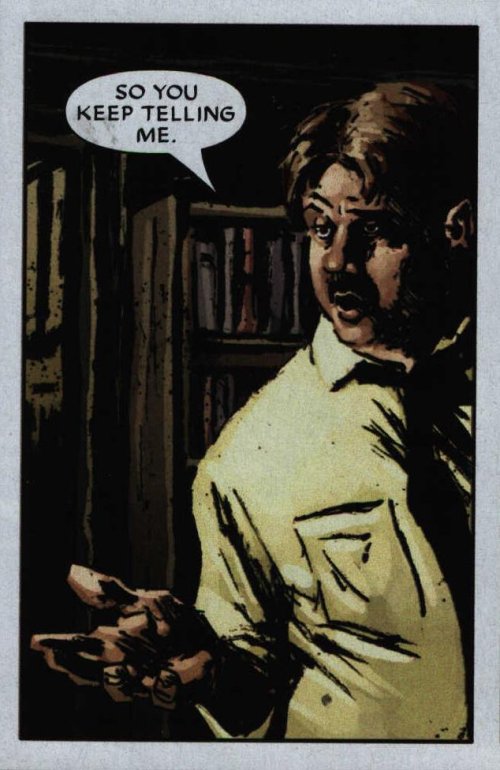 In his Manhattan home, Ben Urich receives another unintelligible phone call. In his new suburban house, Foggy's FBI agent tells him to hang up the phone: "You're in protective custody for a reason... and I don't intend to see you get killed on my watch." Foggy replies: "Who'd even know? My friends already think I'm dead." His agent counters: "You're safer that way... if [your friend] is running you're still a target."
Foggy regrets that he ever agreed to enrol in the witness protection program . but, reflecting through Daredevil's past exploits, he has never been brave. But now he decides: "I can't let you do this, Matt... you have to come back... or I'm going to have to run, too."
The next evening, two rogue FBI agents stake out the house, waiting for the word from their boss and their inside agent.
Foggy's agent is visited by Agent Pullman, with news of Matt's fleeing of the country. When his flight landed in London, Matt was not on the plane, although no passengers remember him getting up before takeoff. Listening from upstairs, Foggy finally decides to run.
Escaping out the window, he hails a suspiciously rare cab, driven by one of the rogue agents. He takes Foggy to a set-up outside of town, but Foggy is saved by ninjas, who attack and kill the gang. The ninja gives Foggy a message from his mistress, Elektra . "Go back to the FBI... you are safer there."
Back in protected custody, Foggy is again grilled on his new past. Answering to his new name, Everett Williams, he begs: "Come home, Matt, damn it... so we can fix this... so we can get back to the way things used to be... so I can be safe again... ".