Daredevil #89

| | |
| --- | --- |
| Title : | "The Devil Takes a Ride: Part One" |
| Writer: | Ed Brubaker |
| Penciler: | Michael Lark/Stefano Gaudiano |
| Inker: | Michael Lark/Stefano Gaudiano |
| Cover: | Lee Bermejo |
| Colours: | Matt Hollingsworth |
| Letters: | Virtual Calligraphy's Chris Eliopoulos |
| Editor: | Warren Simons |
| Assistant Editor: | None |
| Date: | Nov.2006 |
| Cover Price: | 2.99,3.75 |

Characters

Alton Lennox
Daredevil
Denis
Eva
Foggy Nelson
Karen Page
Lily Lucca
Matador II
Matt Murdock
Munoz
Paulo
Ray Mallory
Tybold Lucca


| | |
| --- | --- |
| Daredevil #88 | Daredevil #90 |

Lee Bermejo
Volume 1 - None
Volume 2 - 88 89 90 91 92 93 100 114
Volume 3 - 8
Volume 4 - None
Volume 5 - 15
Volume 6 - None

Issue Summary
Summary by Sam Johnson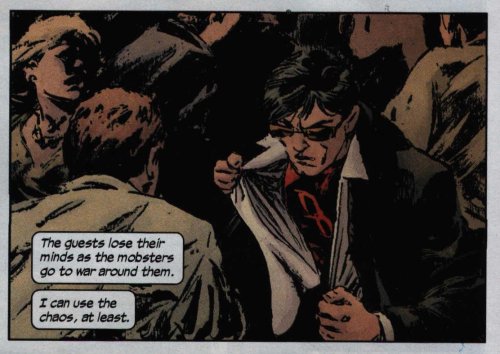 Foggy is showing Matt around the new Nelson & Murdock offices. Matt seems uneasy, asking: "What is that smell?" As Foggy reveals even Karen Page has returned as secretary, Matt wakes up in his Monaco hotel room, where he, under the name Ray Mallory, is tracing Alton Lennox. By gaining notoriety constantly winning at poker using his heightened senses, Matt hopes to be invited to one of Lennox's mob-boss client Tybold Lucca's parties.
Sure enough, leaving the casino a young woman hands Matt the invitation. As she leaves, he again notices that strange smell.
At the party, Matt overhears Lucca talking to Lennox -- But he then encounters the woman from the casino -- Lily, Lucca's daughter. She warns him to steer clear of Lennox, who is in Monaco to finalise a deal with Lucca's Spanish associates. Matt notices it is her familiar scent that makes him feel for her.
They walk towards the main attraction, where the Spanish guests' masked matador will fight lions in Lucca's ring. He is too young to be Daredevil's foe Manuel Eloganto, but Matt is still uneasy.
The lions killed, Lucca reveals the finalised deal -- Lily will marry Señor Munoz's son. As Lucca toasts the matador, he stabs Lucca through the chest. With the guests panicking, Matt changes to Daredevil!
The matador stops Lennox fleeing with Lily, but Daredevil tackles him to the floor. Daredevil shouts: "Run, Lennox ! Get Lily out of here!" Lennox freezes when Matt says his name, but escapes with Lily as DD and the matador fight. Their struggle is ended when armed guards arrive, firing at Daredevil. He swings after Lennox , who exits in a helicopter with Lily. Above the copter, DD hears Lily call: "...save me...", and realises that her scent reminds him of Karen.
Meanwhile, a shadowy figure on a life support machine is informed: "...it went down how you figured. You picked the perfect bait... and now we've got Murdock on the hook..."
Daredevil is bewildered: "...What is going on here?"