Daredevil #84

| | |
| --- | --- |
| Title : | "The Devil in Cell-Block D: Part Three" |
| Writer: | Ed Brubaker |
| Penciler: | Michael Lark/Stefano Gaudiano |
| Inker: | Michael Lark/Stefano Gaudiano |
| Cover: | Tommy Lee Edwards |
| Colours: | Frank D'Armata |
| Letters: | Virtual Calligraphy's Cory Petit |
| Editor: | Warren Simons |
| Assistant Editor: | None |
| Date: | June 2006 |
| Cover Price: | 2.99,4.25 |

Characters

Ben Urich
Bullseye
Corrections Officer Gruber
Corrections Officer McHenry
Corrections Officer Salazar
Dakota North
FBI Director Leland Drummond
Hammerhead
Ivan Murphy
J. Jonah Jameson
Kat Farrell
Kingpin
Matt Murdock
Punisher
Senator David Engel
Turk
Warden Cole


| | |
| --- | --- |
| Daredevil #83 | Daredevil #85 |

Tommy Lee Edwards
Volume 1 - 375
Volume 2 - 82 83 84 85
Volume 3 - None
Volume 4 - None
Volume 5 - None
Volume 6 - None

Issue Summary
Summary by Sam Johnson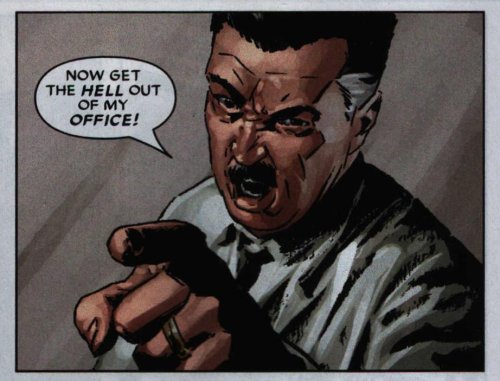 With his heightened senses, Matt Murdock can hear the prison fall silent as Bullseye returns to Rykers. His arrival is another step towards the impending riot which Matt himself has been helping along in his vendetta to find Foggy's killers. Even the guards are afraid of him, as CO Salazar tells Matt that CO McHenry has returned to work.
In the Daily Bugle offices, Ben Urich tries to steer J. Jonah Jameson away from his anti-Murdock front page with no results. However, he is called by Dakota North, who has a lead on their search for the new DD.
In a darkened corridor, Matt confronts CO McHenry over his involvement with Hammerhead. Listening to his heartbeat, Matt can tell he is not lying: "I just - I thought they just wanted to talk to you. No one said anything about a beat down."
That night, Matt, masked in red cloth from the laundry room, slips from his cell to Hammerhead's. Using a torturous move Daredevil usually avoids, Matt asks whether Hammerhead ordered the attack on Foggy. Hammerhead seems to be just a pawn, paid to attack Matt by a bagman on the outside, Murphy.
Meanwhile, Ben and Dakota meet their lead, Ivan Murphy. Murphy seems to be just an old drunk, but tells them Alton Lennox, a lawyer uptown knows all about Daredevil. As Murphy departs, Ben tells Dakota: "I think we're being set up... that old drunk used to work for the Kingpin."
In Warden Cole's office, he begs Matt to stop his campaign of violence, as he will have even more problems after today, as Kingpin returns to gen-pop. In his cell, Kingpin tells Turk to deliver a message for him to Murdock.
Meanwhile, in the lower east side of New York City the Punisher reads the Bugle's Murdock front page. Noticing a police car parked across the road, he casually kills a petty criminal. Revealing his skull logo to the cop he says: "I surrender. Take me away."