Daredevil #85

| | |
| --- | --- |
| Title : | "The Devil in Cell-Block D: Part Four" |
| Writer: | Ed Brubaker |
| Penciler: | Michael Lark/Stefano Gaudiano |
| Inker: | Michael Lark/Stefano Gaudiano |
| Cover: | Tommy Lee Edwards |
| Colours: | Frank D'Armata |
| Letters: | Virtual Calligraphy's Cory Petit |
| Editor: | Warren Simons |
| Assistant Editor: | None |
| Date: | July 2006 |
| Cover Price: | 2.99,4.25 |

Characters

Ben Urich
Black Tarantula
Chico
Dakota North
Daredevil
Hammerhead
J. Jonah Jameson
Kingpin
Matt Murdock
Merv
Morgan
Punisher
Turk


| | |
| --- | --- |
| Daredevil #84 | Daredevil #86 |

Tommy Lee Edwards
Volume 1 - 375
Volume 2 - 82 83 84 85
Volume 3 - None
Volume 4 - None
Volume 5 - None
Volume 6 - None

Issue Summary
Summary by Sam Johnson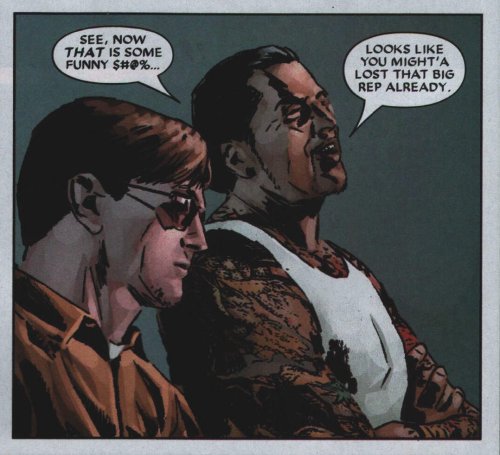 The morning after Kingpin returns to gen-pop, a convict matching the description of Foggy's killer is found hanged in his cell. The cause of death is marked suicide, but rumours immediately spread that Kingpin killed Foggy and murdered this man to cover his tracks.
Black Tarantula soon offers Matt a shiv to kill Kingpin. Matt declines, but LaMuerto warns him if he doesn't go after Kingpin he'll lose his fearsome reputation. Just then, the Punisher is led into Rykers.
Back in his cell, Matt receives the message inviting him to meet with Kingpin. Matt replies: "Absolutely."
The Punisher is Matt's solitary companion at meal times. Frank tells Matt he is in prison because he wanted to see Matt finally becoming him. As Matt protests, an inmate threatens the Punisher. Frank turns and brutally assaults him, until Matt rises: "Stop it, Frank. You'll kill him." The Punisher leaves, saying: "An' I thought you didn't give a damn any more."
Dakota North is making no progress on Alton Lennox. As she leaves his old address, the receptionist sets two hired hands on her.
As Matt wakes he finds the shiv from Black Tarantula in his cell. Taking it, he heads to his meeting with Kingpin. Kingpin tells him he did not kill Foggy but: "If you don't believe me, by all means use that shank you're holding." Matt finally snaps, charging at him, but Kingpin advises: "Use your head, Matthew... how many people are there... who would love to see us kill each other behind bars?" Kingpin tells Matt that with a riot brewing, they must work together: "I, for one, do not intend to die behind bars... do you? When the answers you seek are likely back in the real world?"
Following the Kingpin's advice, Matt telephones Becky Blake and asks her to find who last visited Foggy's murderer.
That night in the laundry room, Hammerhead, Morgan and Black Tarantula make their plans for the riot in which Kingpin and Daredevil will die tomorrow...