Daredevil #92

| | |
| --- | --- |
| Title : | "The Devil Takes a Ride: Part Four" |
| Writer: | Ed Brubaker |
| Penciler: | Michael Lark/Stefano Gaudiano |
| Inker: | Michael Lark/Stefano Gaudiano |
| Cover: | Lee Bermejo |
| Colours: | Matt Hollingsworth |
| Letters: | Virtual Calligraphy's Cory Petit |
| Editor: | Warren Simons |
| Assistant Editor: | Alejandro Arbona |
| Date: | Feb.2007 |
| Cover Price: | 2.99,3.75 |

Characters

Ben Urich
Daredevil
FBI Director Leland Drummond
Julius
Lily Lucca
Matt Murdock
Robbie Robertson
Vanessa Fisk


| | |
| --- | --- |
| Daredevil #91 | Daredevil #93 |

Lee Bermejo
Volume 1 - None
Volume 2 - 88 89 90 91 92 93 100 114
Volume 3 - 8
Volume 4 - None
Volume 5 - 15
Volume 6 - None

Issue Summary
Summary by Samuel Johnson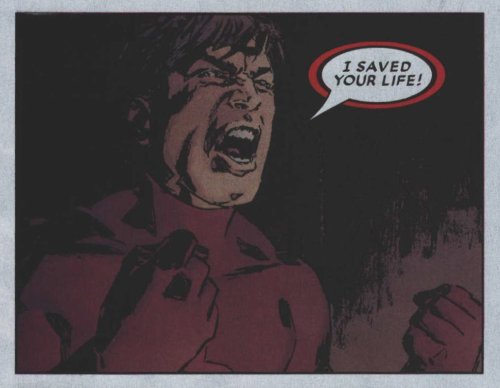 In Virginia the now ex-FBI director prepares to move to his new job in Alaska. Answering the door, he asks: "You're the movers, right?"
"Actually, we're more like the shakers," replies one.
Meanwhile, in Zurich , Daredevil gains entry to the residence of his mysterious manipulator -- Vanessa Fisk. Leaning on her life support machine she says she is dying and wanted revenge. Tearing off his mask, Matt says: "Maybe I'll just walk out of here."
Vanessa counters: "I'm going to make you a deal." She is dying (she believes) because she killed her son, and blames Daredevil and Kingpin. She summoned Matt with Lily's perfume, created by one of Daredevil's enemies, to "see [his] face when he sold [his] soul". With Kingpin's connections she could restore Matt's life, but only if Matt fought to free Kingpin. Otherwise she can exacerbate Matt's situation, with photos of DD in Europe.
Matt says it seems Wilson has finally defeated Vanessa, and leaves. Vanessa tells her assistant: "Once he realises what's happened, he'll do as I asked," and burns the photos.
Swinging away, DD wonders how Vanessa could clear his name. Realising, he rushes to his hotel and telephones Dakota North, telling her to get the FBI director into protective custody. But, turning on the news, he finds he has "committed suicide", with papers found framing Matt.
"Tell Danny I need a way home," says Matt.