Daredevil #86

| | |
| --- | --- |
| Title : | "The Devil in Cell-Block D: Part Five" |
| Writer: | Ed Brubaker |
| Penciler: | Michael Lark/Stefano Gaudiano |
| Inker: | Michael Lark/Stefano Gaudiano |
| Cover: | David Finch/Danny Miki |
| Colours: | Frank D'Armata |
| Letters: | Virtual Calligraphy's Cory Petit |
| Editor: | Warren Simons |
| Assistant Editor: | None |
| Date: | Aug.2006 |
| Cover Price: | 2.99,4.25 |

Characters

Becky Blake
Black Tarantula
Bullseye
Captain Roberts
Corrections Officer Gruber
Gladiator I
Hammerhead
Kingpin
Marta
Matt Murdock
Melvin Potter
Milla Donovan
Morgan
Punisher
Turk
Warden Cole


| | |
| --- | --- |
| Daredevil #85 | Daredevil #87 |

Danny Miki
Volume 1 - None
Volume 2 - 50 86
Volume 3 - None
Volume 4 - None
Volume 5 - None
Volume 6 - None


David Finch
Volume 1 - None
Volume 2 - 65 86
Volume 3 - None
Volume 4 - None
Volume 5 - None
Volume 6 - None

Issue Summary
Summary by Sam Johnson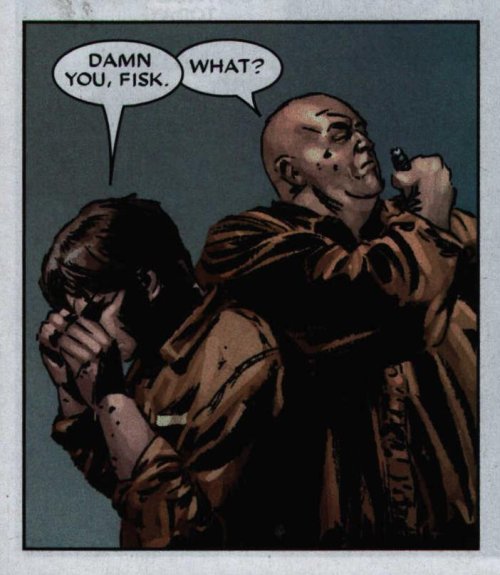 As he is led to the visiting rooms, Matt's heightened hearing tells him one thing - that today Rykers will riot. This is made even worse as he finds Becky Blake has come with his estranged wife Milla. Their conversation is heated, as Milla tells him he is losing his mind for revenge and finishes: "Remember who you are, my love... remember why I love you." Becky tells Matt that Foggy's killer's last visitor was the lawyer . Alton Lennox. But Matt is listening to Morgan and Hammerhead's conversation, and orders Becky and Milla to leave immediately.
Meanwhile, Kingpin instructs Turk to be ready at the first sign, and hands him a pack of cards saying: "Be sure you give him these... "
As Matt is led back to his cell his hearing picks out a guard letting gang members into the armoury, and Becky and Milla's ferry leaving back to the city. Knocking his escort out, he runs to Warden Cole as the prison violently riots. Matt saves the warden and his assistant Marta from their assassins, and leaves "to keep a promise."
While Turk and Kingpin's men free Bullseye from his restraints, Hammerhead, Morgan and Black Tarantula watch Matt and Kingpin fight off almost every inmate in Rykers. As Morgan reminds them guns are coming, cards slit his throat. Rather than face Bullseye, who has seized the shotguns, Hammerhead leaps into the melee, while Black Tarantula is cut down by Bullseye's cards.
In their security station, Warden Cole and Captain Roberts await the riot squad. Watching the Punisher reading in his cell, Marta reminds them they'd be dead without Murdock. Warden Cole turns back to Captain Roberts, saying: "Show me how to access the video footage from today."
Matt finally refuses to let Bullseye escape. Milla's words ringing in his ears, he dives on Bullseye, who knocks him back and fires. Matt dodges the bullet, letting it blast Kingpin's knee, and beats Bullseye unconscious. Walking through the now-exhausted prison, he hands Punisher the shotgun and asks him to help him escape...