Daredevil #83

| | |
| --- | --- |
| Title : | "The Devil in Cell-Block D: Part Two" |
| Writer: | Ed Brubaker |
| Penciler: | Michael Lark/Stefano Gaudiano |
| Inker: | Michael Lark/Stefano Gaudiano |
| Cover: | Tommy Lee Edwards |
| Colours: | Frank D'Armata |
| Letters: | Virtual Calligraphy's Cory Petit |
| Editor: | Warren Simons |
| Assistant Editor: | None |
| Date: | May 2006 |
| Cover Price: | 2.99,4.25 |

Characters

Becky Blake
Ben Urich
Dakota North
Danny Rand
Daredevil
Foggy Nelson
J. Jonah Jameson
Jack Murdock
Jessica Jones
Kingpin
Luke Cage
Marta
Matt Murdock
Milla Donovan
Morgan
Owl
Peter Parker
Rosalind Sharpe
Warden Cole


| | |
| --- | --- |
| Daredevil #82 | Daredevil #84 |

Tommy Lee Edwards
Volume 1 - 375
Volume 2 - 82 83 84 85
Volume 3 - None
Volume 4 - None
Volume 5 - None
Volume 6 - None

Issue Summary
Summary by Sam Johnson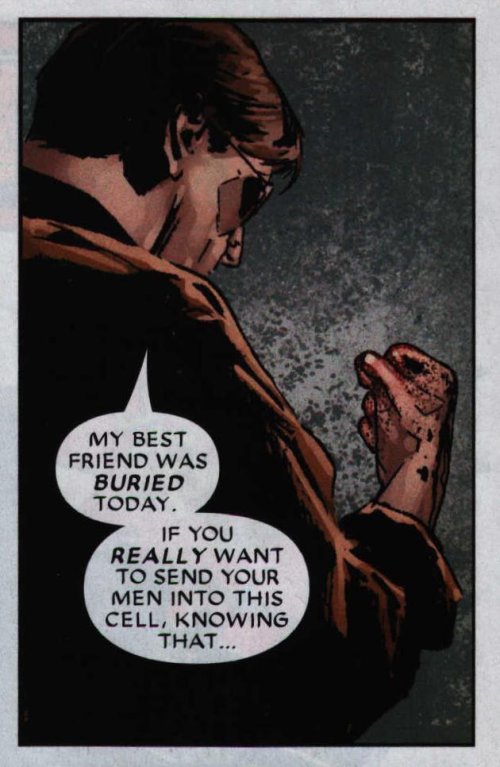 At Foggy's funeral, Matt is kept away from the other mourners, who include Ben Urich, Jessica Jones, Power Man, Iron Fist and Foggy's mother Rosalind Sharpe. As Matt is led away by his armed guard escort, Ben fears for how this latest tragedy will affect Matt.
Back at Rykers, Warden Cole is again contacted by the FBI director who is searching for the guard who led Foggy into the trap. As he slams down the phone, his assistant Marta informs him Murdock has returned.
In his solitary cell, Matt argues with his father while boxing in their old gym. Jack warns Matt: "So you're gonna throw the rest'a your life for revenge?" Punching the bag, Matt replies: "Every piece of anger and bitterness and rage you ever felt... it's all in me too. I just keep it locked up real tight. But now you're gone... Karen's gone...Foggy's gone..."
As Matt notices his knuckles are bloody from punching the wall, gang leader Morgan enters with Matt's second job offer. When Matt declines, Morgan, once crime lord of Harlem, threatens violence. Matt replies: "My best friend was buried today. If you really want to send your men into this cell, knowing that... then please, go ahead."
In court, Matt loses his right to Protected Custody. Covering the hearing for the Bugle, Ben Urich is terrified when Matt is led away: "Matt smiles, just a little. Just enough so I know... that they're sending him just where he wants to be."
On his first day in gen-pop, Matt is antagonised by Leland Owlsley, the Owl. With no cameras or guards present, Matt brutally beats the Owl, breaking both arms and legs. Demanding to know who ordered the attack on Foggy, the Owl replies "I don't know! I-I just heard that somethin' was goin' down...some-someone wanted to-to send you a-a message..."
Meanwhile, the faux-Daredevil discovers the corpse of the guard who set up Foggy and Dakota...
In a Hell's Kitchen bar, Ben Urich tells Dakota North: "You're going to help me track down this other Daredevil...and then we're going to save Matt Murdock."