Daredevil #91

| | |
| --- | --- |
| Title : | "The Devil Takes a Ride: Part Three" |
| Writer: | Ed Brubaker |
| Penciler: | Michael Lark/Stefano Gaudiano |
| Inker: | Michael Lark/Stefano Gaudiano |
| Cover: | Lee Bermejo |
| Colours: | Matt Hollingsworth |
| Letters: | Virtual Calligraphy's Cory Petit |
| Editor: | Warren Simons |
| Assistant Editor: | Alejandro Arbona |
| Date: | Jan.2007 |
| Cover Price: | 2.99,3.75 |

Characters

Daredevil
Foggy Nelson
Jack Murdock
Lily Lucca
Matador II
Matt Murdock
Stick
Tombstone


| | |
| --- | --- |
| Daredevil #90 | Daredevil #92 |

Lee Bermejo
Volume 1 - None
Volume 2 - 88 89 90 91 92 93 100 114
Volume 3 - 8
Volume 4 - None
Volume 5 - 15
Volume 6 - None

Issue Summary
Summary by Samuel Johnson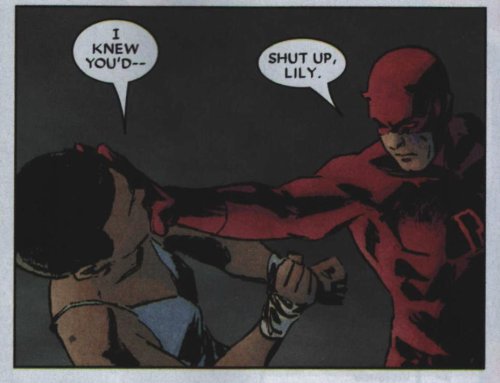 Swinging to Tombstone's appointment with the arms dealer, Daredevil reflects on the adverse effects of his heightened senses. He can filter out smells of vomit or sirens, but the fact that Lily Lucca smells like Karen Page has let him fall completely for her charade.
Now DD follows Tombstone to the hand off. As Tombstone drags Lily to the Matador, Daredevil kicks them aside and pushes Lily down, despite her show of gratitude. DD draws Tombstone into a darkened tunnel where he knocks him into the Seine with a sledgehammer.
But the Matador has grabbed Lily. He warns Daredevil to stay back or he will kill her. DD thinks he is bluffing, but the Matador makes a cut in Lily.s neck. He drops to the floor and screams: "I'm sorry! I can't kill you. I love you."
The Matador dives after the disgusted Lily, but Daredevil knocks him out. Lily is shocked: "He was going to kill me and you weren't going to do anything."
Daredevil replies: "Why would I believe that was any more real than the rest of your lies?" He accuses her of the deaths of her father and Alton Lennox, but Lily protests: "Do you think I had any choice?... they gave me a perfume to wear... something to do with pheromones."
Lily tells Daredevil what he wants to know, and: "this time, I believe every word she says."